Two Kati Pockets come inside the cardboard packaging (one shown here as my appetite beat the camera on this rare occasion…). Each pocket is wrapped separately so you don't need to worry about freezer burn if you don't want to eat both at once. There are also two microwave "crisping sleeves" in the box: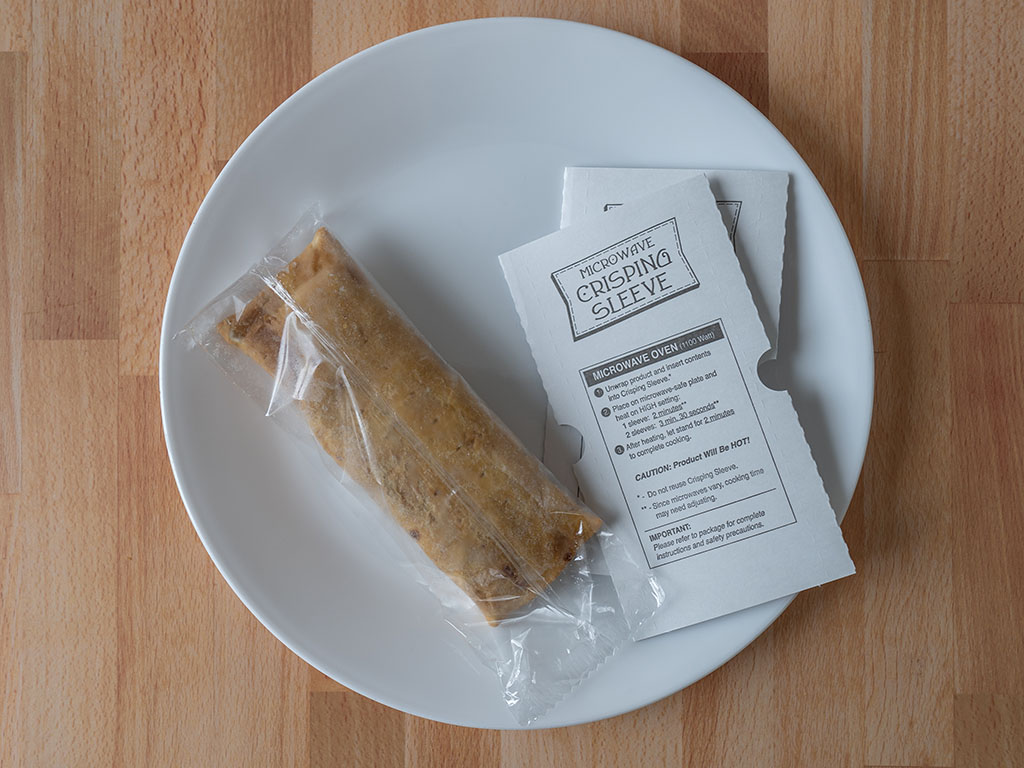 The sleeves contain a foil-esque interior. Remove the pocket from the plastic wrapping, pop in the crisping sleeve, the microwave fo just two or three minutes. Et Voila – a crisped wrap! I also find air frying yields great results if you have a little more time too.
More often than not I enjoy these Kati Pockets as impromptu snacks, I find they make a great start to the day as an alternative to a boring old breakfast burrito. They can also make a good staple for a larger plate too, adding a carb component to a dish. For example, here I enjoyed one with some home made masala curry and a side of yogurt spike with cumin seeds: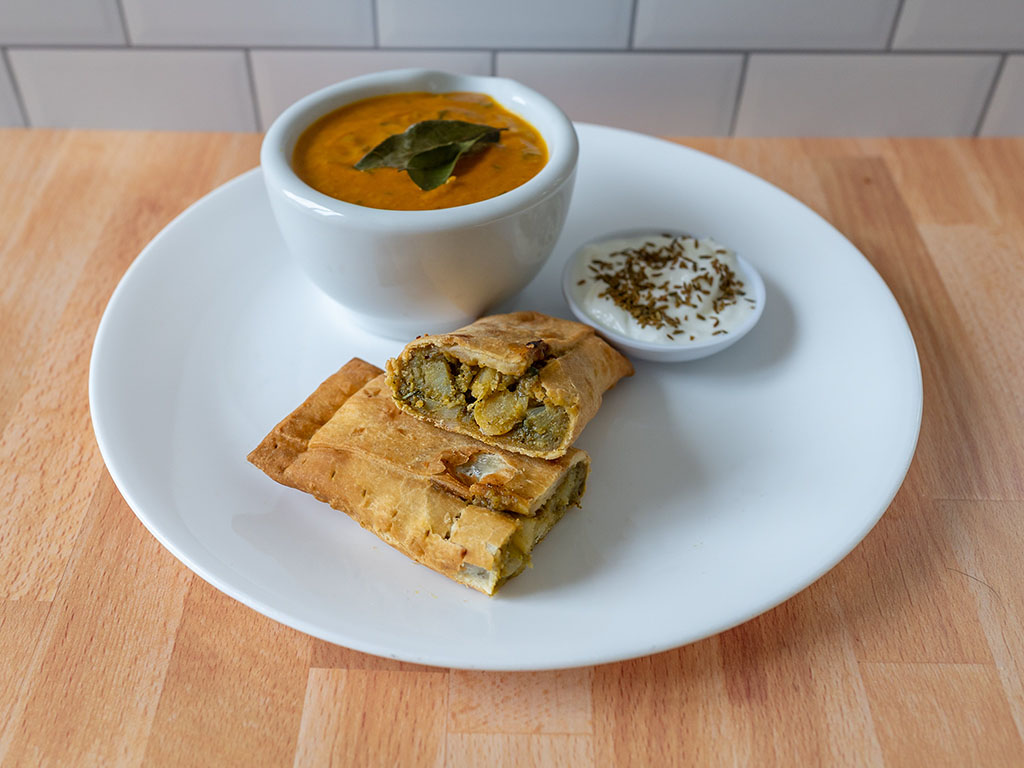 As with other Trader Joe's Indian food products these don't pull any punches when it comes to spice levels. While they won't worry any real spice-lovers, they're certainly not for the spice-timid. The spiciness is matched by a warmth of flavor too, very garam-masala forward specifically.
I'd love to know who packages the Indian food products for Trader Joe's, they're without doubt always fantastic and these Kati Pockets are no different. I'm a big fan of these, they make for a great grab and go snack from the freezer-microwave-mouth. When I'm in TJ's I usually always pick up a box for the freezer.
Trader Joe's Aloo Chaat Kati Pockets cooking instructions, nutrition, ingredients
It might not surprise you to learn these aren't the healthiest snacks in the world – is anything ever though from the freezer? Salt is high, and I was surprised to see the fat content as it is here.
Other Trader Joe's products
Hi, I'm Stuart, nice to meet you!  I'm the founder, writer and wrangler at Gastronomic SLC – Utah's biggest and oldest online food magazine; I'm also a former restaurant critic of more than five years, working for the Salt Lake Tribune.  I've worked extensively with multiple local publications from Visit Salt Lake to Salt Lake Magazine, not least helped to consult on national TV shows.
I'm a multiple-award winning journalist and have covered the Utah dining scene for the better part of fifteen years.   I'm largely fueled by a critical obsession with rice, alliteration and the use of big words I don't understand.   I started Shop Smart to catalogue my adventures in the grocery store and kitchen.  Follow along on Instagram too!
Come join our
Facebook grocery group
- and keep the discussion going! Talk about this, or any other food product with like minded home cooks and shoppers. Also share what you've been cooking up, and what you've found on yoru latest grocery shop. Join the conversation
here
.