No matter how much I might love certain dishes, I just don't care to cook them at home. Duck confit and tempura come to mind for example – they're just too messy and involved (here's a simple mess free version). I don't want to get in the habit of deep frying or rendering down fat in the house; for both the cleaning, mess and smell – not to mention my waistline. I usually just leave these decadent treats for a restaurant visit. On that list – carnitas are another such dish. The traditional method of rendering down seasoned pork butt (shoulder) for hours in a vat of bubbling lard just doesn't feel like something I want to take on at home. You might feel differently – I hope you like cleaning if you do!
Enter stage right then this in-store brand product that seeks to remove all that fuss. The vibrant packaging of this Kroger product immediately stands out. It's fun, eye catching and of slightly higher standard than you might traditionally expect from an in-store branded product. This was enough alone for me to give the product a spin, and well, yes, the prospect of simple home cooked carnitas too.
I have to say I was quite impressed with the final results from these carnitas. Boiled in the bag (see cooking details below) the carnitas remained exceptionally juicy and were fork tender when cooked; you could easily shred these down in minutes for a range of dishes. The citrus flavor of the seasoning was gentle, but pleasantly noticeable and among the pound or so of pork I found only one small piece of fatty, unusable meat. The vast bulk of the packet was well rendered and delicious.
If you're looking to serve up carnitas at home and don't want the fuss or mess of boiling your own pork (and trust me you probably don't) this is a great choice. Yes, your favorite abuelita or restaurant might prepare these more authentically but that's not the point. These Kroger carnitas are affordable, will feed the whole family for less than ten bucks and can be ready in minutes.
Kroger Pork Carnitas – what's in the box
Once you remove the plastic shrink-wrap and outer cardboard packaging you'll find a vacuum sealed bag of carnitas – about a pound in weight. As you can see below – this is not health food. All that white is pure, rich, delicious fat. It renders down in cooking, but its a stark and visual reminder that this isn't something you should be eating every night.
Kroger Pork Carnitas cooking instructions and nutrition
You can either microwave or boil these carnitas. I chose the latter as this seemed like the simplest and optimal mess-free method. I'm glad I took this path. All that fat rendered down nicely into the pork while bubbling away, and nothing escaped the vacuum sealed pack. After ten minutes, I carefully removed them from the boiling water with tongs, plonked down on a plate, opened with scissors and slid the contents out. At this point, as the pork cools a little, you'll likely find it really hard not to start sneaking small bites, I know I did.
As I mentioned above, you can literally see how fat rich these carnitas are. That's to be expected of course, a fatty piece of meat cooked in fat – is never going to be a sensible choice dietarily speaking.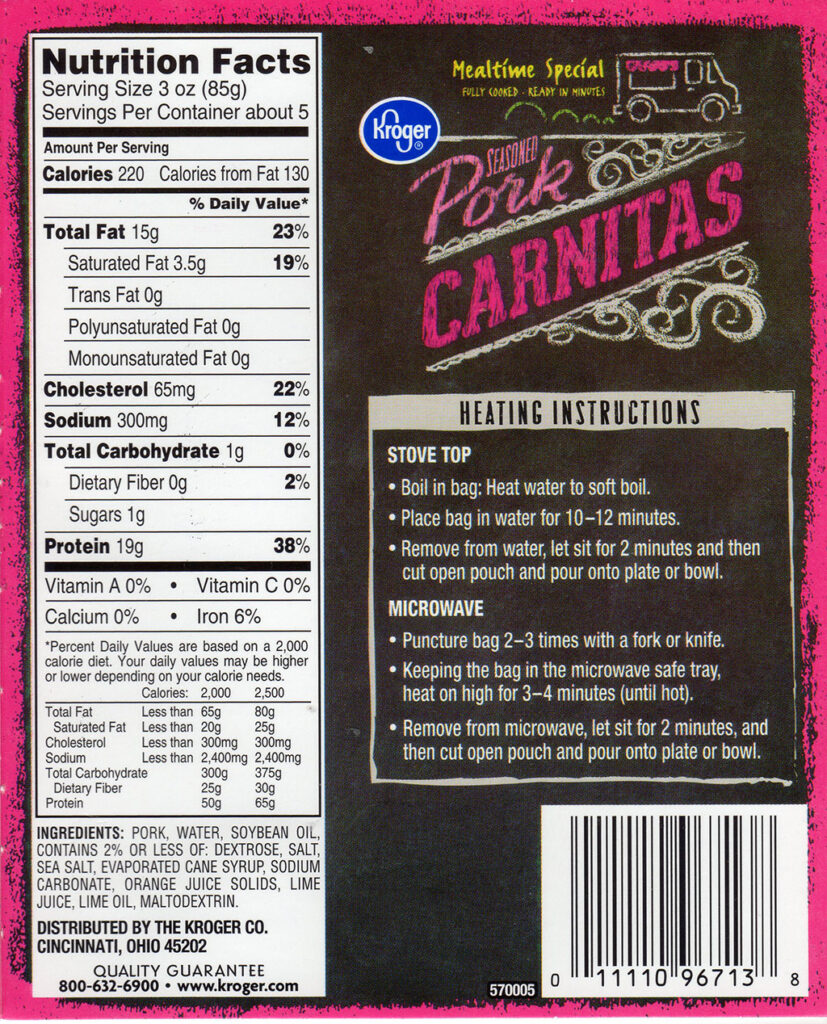 Kroger Pork Carnitas
So what can you cook with carnitas? Obviously, a range of Mexican cuisine is the immediate and obvious choice for this tender pork. Below are some shots of the Kroger Pork Carnitas fresh from ten minutes of boiling in the bag. Below that a dish I made with these carnitas, a little bean salad and tortilla. Burritos, salad bowls, tacos, enchiladas, tortas – these would all benefit from this juicy pork.
How much are Kroger Pork Carnitas?
This is a Kroger product – you'll only find them at your local Smiths. As such, whatever they're asking is a fair price. That said, I snagged these for $7.99 which I thought was more than fair. If you see them priced lower or on sale, they're a definite bargain.
Are Kroger Pork Carnitas any good?
Yes! While you'll no doubt find more authentic and better flavored carnitas at your favorite restaurant, for a heat and serve dish these are remarkably tasty. Ten minutes of boiling in the bag – and you have yourself a great centerpiece for a range of dishes.
Other Kroger products
Hi, I'm Stuart, nice to meet you!  I'm the founder, writer and wrangler at Gastronomic SLC – Utah's biggest and oldest online food magazine; I'm also a former restaurant critic of more than five years, working for the Salt Lake Tribune.  I've worked extensively with multiple local publications from Visit Salt Lake to Salt Lake Magazine, not least helped to consult on national TV shows.
I'm a multiple-award winning journalist and have covered the Utah dining scene for the better part of fifteen years.   I'm largely fueled by a critical obsession with rice, alliteration and the use of big words I don't understand.   I started Shop Smart to catalogue my adventures in the grocery store and kitchen.  Follow along on Instagram too!
Come join our
Facebook grocery group
- and keep the discussion going! Talk about this, or any other food product with like minded home cooks and shoppers. Also share what you've been cooking up, and what you've found on yoru latest grocery shop. Join the conversation
here
.