The first time I came across Kroger's Emerge line of plant-based foods, was back in January of this year; I reviewed the meat free patties here, and as I recall they stacked up decently against Beyond, arguably the big name on the shelves at the time.
The product line must have moved units, because as I wrote about here – Kroger decided to radically increase the product line. This ground chicken like product is one of the first new selections I've encountered personally. Here are some shots of raw Chik'N out of the box, and then a chicken burger I fried up:
While the packet shows the product highlighted on tacos – my mind immediately went to chicken burgers; I suppose I've had a LOT of plant-based chicken burgers of late, so wanted to see how the meat formulation here stacked up.
Certainly the raw Chik'N handles well, you can shape and form it how you prefer. This could easily make meatballs, kebab or kofta. I decided to cook it in the pan with a little oil, as the fat content is relatively low, I opted against the air fryer.
While the Emerge Chik'N cooks there's a slightly off-putting aroma I couldn't put my nostril on, though it largely dissipated by the time the meat was ready. The finish develops a decent crisp, and this was actually a nice change of pace from the breaded/battered style chicken patties that come pre-formed in the freezer aisle.
The taste was initially disappointing. Tasted on it's own the Chik'N has prominent wheat gluten flavor (the main ingredient here so to be expected) which quickly goes away, leaving a very neutral flavor. As part of the overall chicken sandwich though, and with a little Buffalo sauce to bring things to life, I was won over. It struck me that this product is all about the clean and minimal flavor. Once gussied up, the meaty texture and chew really won me over. I stopped worrying about the flavor, and just enjoyed the overall sandwich.
In retrospect a chicken burger was probably a poor choice for this product; if you do make one I'd say go with a relatively thin patty (pictured above is a burger using about a third of the packet) and load it up with plenty of toppings/ The best use for this ground Chik'N is probably fried with liberal seasonings. I have a Thai/Laotian dish, larb, in mind. I'll report back after I've tried this with the meat.
Simple Truth Emerge Plant Based Chik'N Grind nutrient and ingredients
What really wins me over about this product is the nutrition. Unlike many of the faux-beef products where the manufacturers throws saturated fat around like nobody's business, it's use is relatively restrained here. That coupled with the strong protein – I could see myself really getting to use this product regularly.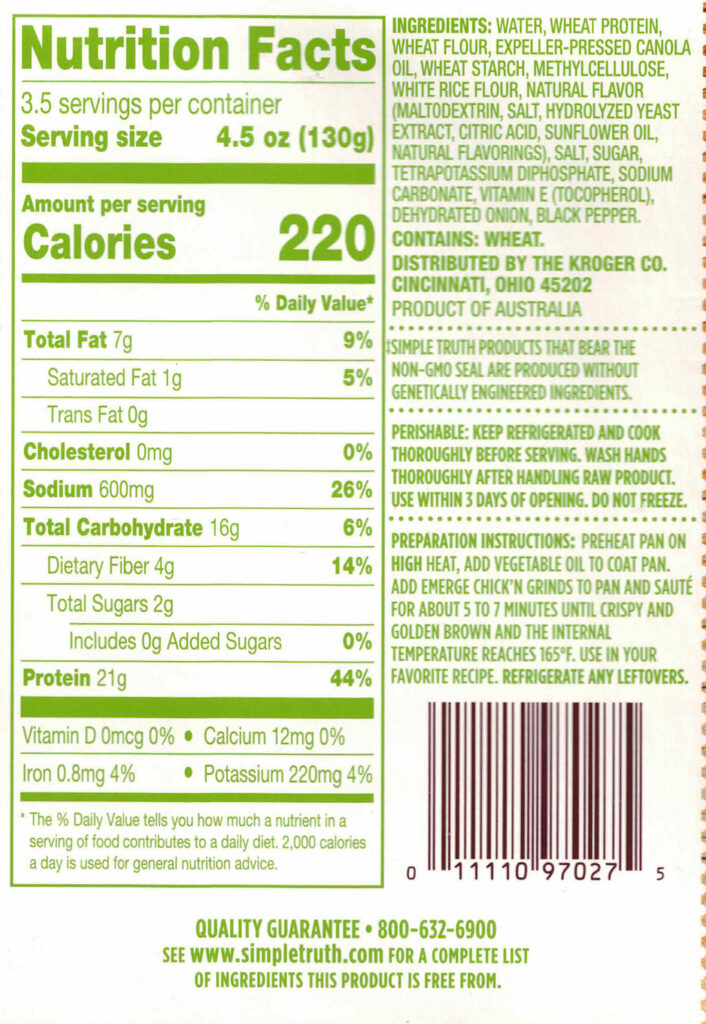 Hi, I'm Stuart, nice to meet you!  I'm the founder, writer and wrangler at Gastronomic SLC – Utah's biggest and oldest online food magazine; I'm also a former restaurant critic of more than five years, working for the Salt Lake Tribune.  I've worked extensively with multiple local publications from Visit Salt Lake to Salt Lake Magazine, not least helped to consult on national TV shows.
I'm a multiple-award winning journalist and have covered the Utah dining scene for the better part of fifteen years.   I'm largely fueled by a critical obsession with rice, alliteration and the use of big words I don't understand.   I started Shop Smart to catalogue my adventures in the grocery store and kitchen.  Follow along on Instagram too!
Come join our
Facebook grocery group
- and keep the discussion going! Talk about this, or any other food product with like minded home cooks and shoppers. Also share what you've been cooking up, and what you've found on yoru latest grocery shop. Join the conversation
here
.