Once upon a time shopping online was limited to a handful of major grocery chains. Functional for sure, but exciting, not so much. These day, many unique and interesting producers are shipping their products across the country. This means you can buy everything from wagyu steaks through artisan cheeses through impeccable seafood.
That's why we put together the following list of great online stores. Places where you can find fun and special products; and crucially all shipped to your front door step in mint condition.
We earn a small referral fee if you click though to some of these online stores. These are marked with [affiliate link] for full disclosure.
Beef, chicken, steaks, pork
Butcher Box – Thoughtful sourcing of humane meats, with free range, organic and hormone free selections. Butcher Box operates as a subscription service – you get to choose the frequency of deliveries and what's in the box. [affiliate link, we get a referral fee]
Good Chop – Meat subscription service. Chicken, steaks, burgers, ground beef, pulled pork – you name it – everything you need. 36 portions of meat priced from as low as $4.14 per meal. [affiliate link, we get a referral fee]
Snake River Farms – Get 5% off some of the best quality meats in the US. Meat available for purchase ala carte. SRF offer American wagyu beef in a variety of options – everything from roasts and briskets through to a list of steak cost such as flank, skirt, NY, ribeye and many more. [affiliate link, we get a referral fee]
Barbecue At Home – A service operated by national chain Dickey's BBQ Pit. Not only can you get the company's signature smoked meats delivered but you can also get access to a wide range of chef curated meats, sausages, rubs and more.
Hot dogs / sausage
Feltman's – Coney Island based business offering nationwide shipping on hot dogs, bratwurst, burgers, bacon and more.
Southside Market and Barbeque – Texas' oldest smoke shop that offer a range of fabulous in house speciality smoked products – their beef rope sausage is legendary. [affiliate link, we get a referral fee]
Seafood
Catch Sitka – If you want the freshest, tastiest Alaskan seafood available, then you're in the right place. All Catch Sitka's seafood is caught wild using hook-and-line sustainable fishing practices, immediately iced, processed dock-side by artisans, blast frozen to lock in flavor and sent straight to you. Only 4 steps from sea to your door. [affiliate link, we get a referral fee]. Use code STUART15 and get $15 off orders over $125 for first time customers – we get a referral fee too!
Wulf's Fish – Boston based fish monger that dates back to 1926. Wulf's ship an intelligent range of fish and shellfish. Day boat scallops, lobster, roe, branzino, cod cheeks, the list is extensive. [affiliate link, we get a referral fee]
Sitka Salmon – Sustainable and top quality Alaskan seafood to your door when in season. Sitka helps support local fishermen.
Sizzle Fish – Offering curated monthly seafood subscription boxes. Natural and wild caught fish, with product wrapped in individual 4-6 oz portions. Prices start from as little as $8.99 per portion. [affiliate link, we get a referral fee]
Acapella Seafood Co – South Floridian stone crab claws – including medium, large, jumbo, and even colossal.
Cheese / dairy / deli
Cheese Lovers Shop – At this online cheese shop you can purchase cheese individually or signup for their cheese lovers subscription box. [affiliate link, we get a referral fee]
Caputos – This Italian deli based in the heart of Salt Lake City is one of the United States best purveyors of cheese, we should know, we go there all the time. The operate in house cheese caves to age in house, and ship nationwide.
Vegan and plant based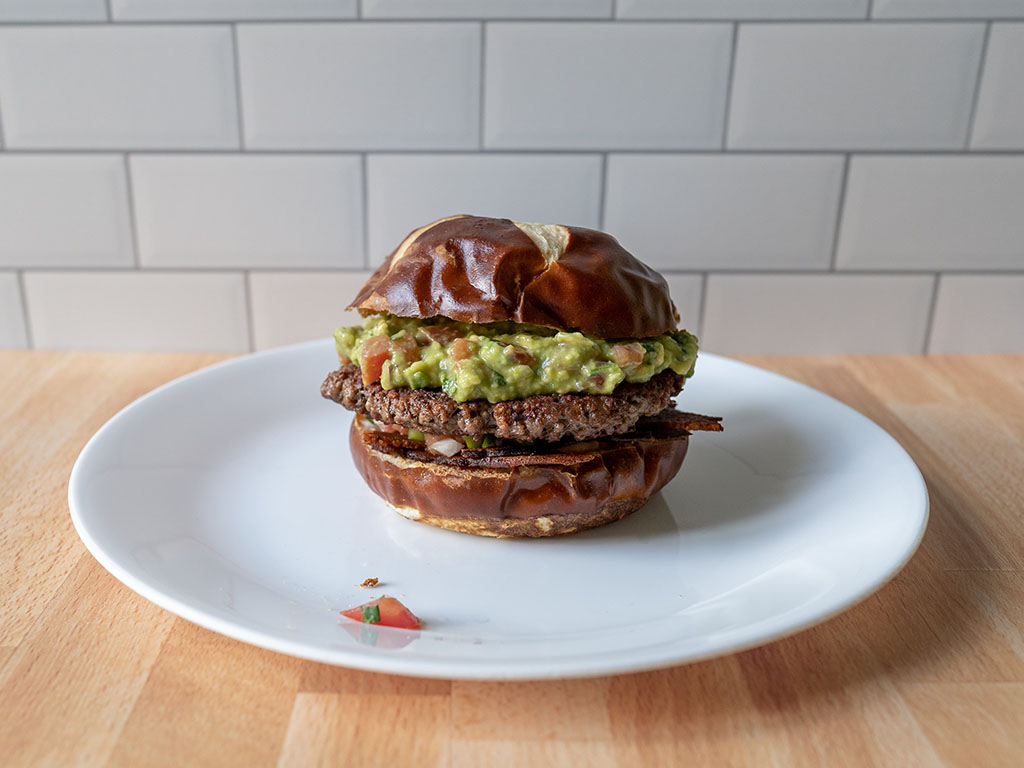 Daiya Foods – Known for their plant based cheeses, Daiya now offer items such as burritos and pizza with their popular cheese. Shipping nationwide.
GTFO It's Vegan – An online one stop shop for all your plant-based needs. GTFO ships their product frozen direct and charges a reasonable shipping fee. Minimum order is $40.
Impossible Foods – If you can't find Impossible Food products in your local grocery store, don't worry, they ship direct. Impossible offer a number of options and shipping is free.
Global flavors
Viida – This online store ships authentic Latin cuisine direct – everything from arepas to empanadas through to tequenos.
Quicklly – Offers a variety of Indian meal kits and subscriptions based around Indian cuisine.
The Scottish Grocer: One-stop shop online for authentic, traditional Scottish foods,. Best sellers include: BAILEYS Original Irish Cream Fudge Caramels, House of Edinburgh Shortbread, Mrs. Bridges Scottish Preserves, The Whiskey Delights Gift Set, Savory Scottish Shepherd's and Meat Pies with a flaky, buttery crust, The Scottish Bee Company Honey, Gardiners Traditional Scottish Butter Toffee, and authentic Scottish Haggis for delicious beef stew.
Sweet Treats
Sweet Snacking – This is direct to consumer service offered by Bimbo Bakeries (Sara Lee, Orowheat, Taki's, Entenmanns). The brand new for 2021 service offers a number of curated treat packs.
Spices / Sauces / Condiments
The Spice House – This Chicago based company ships nationwide and we use them ALL the time. You need to spend about $50 for free shipping, but if you do, you'll find the price per spice is cheaper than your local stores; and most importantly, the quality its off the scale. [affiliate link, we get a referral fee]
Z's Hot Sauce – For those who like some kick, check out this craft-hot sauce maker out of Utah. Their sauces are some of the best we've ever tried in the states, and they ship nationwide.