I'm always on the hunt for a killer frozen fish fillet, because I'm essentially always one the mission to recreate fast food fish sandwiches at home. Yeah, I know, Im weird.
This particular product landed in my shopping cart as a substituted item from a recent Walmart online order, the brand I wanted being out of stock, this is what arrived on my doorstep. It's been a few years since I last tried this brand, so I was eager to refresh my memory.
The packaging for these fish fillets from Van De Kamp's is promising. Terms like 100% whole fillets and wild caught adorn the front; golden battered fish, giving way to a flaky interior – front and center on the design.
Sadly, the final product doesn't live up to the delicious looking packaging. While the batter does come out of the oven golden and slightly crisp, the interior of the fillet is a mushy, sludgy and slimy affair. The flaky fish, gleaming white on the box, doesn't match the cooked reality; or at least it didn't for me after several run throughs.
The taste wasn't particularly terrible as such, but nor was it prominent in any fashion beyond the exterior coating. For me, it's a pass on this one.
Van de Kamp's Crispy Fish Fillets – what's in the box?
Inside the cardboard packaging you'll find ten fillets contained in a single plastic sack. Once you've opened this you can't reseal it.
Van de Kamp's Crispy Fish Fillets
Here are a few shots of the finished product, piping hot from the oven and a cross section of the fillet. After that, a couple of my favorite ways to eat a frozen fish fillet – essentially emulating a fast food fish sandwich with homemade tartar sauce and after that a healthier lavash wrap version.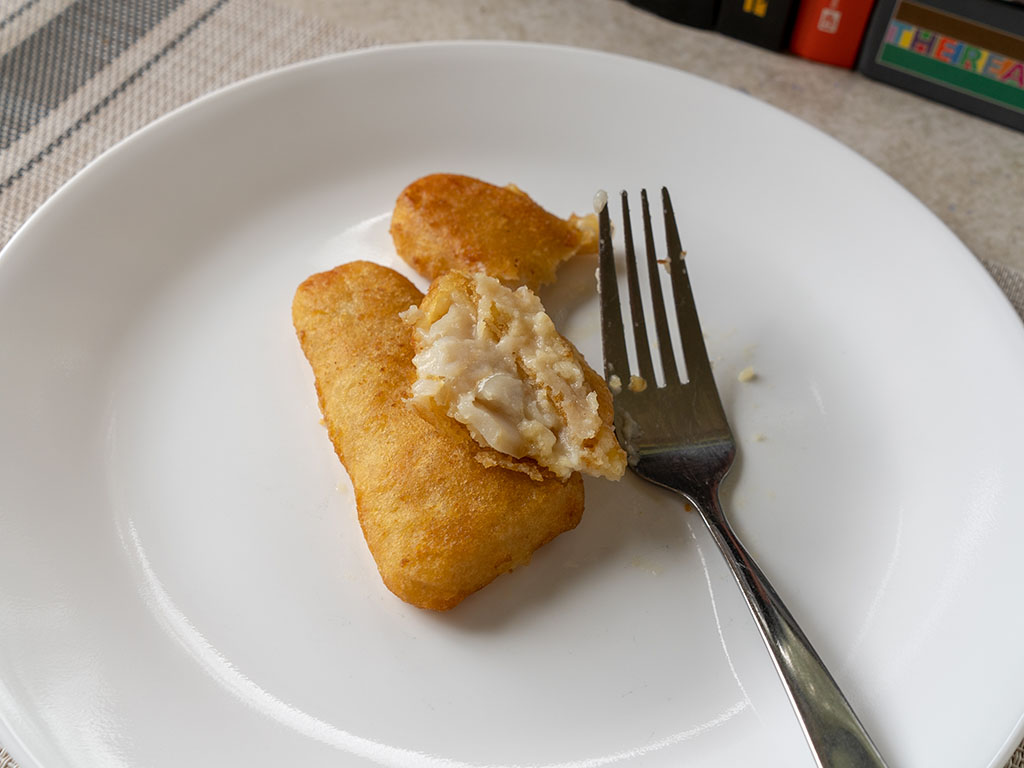 Van de Kamp's Crispy Fish Fillets cooking instructions, nutrition
When it comes to cooking, you have one effective option: roughly 25mins in the oven at 425F. While I'm usually impatient with oven cooking over microwave (which you can't use here) cooking – I'm happy to use the oven here. After all, getting that fun crisp and crunch finish is usually impossible via the microwave.
How much are Van de Kamp's Crispy Fish Fillets
I paid $4.97 for this box of ten fish fillets from Walmart in April 2019.
Other Van De Kamp's products
Hi, I'm Stuart, nice to meet you!  I'm the founder, writer and wrangler at Gastronomic SLC – Utah's biggest and oldest online food magazine; I'm also a former restaurant critic of more than five years, working for the Salt Lake Tribune.  I've worked extensively with multiple local publications from Visit Salt Lake to Salt Lake Magazine, not least helped to consult on national TV shows.
I'm a multiple-award winning journalist and have covered the Utah dining scene for the better part of fifteen years.   I'm largely fueled by a critical obsession with rice, alliteration and the use of big words I don't understand.   I started Shop Smart to catalogue my adventures in the grocery store and kitchen.  Follow along on Instagram too!
Come join our
Facebook grocery group
- and keep the discussion going! Talk about this, or any other food product with like minded home cooks and shoppers. Also share what you've been cooking up, and what you've found on yoru latest grocery shop. Join the conversation
here
.