For as long as I recall, I've been on the hunt for a genuinely great fish stick. I might have rose colored glasses, but I seem to recall the product of my youth being replete with flaky delicious fish; whereas so many modern versions are reconstituted, mushy and mediocre. I've lost count of the number of brands that I consign to the garbage can after just a single tasting.
Enter stage right then, these fish sticks from Trident that claim to be "The Ultimate" example. I picked up this particular sack (the heaving bag is huge) at Costco.
Despite the obvious hyperbole front and center, that can often be a huge red flag, there's a lot to like here. The fish sticks rely on Alaskan pollock which is a huge plus; I've written before on why Alaskan sourced seafood is a winner. As well as that, the product uses panko breading which generally speaking, results in a good crisp finish, and that's true here – bake these up and the exterior casing does crisp nicely. I don't own a deep fryer but I bet they'd be great in one of those.
Another plus is that there's no gummy, mushy "errghhhh what the hell" moment. There's basically breading and fish and nothing much else, no slimy weirdness. The fish too is relatively decent, visibly resembling flaky pollock.
Overall it's a solid example, perhaps the best I've found to date. The ultimate? Well, I'd like a little more fish than the 65/35 fish to breading ratio used here, but that's being slightly picky. I might also wish for a slightly more upscale fish than pollock, but again, I'd obviously expect to pay a lot more if that were the case.
On balance given the price, texture, flavor and usability I find these are very good product, and have no problem recommending them. Fish tacos through fish sandwiches, these fish sticks are a quality option for the time pressed.
Trident The Ultimate Fish Stick – what's in the bag?
In this huge sack of fish sticks from Costco, there are 60 fish sticks in total. Far too many for one shot, here's a small sampling in their frozen format:
Trident The Ultimate Fish Stick
And here's the result after cooking in the oven before making their way to a solid ciabatta bun with lettuce, white onion and home made tartar sauce: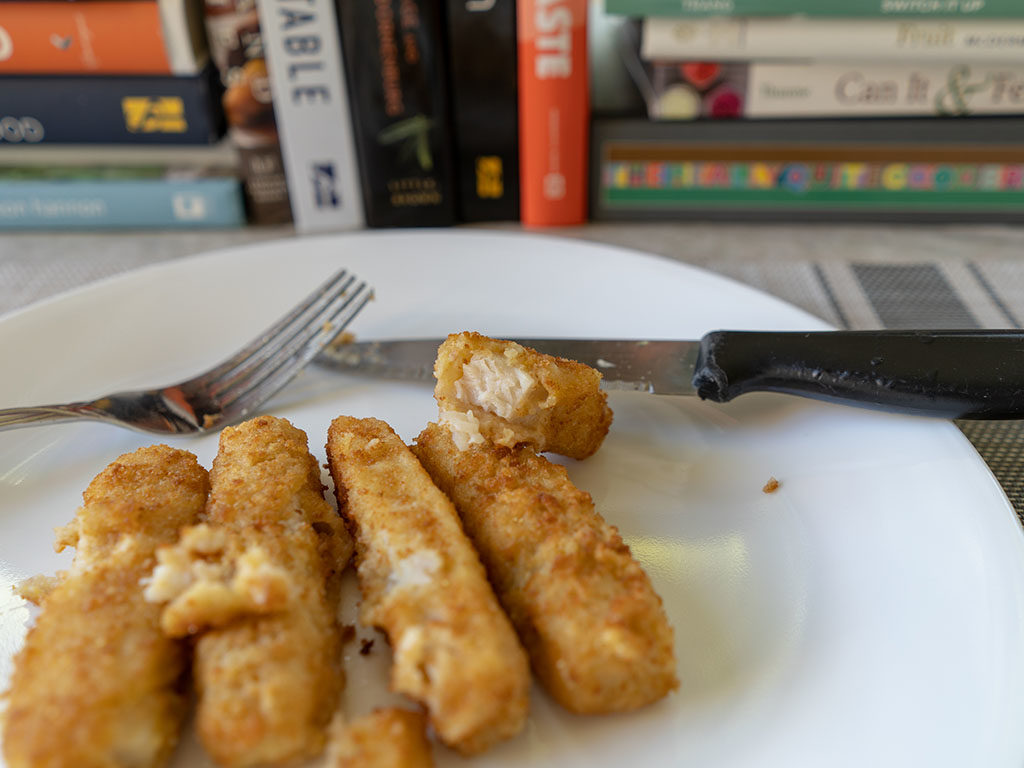 One of my favorite ways to use fish sticks is to essentially emulate a fast food fish filet sandwich. I make some home made tartar (mayo, capers, pickle) and find a good hearty ciabatta bun. From there I finish with crisp iceberg lettuce and sharp white onions. It's a real treat!
Trident The Ultimate Fish Stick cooking instructions
One of the reasons I like these fish sticks so much is the microwave oven option, that's unusual for most breaded and frozen fish products. I find the oven method results in a slightly crispier finish, but the microwave option isn't bad at all.
Trident The Ultimate Fish Stick nutrition and ingredients
Three pieces is the recommended serving and I find that plenty for a fish sandwich with appropriate toppings. The sticks are relatively healthy used in such a portion size.
Hi, I'm Stuart, nice to meet you!  I'm the founder, writer and wrangler at Gastronomic SLC – Utah's biggest and oldest online food magazine; I'm also a former restaurant critic of more than five years, working for the Salt Lake Tribune.  I've worked extensively with multiple local publications from Visit Salt Lake to Salt Lake Magazine, not least helped to consult on national TV shows.
I'm a multiple-award winning journalist and have covered the Utah dining scene for the better part of fifteen years.   I'm largely fueled by a critical obsession with rice, alliteration and the use of big words I don't understand.   I started Shop Smart to catalogue my adventures in the grocery store and kitchen.  Follow along on Instagram too!
Come join our
Facebook grocery group
- and keep the discussion going! Talk about this, or any other food product with like minded home cooks and shoppers. Also share what you've been cooking up, and what you've found on yoru latest grocery shop. Join the conversation
here
.