With the upcoming big day approaching fast the USDA has put together a little info on selecting the best turkey for your table. After all America has 2,500 turkey farms raising 229 million gobblers every year. With that huge selection, there can be a lot of pitfalls. Fresh or frozen, size, grade – you name it. Here's the USDA top tips for choosing a Thanksgiving Turkey.
USDA Grade A? You'll want the highest quality turkey on the market. To take some guesswork out of your purchase, look for the USDA Grade A shield – it means your bird is certified free of defects like bruises, broken bones, or tears which detract from its appearance or the ease of preparation. While all turkey is produced under USDA's mandatory food safety inspection, USDA quality grading is a voluntary service. You'll find the USDA Grade A shield on a variety of trusted turkey labels at stores and online.
Whole Bird or Turkey Breast? If you're serving a small crowd, you might forego a whole bird and find a ready-to-cook turkey breast instead. Though you might want to run this decision by your guests first – while there's not much nutritional difference between white and dark meat, many people have a strong preference.
Fresh or Frozen? Roughly two-thirds of the turkeys purchased for the holidays are frozen, and there's nothing wrong with that (provided you plan ahead to thaw it safely). But you're more likely to find smaller sizes if you buy a fresh bird, which tend to hit the stores around 10 days before the holiday. While the supply is about the same as last year, the demand for smaller turkeys may be higher in 2020, as America celebrates Thanksgiving with more, but smaller, family meals.
Hen or Tom? Just because your crowd is small doesn't mean your turkey should be. While the typical rule of thumb is to purchase one pound of turkey per person, a larger bird can be prepared any way a smaller one can. And, with more people cooking at home these days, 2020 is the year to up your leftovers game. It would be a shame to run out before you try turkey eggs Benedict or TLT sandwiches. Each pound of uncooked whole turkey typically yields 0.71 pounds of edible meat after roasting. Fun Fact: Whole hen turkeys typically weight 8-16 pounds, whereas toms weigh in at 16-24 pounds.
Specialty Bird? If you're seeking out a specialty bird – such as a USDA certified organic turkey, or one raised without the use of antibiotics – you'll find those are usually smaller. If these production practices are important to you, consider shopping early to find the right bird.
Whether Thanksgiving means turkey for two, a feast for four, or an evening with eight, don't skimp out on a beautiful American-grown centerpiece for your holiday meal – you'll be thankful you took our advice. Happy Thanksgiving!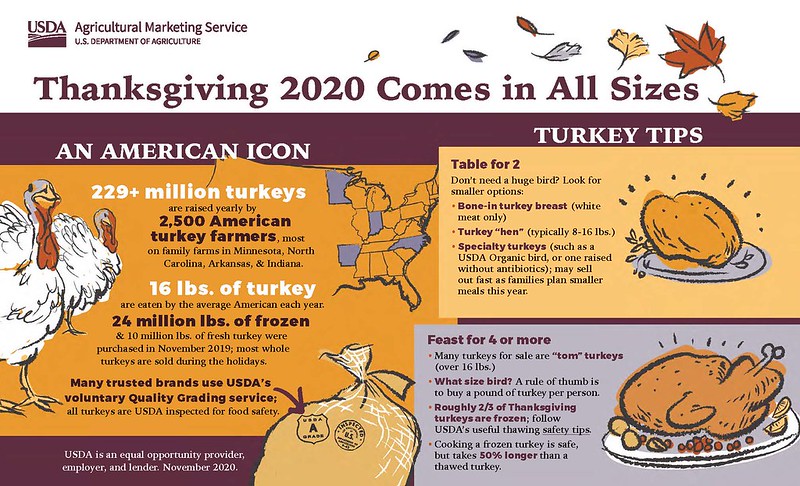 Image credit, USDA.
Hi, I'm Stuart, nice to meet you!  I'm the founder, writer and wrangler at Gastronomic SLC – Utah's biggest and oldest online food magazine; I'm also a former restaurant critic of more than five years, working for the Salt Lake Tribune.  I've worked extensively with multiple local publications from Visit Salt Lake to Salt Lake Magazine, not least helped to consult on national TV shows.
I'm a multiple-award winning journalist and have covered the Utah dining scene for the better part of fifteen years.   I'm largely fueled by a critical obsession with rice, alliteration and the use of big words I don't understand.   I started Shop Smart to catalogue my adventures in the grocery store and kitchen.  Follow along on Instagram too!
Come join our
Facebook grocery group
- and keep the discussion going! Talk about this, or any other food product with like minded home cooks and shoppers. Also share what you've been cooking up, and what you've found on yoru latest grocery shop. Join the conversation
here
.