As plant-based products continue to debut all over the grocery store, we're starting to see link ups between existing big name brands; this particular one sees the classic Marie Callender's Pot Pie get the meat free treatment courtesy of Gardein's meatless beef product.
The first thing that struck me was the odd name, "Be'f", doesn't exactly sound delicious or roll of the tongue for that matter. Before the tasting notes, here's some pictures of the product, frozen and after being baked in the oven for an hour: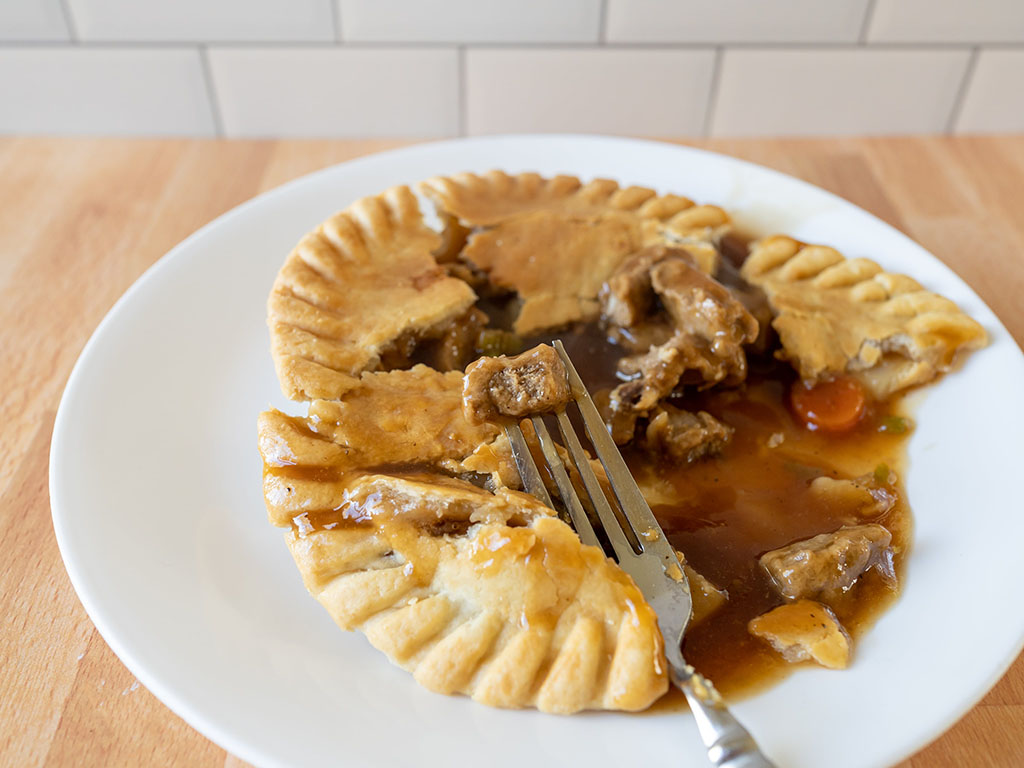 The pie cooks up exactly like a regular Marie Callender's pie. You wrap a little foil around the edges to prevent them over cooking, then bake for roughly an hour. After that, remove from the oven and it's little cooking tray, before digging in.
The first thing I noted when launching into this pie was that the Gardein "be'f" was all stuck together in one unappetizing lump. Tasting didn't make things much better. The beef is much the same as Gardein's Beefless Tips product. It's a wheat gluten based meat replacement, and it's notably artificial. It's orders of magnitude behind Beyond and Impossible. Honestly, I'm. not a fan, it's mushy and has a mediocre taste.
The rest of the pie didn't fare much better. The herby gravy was probably the best bit but it did have a slight lingering bitterness. The pastry is classic MC, crumbly and rich, albeit a little claggy.
Speaking of which, this pie *does* contain dairy (see packing below); as such it's not vegan friendly, which does lead me to wonder who exactly this is aimed at. Vegans will have to pass, and meat eaters won't be won over by the Gardein beef used here. As such, this one is a pass for us.
Marie Callender's Meatless Gardein Be'f Pot Pie nutrition and cooking
Come join our
Facebook grocery group
- and keep the discussion going! Talk about this, or any other food product with like minded home cooks and shoppers. Also share what you've been cooking up, and what you've found on yoru latest grocery shop. Join the conversation
here
.