Is Kroger Chicken Verde any good?
Definitely! This product will serve two people handsomely and is quick to prepare, featuring a rich gravy and tender chicken. Just keep an eye on the sodium levels, as you would with any premade meal.
After having huge success with both the Beef Barbacoa and Pork Carnitas products from Kroger, I leapt at the chance to try this quick serve Chicken Verde.
Like those other two products the packaging is sharp and attractive, especially so for a stores own product. Plastic wrap encases the outer cardboard casing, inside you will find the following microwave safe tray with the whole contents sealed in a thick plastic bag.
There's no way to reseal the bag so you will need to cook the whole lot in one go. Personally I had a little leftovers and reheated the remainder in the microwave the next day, and lived to tell the tale (the packaging didn't say, not to do this).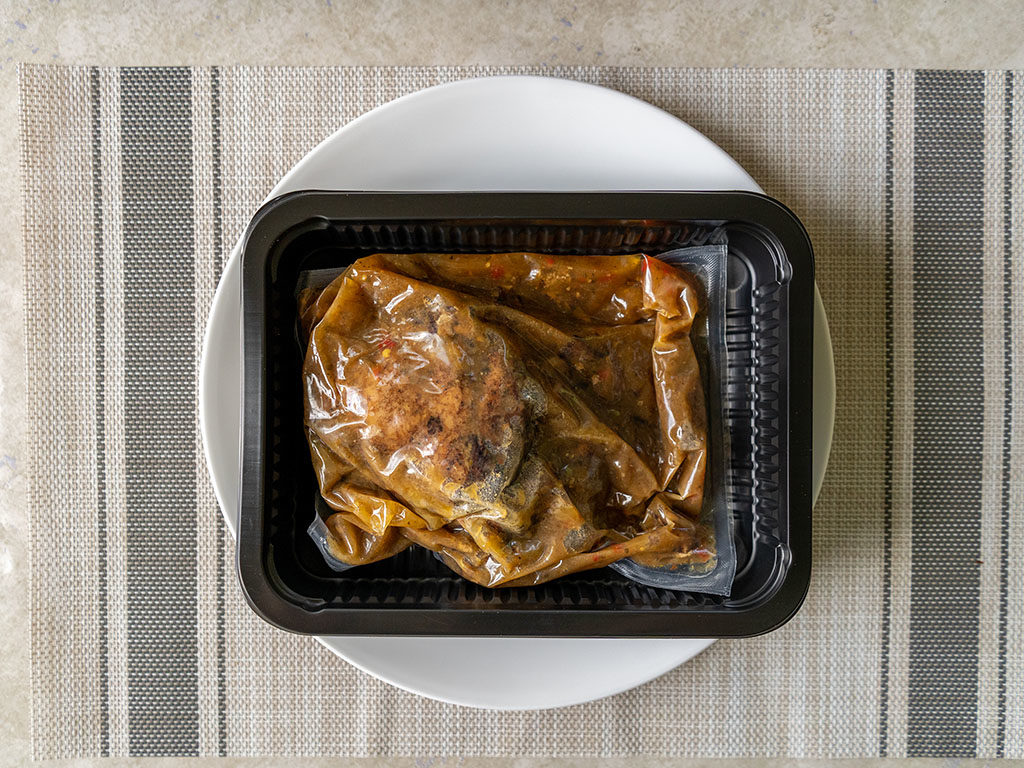 To cooked the verde, the plastic bag can be popped in gently boiling water for 15 minutes or microwaved in the tray for five minutes, after a couple of steam holes are poked in. The result is modest amount of chicken (enough for two I would say, not three as the package states) in a thin brown gravy.
Right off the bat, my first impression was, "this isn't like any chili verde I've ever tasted"; Not in any negative way I should add. Indeed, I found the slightly thinner than expected sauce to be quite delicious. There's some gentle lime notes, a lot of herbaceousness, not much spice. You won't see lumps of poblano and tomatillo though as you would in a traditional verde.
As you can see above, the chicken is fork tender and lean, not a hint of gristle or fat; that's to be commended, it's easy to hide in a saucy dish such as this. Again, I find all the Kroger heat and serve meals in this range to be of good quality.
I decided to plate this chicken with some seasoned black beams, rice, pepitas and tortilla. A quite delicious dish, one I'd purchase again for sure! The next day leftovers went on a sandwich with some mayo and were again a real treat.
Kroger Chicken Verde cooking instructions, nutrition, ingredients
Other Kroger products
Hi, I'm Stuart, nice to meet you!  I'm the founder, writer and wrangler at Gastronomic SLC – Utah's biggest and oldest online food magazine; I'm also a former restaurant critic of more than five years, working for the Salt Lake Tribune.  I've worked extensively with multiple local publications from Visit Salt Lake to Salt Lake Magazine, not least helped to consult on national TV shows.
I'm a multiple-award winning journalist and have covered the Utah dining scene for the better part of fifteen years.   I'm largely fueled by a critical obsession with rice, alliteration and the use of big words I don't understand.   I started Shop Smart to catalogue my adventures in the grocery store and kitchen.  Follow along on Instagram too!
Come join our
Facebook grocery group
- and keep the discussion going! Talk about this, or any other food product with like minded home cooks and shoppers. Also share what you've been cooking up, and what you've found on yoru latest grocery shop. Join the conversation
here
.