Is Sukhi's Chicken Curry any good?
Yes! An above average frozen meal that Indian food lovers will enjoy when facing a time pinch. The curry has an enjoyable flavor and remarkable heat level. The meal isn't the biggest and those with heartier appetites might find it serves better as a quick lunch, than hefty dinner.
This product combines two things that I love dearly: Indian food and convenience. That last part is of course critical with any frozen meal. Any sensible shopper knows that a frozen dinner is never going to beat the real thing – whether that's home cooked or from a specialized restaurant.
I love to cook my own Indian food at home from scratch but its certainly a cuisine that requires time, love and care; as such I'm never against having a couple of frozen instant meals ready to go when I'm in a time pinch. I recently decided to give this frozen meal solution from Sukhi's a spin as I've really enjoyed their Vindaloo wraps in the past.
Just like that wrap, this is also quality product. There are no mystery components on initial inspection – the chicken is identifiably chicken. Taste wise too this product is very enjoyable. Sukhi's doesn't hold back on the spice levels, which I personally love. This is a bold curry with a strong garlic flavor. While there's not an abundance of chicken in the gravy, it is all quality white meat which is appreciated. The naan and rice are also of good quality.
As frozen meals go, this is definitely above average, and one I'd happily purchase again. Flavor and quality are on point. The only points that I might debate are the overall size and price; the latter of course will probably depend on where you find this product locally.
Sukhi's Chicken Curry – what's in the box
Sukhi's Chicken Curry cooking instructions and nutrition
As you'd expect from a microwave dinner, the cooking couldn't be easier. You'll have a piping hot meal in 3-5 minutes depending on the power and nuances of your microwave oven. Nutritionally this isn't bad per se, and stacked up against certain frozen dinners, probably much better. The package breaks out the naan bread nutrition separately which is a nice touch.
Sukhi's Chicken Curry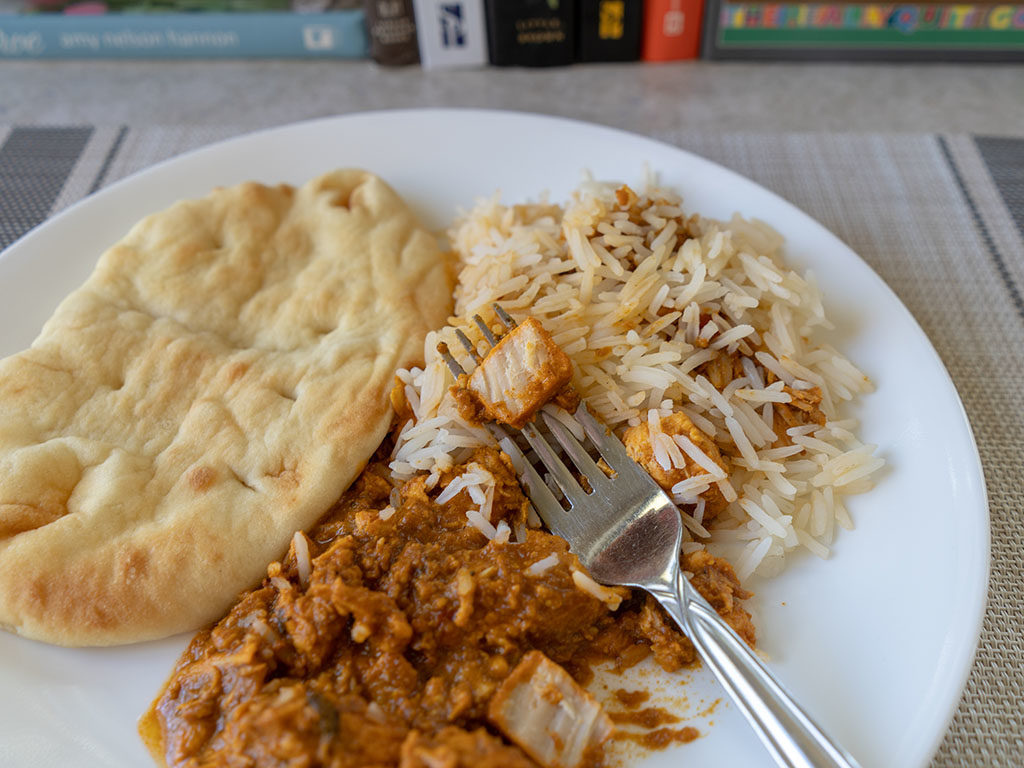 Here's the completed chicken curry, rice and naan on the plate. You'll note the rice and gravy are slightly intermingled, this is how the product comes together while cooking, not my own messiness I should add.
Sukhi's Chicken Curry – what's a fair price?
I paid $6.69 from a local grocery store for this frozen curry. I think this might be just ever so high for the size of the meal. In my own city I can purchase a chicken curry with rice and naan bread for around $12 from a restaurant. The quality would be the same if not a little higher and the portion more than twice as big.
Of course, it wouldn't beat the convenience of this Sukhi's product, from freezer to belly in minutes. If I saw the product around the $5 mark I think that would be fairer.
Other Sukhi's products
Hi, I'm Stuart, nice to meet you!  I'm the founder, writer and wrangler at Gastronomic SLC – Utah's biggest and oldest online food magazine; I'm also a former restaurant critic of more than five years, working for the Salt Lake Tribune.  I've worked extensively with multiple local publications from Visit Salt Lake to Salt Lake Magazine, not least helped to consult on national TV shows.
I'm a multiple-award winning journalist and have covered the Utah dining scene for the better part of fifteen years.   I'm largely fueled by a critical obsession with rice, alliteration and the use of big words I don't understand.   I started Shop Smart to catalogue my adventures in the grocery store and kitchen.  Follow along on Instagram too!
Come join our
Facebook grocery group
- and keep the discussion going! Talk about this, or any other food product with like minded home cooks and shoppers. Also share what you've been cooking up, and what you've found on yoru latest grocery shop. Join the conversation
here
.