Biryani, a dish fit for royalty! At least that's part of the back story of this classic Indian dish; often the centerpiece of a celebratory affair loaded with luxurious ingredients like saffron and warm spices.
This frozen entree from Sukhi's hopes to recreate that richly rewarding experience in the comfort of your own home. Sadly, and unusually for a brand name I normally respect, it misses the mark considerably.
There's nothing inherently wrong with the flavors or quality of this dish, but it's far removed from any biryani I know – or cook myself. There's literally just chicken and rice with a mild masala-esque sauce here. You'd normally expect to see whole spices like cloves, cardamom and bay leaves mingled into a rice studded perhaps with dried fruit. But there's none of that here.
The portion is relatively small too. After eating this for lunch, I found myself still poking around the cupboards for another snack.
Sukhi's Chicken Biryani – what's in the box?
Inside the main cardboard packaging you'll find the whole entree in this familiar microwave cooking shell.
Sukhi's Chicken Biryani
Here's the final dish cooked and plated, with a close up too, showing the chicken. As ever, Sukhi's provides good quality ingredients in this dish. It's just a shame there aren't more beyond chicken and rice.
Sukhi's Chicken Biryani cooking instructions, ingredients and nutrition
If you've cooked a frozen curry before, the instructions here will be instantly recognizable. Remove from cardboard box, pierce the plastic a few times, heat, stir, heat a bit more. Done. I did find I had to cook my biryani a little longer than indicated.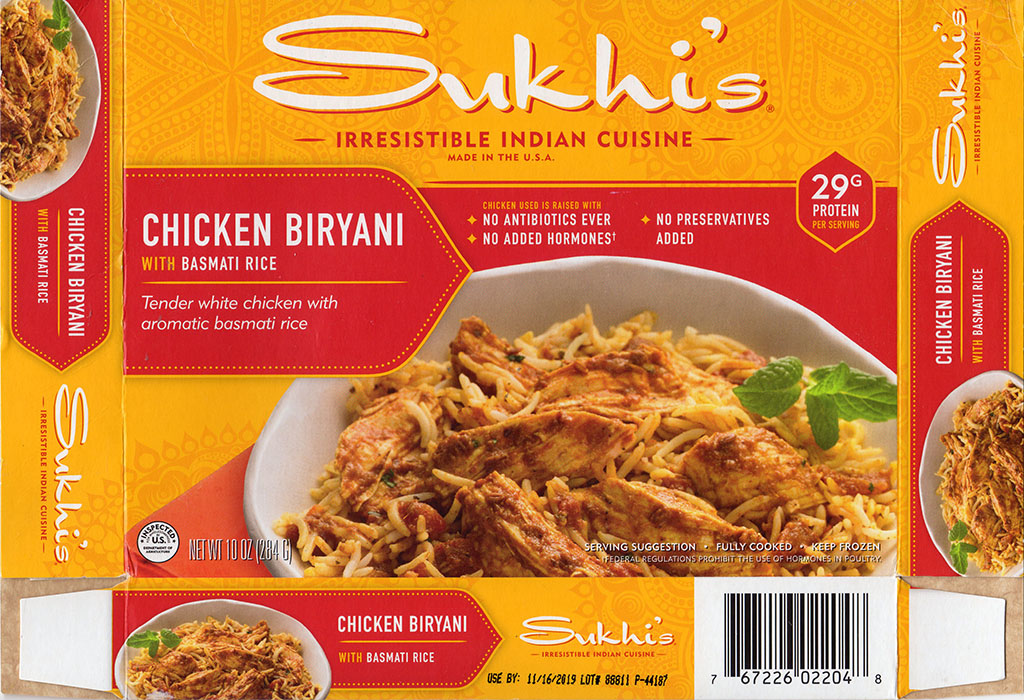 How much does Sukhi's Chicken Biryani cost?
I paid $6.19 for this entree at a local regional grocery store as of April 2019. The store in question is known for slightly higher pricing so this might explain the sticker price here.
I'd need to see this dish under the $5 mark to really be a repeat buyer, certainly over $6 mark its competing directly with restaurants, and it doesn't match up at all to a quality biryani dish.
Is Sukhi's Chicken Biryani any good?
We found this dish fairly mediocre, nothing too exciting but hardly terrible. The dish is fairly ho hum and relatively small in portion. On the plus side, the chicken used here is of decent quality.
Other Sukhi's products
Come join our
Facebook grocery group
- and keep the discussion going! Talk about this, or any other food product with like minded home cooks and shoppers. Also share what you've been cooking up, and what you've found on yoru latest grocery shop. Join the conversation
here
.