Are Trader Joe's Triple Ginger Cookie Thins any good?
Yes! Despite the "Triple Ginger" moniker these are a fairly balanced ginger snap. The ginger isn't overly assertive, and the product is more sweet treat than spicy snack. Some might crave a spicier flavor, but we're a fan of this gentle balance.
Nothing says Christmas time like Wintery warming spices. Nutmeg, cinnamon and ginger speak to flames licking a fireplace log, twinkling lights bedecking a fresh Christmas tree, and soft fluttery snow piling up against the window pane.
O.k. enough of the flowery prose, just tell me how the damned cookie tastes, I'm hungry. Well, in a word pretty great. These cookies are almost the Goldilocks of ginger snaps for me – not too spicy, not too sugary.
There's a definite note of warming ginger, but it never threatens to overwhelm the palate. The cookie isn't too sweet either. It's just, well, right! Texturally this is more cracker than cookie, its a brittle snapping affair, not chewy or gooey.
I can see these being a perfect snack propped in front of the TV, just as much as part of a party spread with family and friends.
Don't forget you can shop a range of Trader Joes on Amazon.com. (affiliate link)
Trader Joe's Triple Ginger Cookie Thins – what's in the box?
Two individual sleeves of cookie thins come packed inside the cardboard packaging. Each sleeve contains roughly 40 thins. The separate packaging is certainly appreciated so you don't need to open everything to the damaging air at once.
Not that I think most will find this a huge benefit; I'm certain once you've opened the first packet the second one will be torn open pretty quickly afterwards.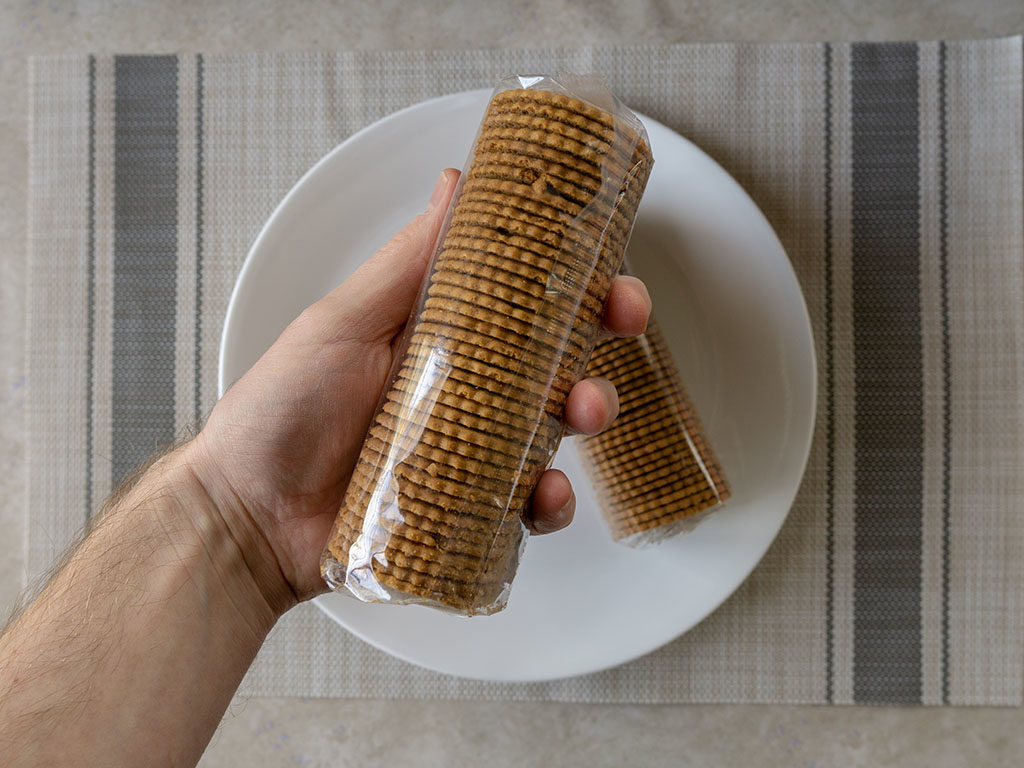 Trader Joe's Triple Ginger Cookie Thins nutrition and ingredients
How much do Trader Joe's Triple Ginger Cookie Thins cost?
As of December 2018 I paid $3.99 for this box which I think is a very fair price for a great product.
Other Trader Joe's products
Hi, I'm Stuart, nice to meet you!  I'm the founder, writer and wrangler at Gastronomic SLC – Utah's biggest and oldest online food magazine; I'm also a former restaurant critic of more than five years, working for the Salt Lake Tribune.  I've worked extensively with multiple local publications from Visit Salt Lake to Salt Lake Magazine, not least helped to consult on national TV shows.
I'm a multiple-award winning journalist and have covered the Utah dining scene for the better part of fifteen years.   I'm largely fueled by a critical obsession with rice, alliteration and the use of big words I don't understand.   I started Shop Smart to catalogue my adventures in the grocery store and kitchen.  Follow along on Instagram too!
Come join our
Facebook grocery group
- and keep the discussion going! Talk about this, or any other food product with like minded home cooks and shoppers. Also share what you've been cooking up, and what you've found on yoru latest grocery shop. Join the conversation
here
.