Is Trader Joe's Shrimp Stir Fry any good?
For us, this was a surprisingly weak product from the otherwise usually solid Trader Joe's. There's nothing bad per se about this dish, but it fails to excite. The included sauce is instantly forgettable, plan on adding your own creation to his mix to really get the best from the frozen shrimp and veggies.
If you've read more than a handful of reviews covering Trader Joe's product line, you'll no doubt have heard repeatedly about how reliable the brand name is. It's true, it's really difficult to find a TJ's item that disappoints. And sadly, for me, this is one of them.
That's not to say there's anything inherently wrong with this product. It's just so…dull…which isn't normally an adjective you'd ascribe to Trader Joe's.
There's nothing here you can't find provided by any big box grocery retailer. Some frozen vegetables, a packet of sauce and some shrimp. It's all quite pedestrian, especially so the sauce, which added next to nothing to do the dish. I had to work my own little magic with sambal, soy and hoisin to get the best to out of this dish.
As mentioned above, Trader Joe's frozen goods are usually surefire bets; this just isn't the case for me. I'd much rather chop up my own fresh veggies and craft my own sauce than use this product. Even if frozen food convenience was the order of the day, there are scores of cheap, frozen Asian veggies out there to keep in the freezer.
Trader Joe's Shrimp Stir Fry – what's in the bag
Inside the main package you'll find three collections of things: a packet of seasoning sauce, shrimp packaged separate and the main vegetable component, loose in the main bag.
Trader Joe's Shrimp Stir Fry
Here's the final product cooked and also then plated with Trader Joe's vegetable fried rice.
Trader Joe's Shrimp Stir Fry cooking instructions, nutrition and ingredients
Cooking the dish is pretty simple stuff. Cook the shrimp first in oil for a couple minutes, then add the veggies for three, then add the sauce. Make sure your shrimp turn pink and you're good to go.
Nutritionally keep an eye on the sodium, which is obviously from the accompanying sauce packet. It's surprising that given the amount of salt, I still needed to gussy up the sauce. Perhaps that says smoothing about my own salt monster intake levels!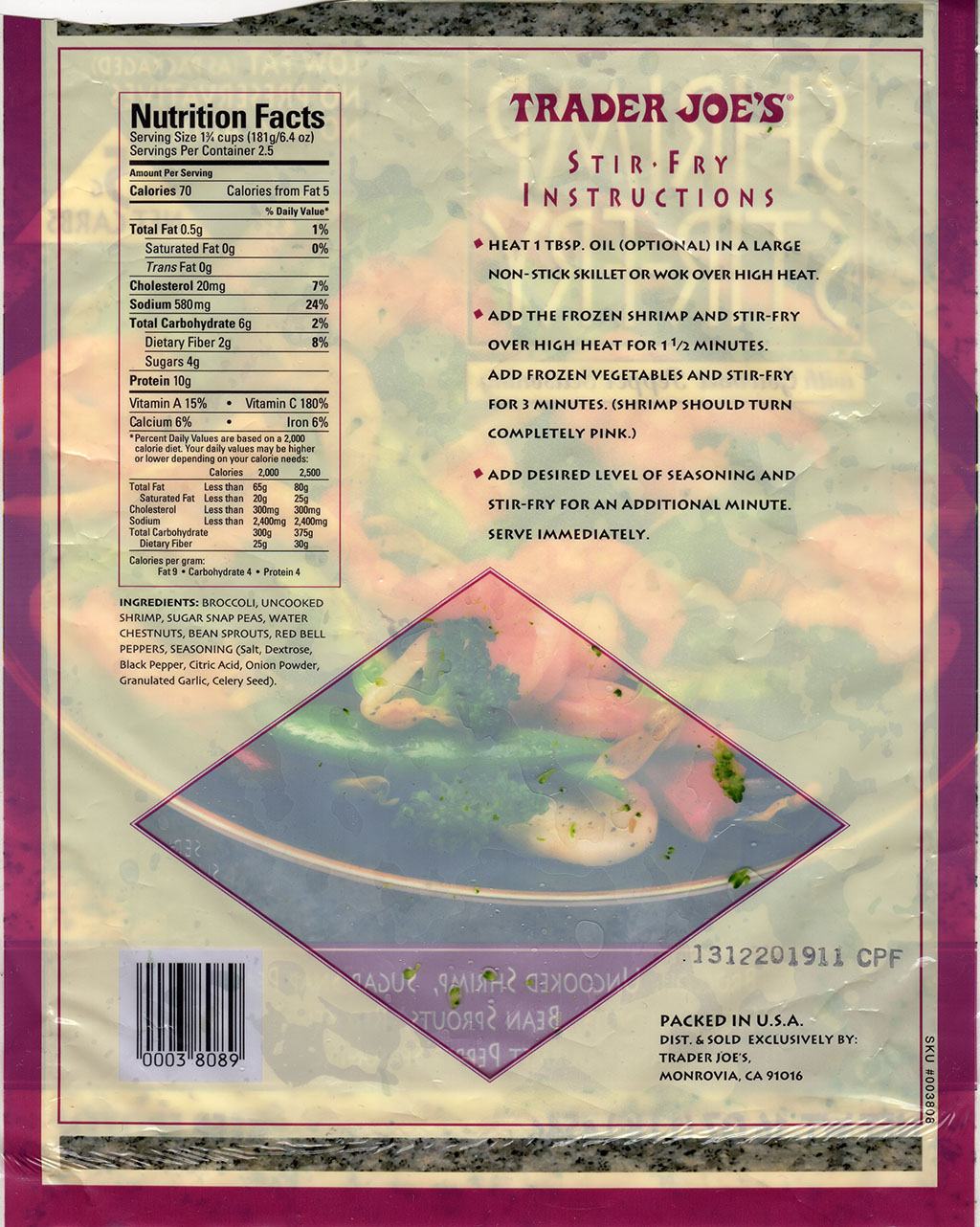 How much does Trader Joe's Shrimp Stir Fry cost?
I paid $4.99 in December 2018 for this stir fry product. That's an ok value I suppose.
Other Trader Joe's products
Come join our
Facebook grocery group
- and keep the discussion going! Talk about this, or any other food product with like minded home cooks and shoppers. Also share what you've been cooking up, and what you've found on yoru latest grocery shop. Join the conversation
here
.