The first time I tried this product sticks firmly in my memory to this day. The grainy, sand like texture that made me wince in regret the moment I bit into the breakfast patty. The remainder of the sandwich and the bag for that matter went directly to the garbage. I recall marveling in wonder at how good some of Gardein's product range contrasted to this terrible abomination.
And then, at a time I cant exactly recall, I saw the new packaging you see above. It seemed as though Gardein had revamped this anomaly in their line up. I did reach out for confirmation but never heard back. Side grumble: the PR/customer communications from so so many food companies is very poor.
Anyway, I compared the old and new packaging (I scan everything – I am weird) and lo and behold, these were indeed different. Here's a few pictures of the new product: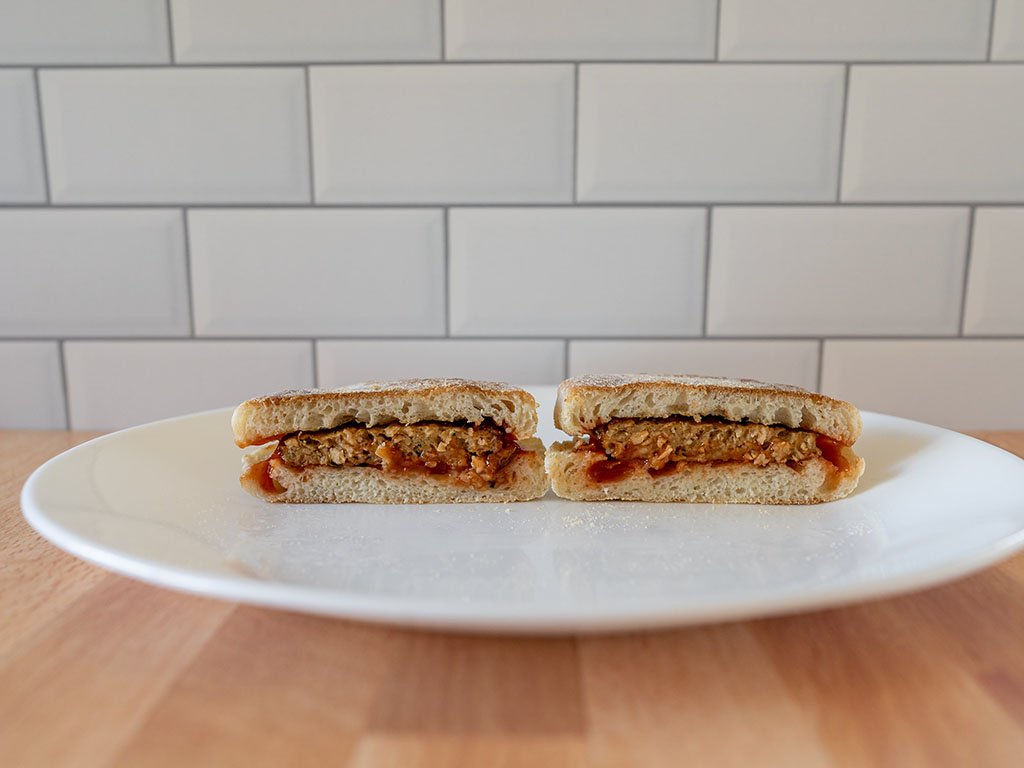 Despite the packaging claiming these to be "Original" these are absolutely not the same recipe as the original Gardein breakfast patties. I'm unsure as to why Gardein would make that statement. The previous variety were essentially vile, these are very, very good indeed.
If you tried the old version and recoiled in disgust like I did – definitely give these a look in. There's not a hint of the unappealing grainy texture of old and the new flavor is enjoyable, tinged with just a little rosemary; way too many brands are heavy handed with this herb which can be quite overpowering, not the case here.
The patties are also pleasingly larger than their meatier counterparts which means they occupy more of a breakfast English muffin; which hey, that's where these are ending up right!
Gardein Breakfast Saus'age Patties packaging
Gardein Breakfast Patties – legacy packaging
Just for comparison, and by way of no, no I'm not mad, here's the original packaging of this product:
More Gardein products and dishes
Hi, I'm Stuart, nice to meet you!  I'm the founder, writer and wrangler at Gastronomic SLC – Utah's biggest and oldest online food magazine; I'm also a former restaurant critic of more than five years, working for the Salt Lake Tribune.  I've worked extensively with multiple local publications from Visit Salt Lake to Salt Lake Magazine, not least helped to consult on national TV shows.
I'm a multiple-award winning journalist and have covered the Utah dining scene for the better part of fifteen years.   I'm largely fueled by a critical obsession with rice, alliteration and the use of big words I don't understand.   I started Shop Smart to catalogue my adventures in the grocery store and kitchen.  Follow along on Instagram too!
Come join our
Facebook grocery group
- and keep the discussion going! Talk about this, or any other food product with like minded home cooks and shoppers. Also share what you've been cooking up, and what you've found on yoru latest grocery shop. Join the conversation
here
.