Just a few days after Thanksgiving and my local Whole Foods was selling these (and other vegan seasonal specials) at half price. I'd always been a little apprehensive at their full price, but for a little more than three bucks a packet – this was a no brainer.
The product is essentially Gardein's Turk'y product package here as a rolled ball encasing a vegan stuffing and a cranberry center. Inside the bag you'll find two Turk'y "lumps" and two packets of gravy.
To be honest I tossed the gravy directly in the garbage, as I'm not a fan at all of Gardein's gravy found in other products. If you're looking for a veggie friendly gravy I highly recommend the UK brand Bisto and their vegetarian version (buy on Amazon, affiliate link). You can make it in one or two minutes and it's about the best I've found.
Anyway, onto the Gardein Turk'y product. You'll need to cook these at a fairly high temp in the oven for about thirty minutes (see packaging notes below). Even then, mine didn't come out steaming hot. As the package is keen to remind, these aren't meat, so we didn't risk overcooking them and dug right in.
I was pleasantly surprised by how the whole package came together. The Gardein Turk'y itself is fairly bland, but with the herbal kick from the mild stuffing and sweet notes from the cranberry center – it just works. The exterior crisp adds a fun textural touch too. As a complete package, and dipped in a little gravy – it's an instant taste of the holidays.
Obviously you'll want to plate with a few seasonal veggies of your choice. We went with roast sweet potatoes, Brussels sprouts and some garlic mushrooms. The whole plate was one of the most enjoyable meat free meals I've enjoyed in some time. I'd buy these again in a heartbeat and at full price too!
Gardein Savory Stuffed Turk'y cooking instructions, ingredients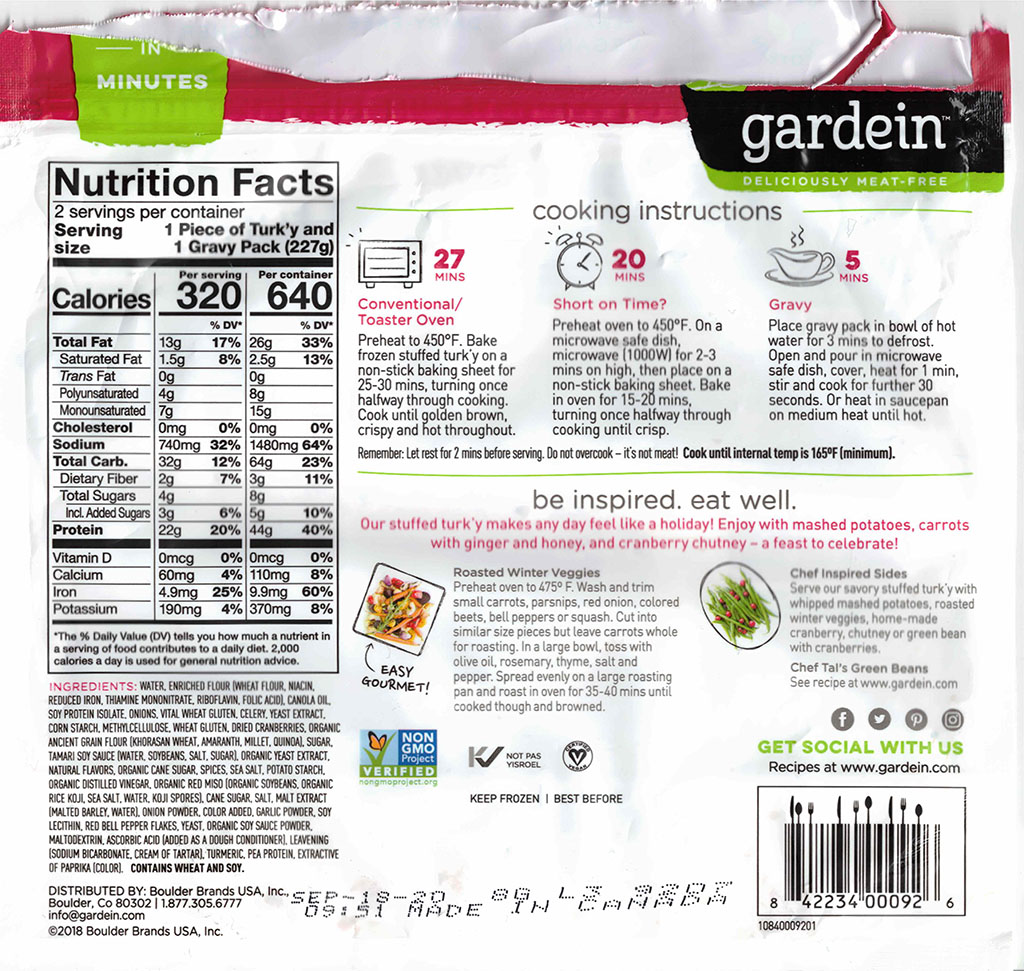 Other Gardein products
Come join our
Facebook grocery group
- and keep the discussion going! Talk about this, or any other food product with like minded home cooks and shoppers. Also share what you've been cooking up, and what you've found on yoru latest grocery shop. Join the conversation
here
.