Are Gardein Meatless Meatballs any good?
Definitely! These are staples in my freezer, and make for a perfect standby for a lot of dishes. Cooking couldn't be easier, the texture has a great meaty chew and the flavor is very fennel forward.
Gardein is a US based company that offers 100% plant based (see: cool new phrase for vegan) food. I first got turned onto their product on a whim more than anything. I'm far from a vegan myself, but will happily eat anything and everything provided it tastes good.
The bonus points for the Gardein line, and indeed most vegan products, if you find something you too like – it's usually always a lot more healthier than the meat based version. Check out the nutrition the Gardein meatballs in the section below.
So how are they? In a word, great! Dyed in the wool meat eaters who aren't open to anything but red meat will never be convinced, but if you too are looking to save a few calories and reduce a little saturated fat there and there, they are a great choice.
The texture is remarkably closed to the real thing, even after a long simmering in a sauce. The flavor isn't too pronounced, especially when in a strong sauce, but has a definite pronounced fennel flavor. This actually makes it more flexible than you might think; while you'll immediately jump for the Italian sauce, the sweet fennel flavor lends itself to Chinese and Japanese curry dishes too, quite admirably.
Given their meaty texture and enjoyable flavor these meatballs are one of our definite Smart Buys – we think you should always have some in the freezer.
Gardein Classic Meatless Meatballs – whats's in the packet
What's a fair price?
Walmart usually has these for under four dollars, $3.97 to be precise. Under four bucks I would buy these all day long. More generally I see them sold for $4.49 at other grocery stores.
Gardein Classic Meatless Meatballs cooking instructions and nutrition
Here's the rear of the packet with the various options for cooking. As you can see these meatballs are very flexible: cooked in a sauce, baked in the oven or even microwaved. Four meatballs deliver a pretty decent 15g of protein with basically none of the saturated fat of the real stuff.
You prepare the Gardein meatballs in three ways: in the oven or simmering in sauce for around 20 minutes or roughly half of that in the microwave. The meatballs are quite dense, so don't worry about cooking longer in a gentle simmer; I've gone as long as 30-40 minute with no ill effect.
What dishes can I make with Gardein Classic Meatless Meatballs
The most obvious immediate choice is in your favorite Italian pasta dish – such as a comforting bowl of pasta – here with some orzo pasta and simple garlic tomato sauce: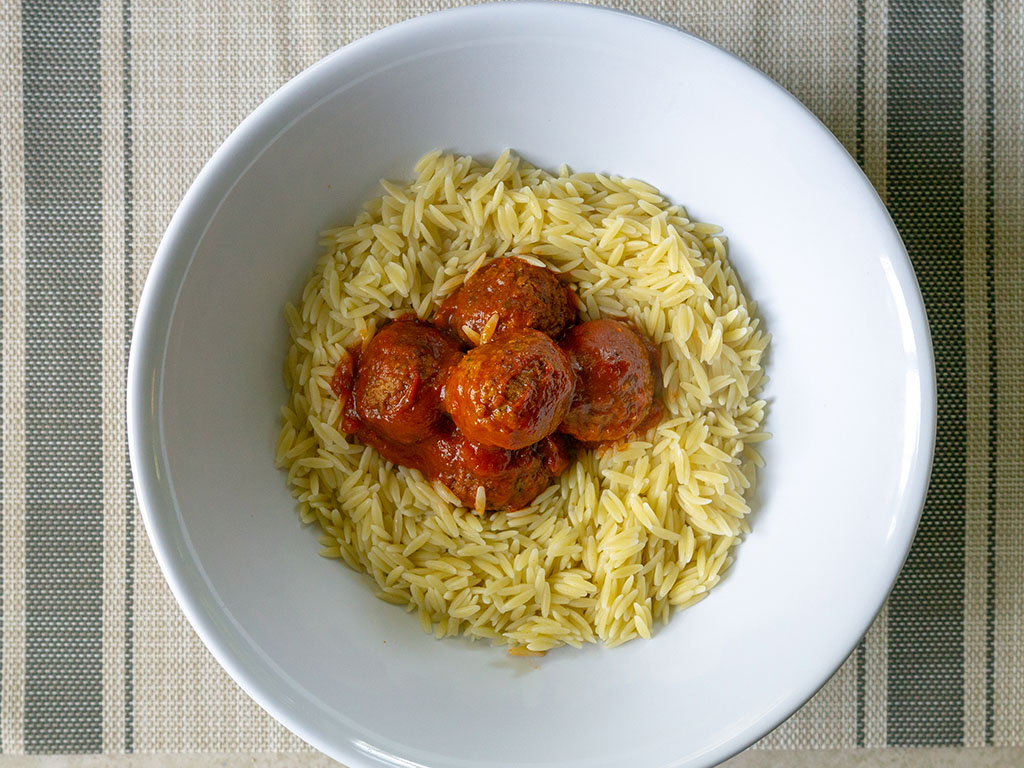 One of my favorites (below) is simmered in a simple sauce with chopped green bell pepper, zucchini, black olives and mushrooms. It's a quick and healthy mid week meal that doesn't take more than 25 minutes from start to finish.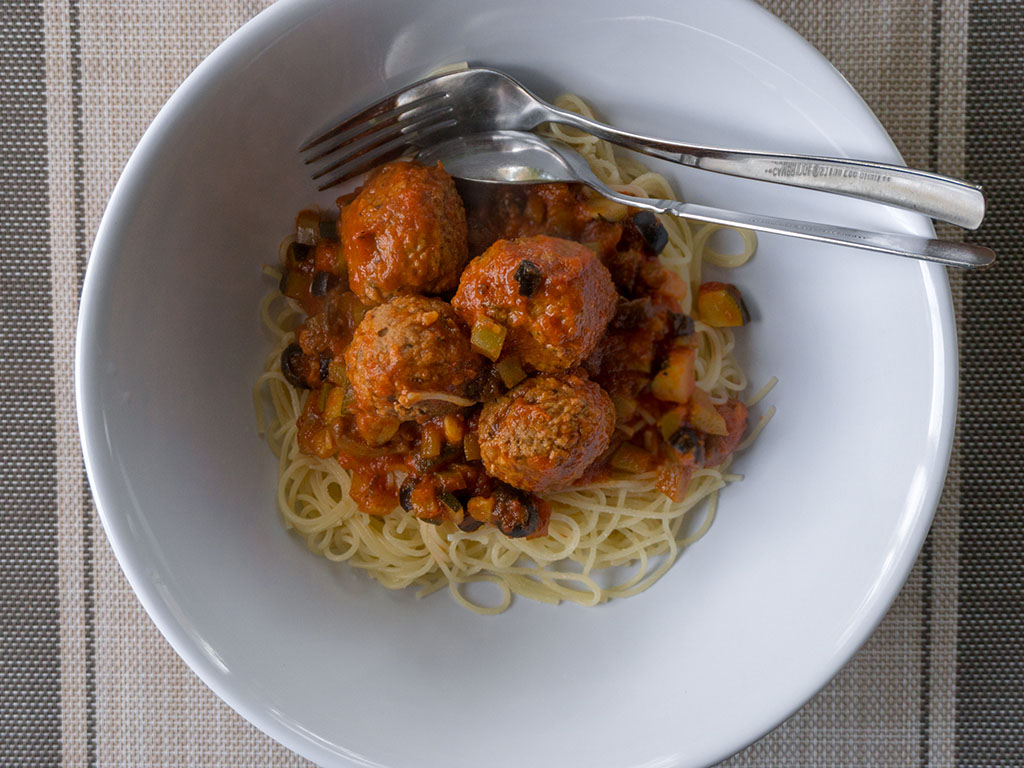 As I mentioned the sweet fennel flavors lend the Gardein meatballs to Chinese/Japanese curries. With that in mind, here's a left field suggestion: Gardein Meatballs with mushrooms in House Foods Vermont Curry, served with a side of Jasmine rice and quick sunomono salad.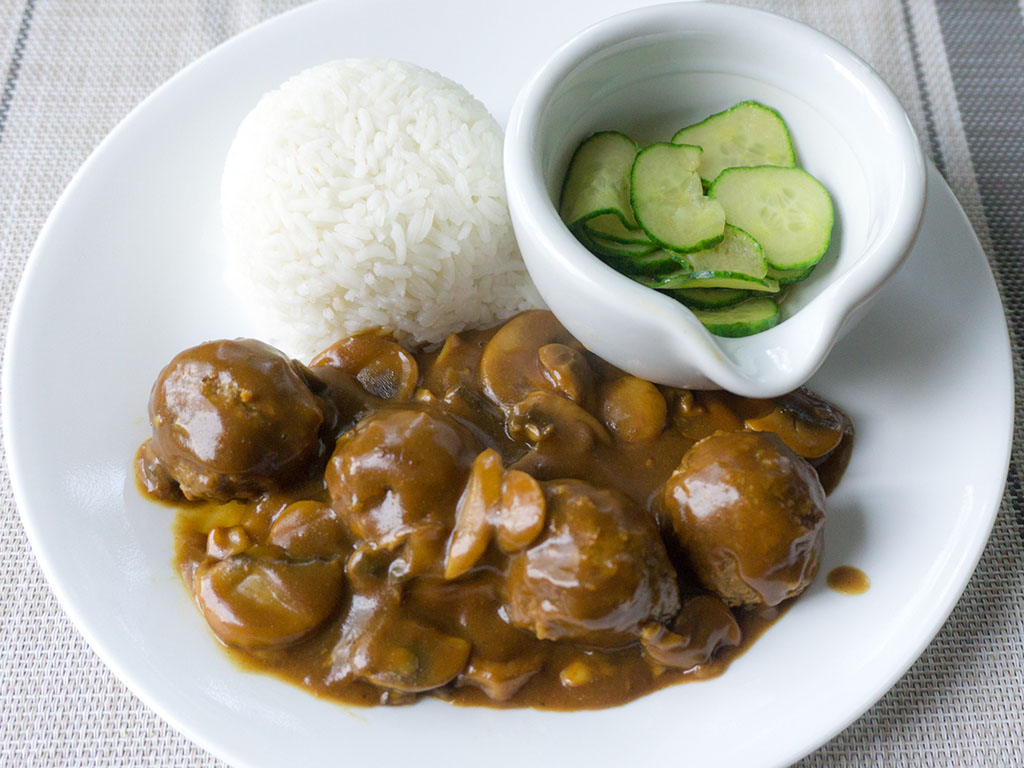 In truth these meatballs do great in just about any robust sauce you can simmer them in – how about vegan chile verde for example:
Here's another quick and healthy meal for these meatballs – a hearty meatball sub! Here I'm using Newmans Own garlicky tomato sauce to simmer the meatballs in, and also using to dip the sandwich in too:
Other Gardein products to check out
Where Can I Buy House Foods Vermont Curry?
You can purchase his curry sauce via Amazon for a reasonable price. It usually retails for less than 9 bucks and you can get quite a few meals from one packet. Buy Vermont Curry on Amazon now
 (affiliate link).
Hi, I'm Stuart, nice to meet you!  I'm the founder, writer and wrangler at Gastronomic SLC – Utah's biggest and oldest online food magazine; I'm also a former restaurant critic of more than five years, working for the Salt Lake Tribune.  I've worked extensively with multiple local publications from Visit Salt Lake to Salt Lake Magazine, not least helped to consult on national TV shows.
I'm a multiple-award winning journalist and have covered the Utah dining scene for the better part of fifteen years.   I'm largely fueled by a critical obsession with rice, alliteration and the use of big words I don't understand.   I started Shop Smart to catalogue my adventures in the grocery store and kitchen.  Follow along on Instagram too!
Come join our
Facebook grocery group
- and keep the discussion going! Talk about this, or any other food product with like minded home cooks and shoppers. Also share what you've been cooking up, and what you've found on yoru latest grocery shop. Join the conversation
here
.