Is Gardein Home Style Meatless Meatloaf any good?
Absolutely! This is one of our Smart Buys. In both terms of texture and taste this is a winner and should be a staple in your freezer if you're exploring meat free cooking.
Every once in a while I'll grab an item on a whim and it'll end up in the back of the freezer or pantry; gathering ice crystals or dust, never really convincing me to dig in. That happened with this Gardein Meatless Meatloaf. I bought it more out of the completist goal of sampling the entire Gardein range, than actually wanting to cook the product. I have since slapped myself senseless for making this rookie error. This product is quite possibly my favorite in the whole Gardein lineup. I've found it frustratingly hard to find again locally since, compounding my error, I should have stocked up!
So what's so special about this vegan product? Personally I love the texture first and foremost, cooked in the pan with a little oil the result is a fabulously crisp exterior and soft interior; the two combined make for a wonderful mouthfeel. TVP is the main ingredient here, so the flavor is more nuanced than something seitan based – a little celery and garlic coming through strongest. The meatloaf has a very enjoyable savory flavor that would make it perfect in a range of dishes.
The only real let down is the gravy, I'm not a fan to be fran. The consistency is slightly off, as is the artificial flavor. This is a minor complaint in an otherwise stellar product. This easily makes our exclusive Smart Buy list and deserves a place in every freezer.
Gardein Home Style Meatless Meatloaf – what's in the packet?
Four meatloaf slices come in the resealable package. They're accompanied by two packets of frozen gray in plastic pouches. The recommended servicing is two slices and one of the gravy packets.
Gardein Home Style Meatless Meatloaf
Here's the meatloaf hot out of the pan: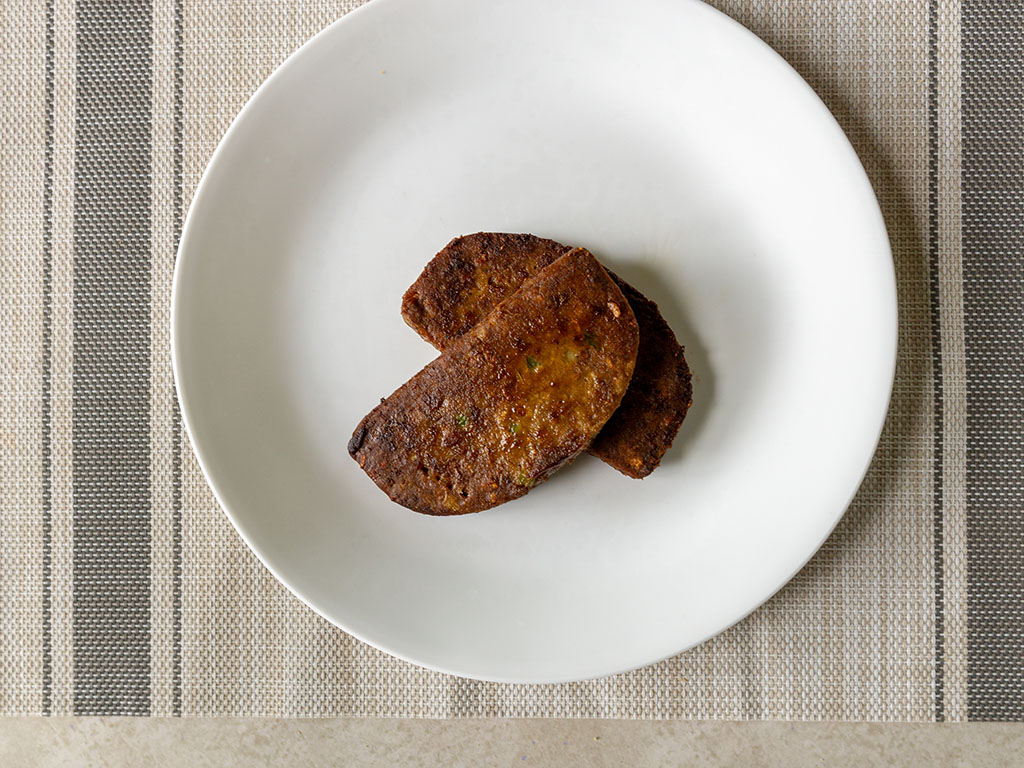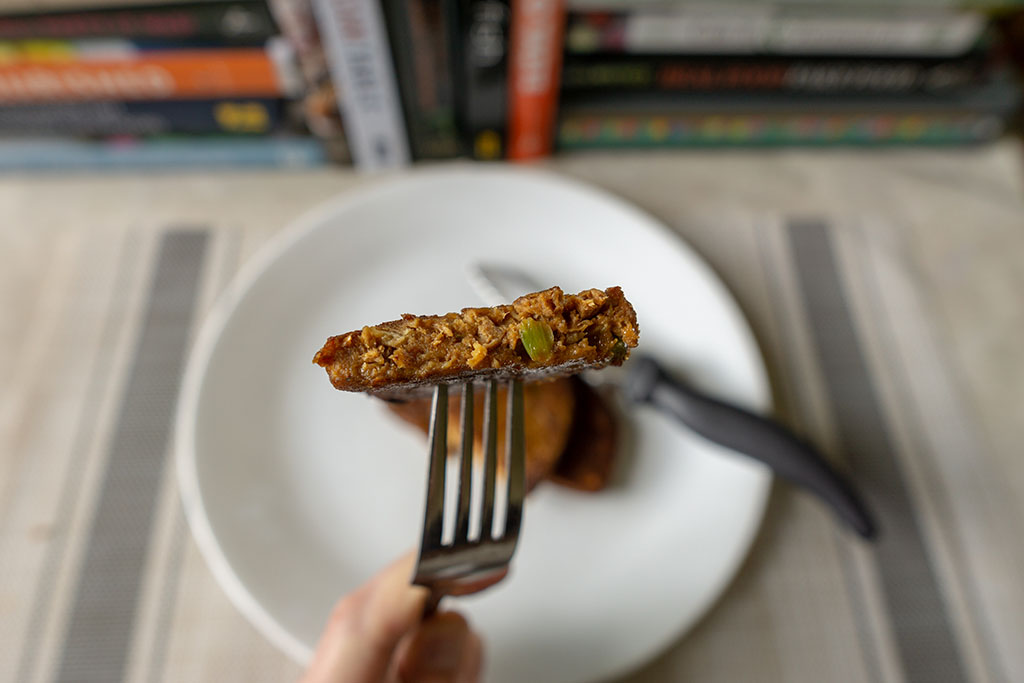 Eschewing the typical mash and. meatloaf prep, the first dish I had with the meatloaf was a meatloaf sandwich. A little onion, ketchup and gravy: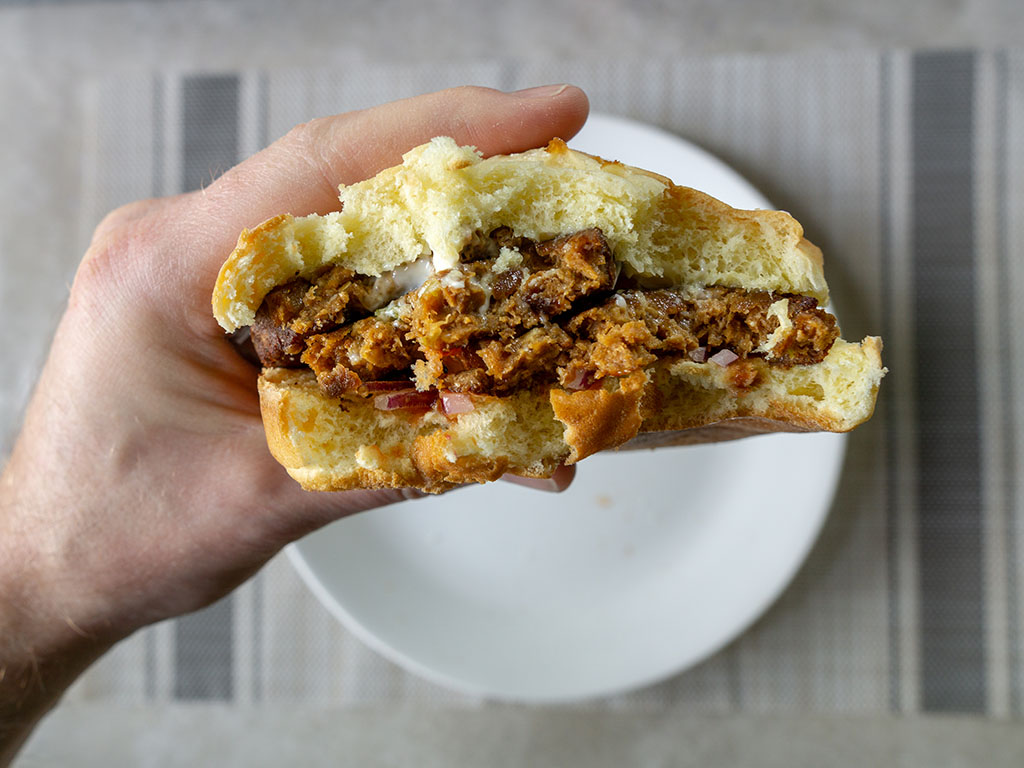 Here's a more traditional plating of the meatloaf, served up with roast sprouts, roasted cauliflower and Alexia Sweet Potato Fries:
Gardein Home Style Meatless Meatloaf cooking instructions, ingredients, nutrition
I've only attempted the pan frying method so far. I had such success with the first batch, I didn't want to disappoint myself with a potential subpar microwave experience. 3-4 minutes a side in a little oil is hardly onerous though. With 10g of protein per slice these are a fantastic way to reduce meat intake in your diet, albeit the caveat is they come with a hefty dollop of sodium.
Gardein Home Style Meatless Meatloaf – what's a fair price?
I've found these priced at $4.69 at a variety of stores in my local area. Whole Foods seems to stock these quite regularly. At around $1.20 per meatloaf slice, I think that's a very reasonable price. Stores routinely have sales across the whole Gardein line, and if I saw these under $4 I'd grab a bunch at once for sure.
Other Gardein products to check out
Come join our
Facebook grocery group
- and keep the discussion going! Talk about this, or any other food product with like minded home cooks and shoppers. Also share what you've been cooking up, and what you've found on yoru latest grocery shop. Join the conversation
here
.