Of all the relatively contemporary meat free businesses, Gardein has one the most expansive product lines. The lineup has items like the more commonplace burgers and chicken patties, but also expands into sliders, seafood free fish and items like these Barbecue Wings.
Inside the bag – which is resealable like all Gardein products – you'll find the following ten nuggets and sauce packet: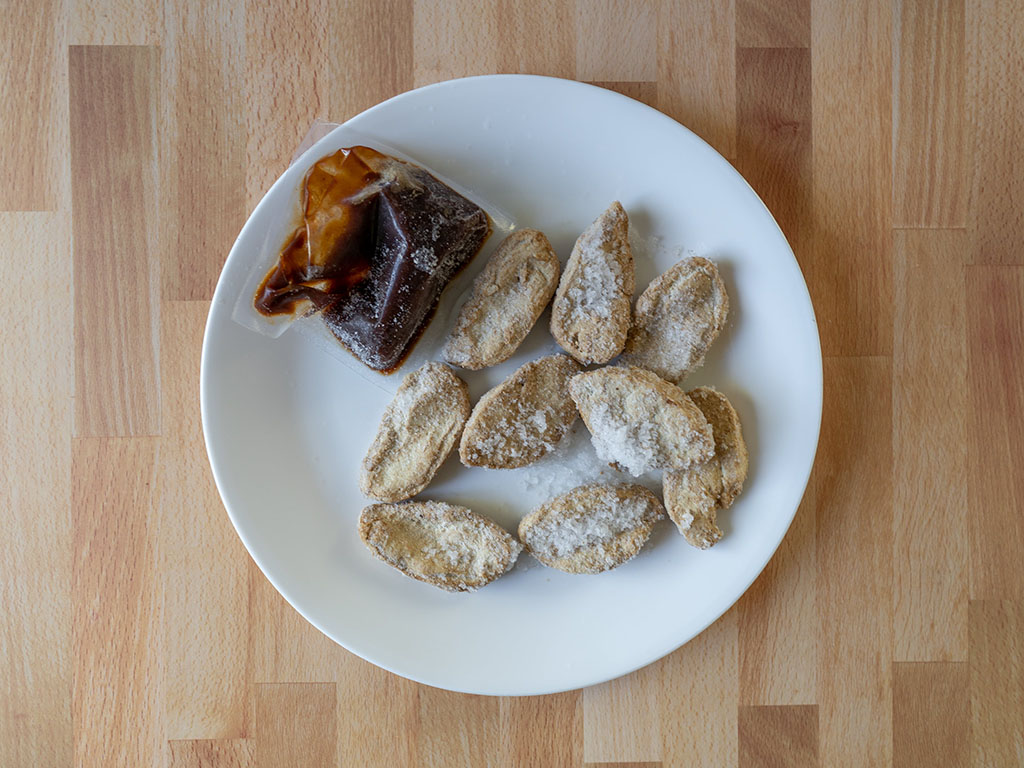 They cook up in the frying pan not unlike most of Gardein's faux chicken products. Heat them with some oil and you're good to go, the sauce packet can go on just at the end; which itself defrosts while still inside its plastic package, quickly in some warm water.
In truth these are nothing more than a re-shaped and re-packaged version of other Gardein products. Well, there might be a slight variation in the ingredients (see below), but to my palate these are almost indistinguishable, taste and texture wise, from the brand's Chick'n strips for example. The texture has an enjoyable chew, but the flavor is unremarkable.
Of course that's where the BBQ sauce comes in. The packaged sauce was surprisingly not overtly sweet, but also nothing amazing either. I'd recommending adding in your own extra seasonings – or heck – make your own BBQ sauce. It takes five minutes and is much much better!
Gardein Sweet And Tangy Barbecue Wings ingredients, nutrition, cooking
Are Gardein Sweet And Tangy Barbecue Wings any good?
Our verdict – 3/5. A more than solid product. If you're looking to cook up a Summer BBQ plate but hope to avoid the meat these wing shaped nuggets might be the trick. Other Gardein Chikn products would stand in just as ably mind you.
More Gardein products and dishes
Hi, I'm Stuart, nice to meet you!  I'm the founder, writer and wrangler at Gastronomic SLC – Utah's biggest and oldest online food magazine; I'm also a former restaurant critic of more than five years, working for the Salt Lake Tribune.  I've worked extensively with multiple local publications from Visit Salt Lake to Salt Lake Magazine, not least helped to consult on national TV shows.
I'm a multiple-award winning journalist and have covered the Utah dining scene for the better part of fifteen years.   I'm largely fueled by a critical obsession with rice, alliteration and the use of big words I don't understand.   I started Shop Smart to catalogue my adventures in the grocery store and kitchen.  Follow along on Instagram too!
Come join our
Facebook grocery group
- and keep the discussion going! Talk about this, or any other food product with like minded home cooks and shoppers. Also share what you've been cooking up, and what you've found on yoru latest grocery shop. Join the conversation
here
.