Is Lean Cuisine Marketplace Orange Chicken any good?
This is a mediocre frozen meal for my money. The flavor is unrelentingly sweet, which might be your thing, it's not mine. The chicken pieces are lackluster and mushy too.
I was hesitant to try this one, I was certain I knew what was going to happen here. Sadly, I have to report I wasn't wrong – this frozen meal's piece de resistance is a bludgeoning of surgery sweetness. I had chanced my luck, maybe there was something of nuance here, after all the Moroccan Beef in this product line was great. Nope, this was a fairly generic tangerine orange flavored sauce screaming with sweetness.
Naturally, there's a huge portion of the populace that will lap this up, but not me. I was additionally not too impressed with the piece of chicken in the dish, which microwave up fairly mushy. Add on top of that the vegetable studded rice, which wasn't too amazing either, this was a bit of a let down. Still, for the price I paid (see below) I didn't feel too disappointed overall.
Lean Cuisine Marketplace Orange Chicken – what's in the box?
Inside the cardboard packaging you'll find the microwavable plastic pack ready to go.
Lean Cuisine Marketplace Orange Chicken
Lean Cuisine Marketplace Orange Chicken nutrition
Lean Cuisine Marketplace Orange Chicken ingredients
Lean Cuisine Marketplace Orange Chicken cooking instructions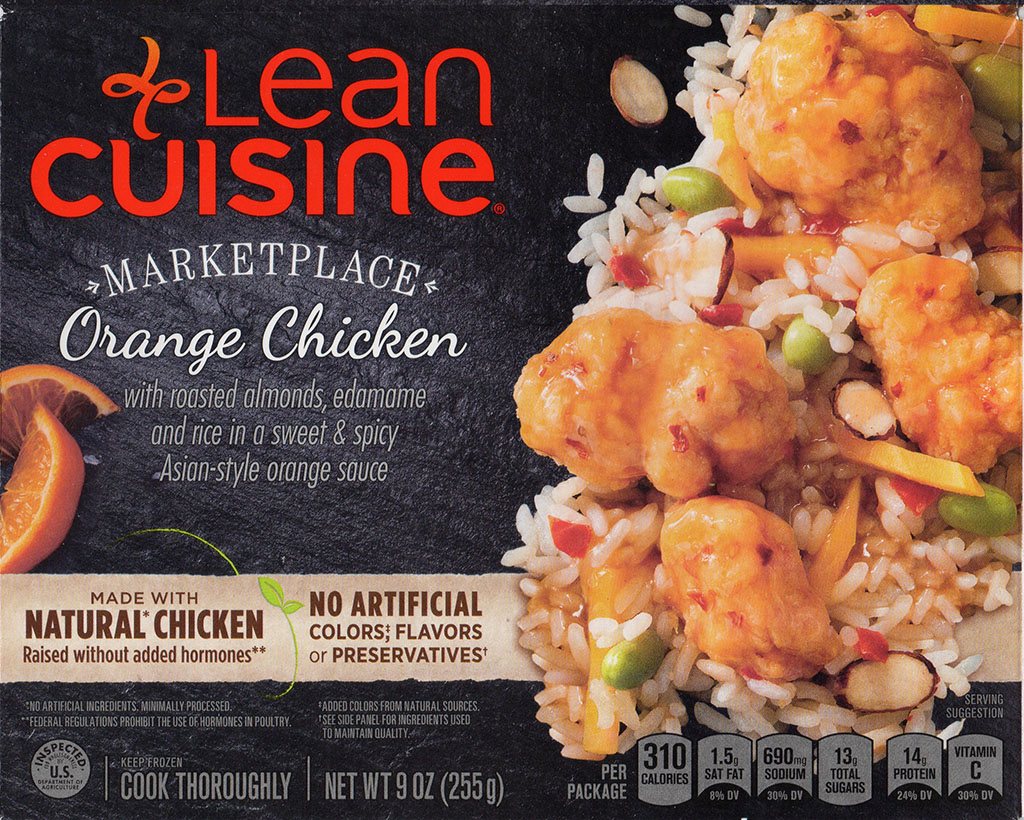 Lean Cuisine Marketplace Orange Chicken nutrition – what's a fair price?
Like other items in this range, the product is priced at $2.50. At least they are at my local Walmart, and I feel that's a fair price.
Other Lean Cuisine products to check out
Hi, I'm Stuart, nice to meet you!  I'm the founder, writer and wrangler at Gastronomic SLC – Utah's biggest and oldest online food magazine; I'm also a former restaurant critic of more than five years, working for the Salt Lake Tribune.  I've worked extensively with multiple local publications from Visit Salt Lake to Salt Lake Magazine, not least helped to consult on national TV shows.
I'm a multiple-award winning journalist and have covered the Utah dining scene for the better part of fifteen years.   I'm largely fueled by a critical obsession with rice, alliteration and the use of big words I don't understand.   I started Shop Smart to catalogue my adventures in the grocery store and kitchen.  Follow along on Instagram too!
Come join our
Facebook grocery group
- and keep the discussion going! Talk about this, or any other food product with like minded home cooks and shoppers. Also share what you've been cooking up, and what you've found on yoru latest grocery shop. Join the conversation
here
.