Is Lean Cuisine Tortilla Crusted Fish any good?
This was a mixed bag for me. The Alaskan pollock was decent for a frozen microwave meal, flaky and meaty. I found the accompanying sauce a little too cheese forward for my tastes – which was disappointing given cheese isn't listed as a prominent ingredient.
While I'm not particularly attached to any diet personally, I'm not against shaving a few calories off my average plate here and there. Every bit I can save is that much more I can indulge when I eat out after all! Plus, I'm all for convenience, especially for lunch where I'm often time pressed and want to get back to my desk ASAP. Too often I'll resort to the same old boring lunch, a sandwich slapped together in seconds.
With that in mind I recently gave this Lean Cuisine Tortilla Crusted Fish a road test; given the extensive selection in this product range, I hoped I'd find a new secret lunch weapon for my arsenal. So how'd it fare?
The Alaskan pollock cooked up quite nicely, flaking nicely and also providing an enjoyable meaty texture. The fish was the strongest portion of the dish for me. The tortilla crusting was also decent, thankfully not a gummy mess as can often be the case with more processed items like this.
A personal let down for me was in the accompanying rice side, studded with peppers and corn. The advertised cream sauce actually turned out to have Cheddar cheese as an ingredient too. That's not really mentioned on the main packaging – except for micro lettering on the ingredient list – scroll down to see.
As I'm not a huge cheese fan, this component of the sauce REALLY stood out to me; indeed half way through cooking I thought "uh oh, that's quite a cheesy aroma". Aside from that the creamy sauce itself and veggies, were a pleasant enough accompaniment to the fish. It would have been nice to see the cheese component of the sauce called out more prominently. I realize I'm the odd one out here, most folks love cheese, so this is certainly a personal note.
Overall this frozen meal did hit the spot for a quick lunch solution and was certainly a different change of pace for me. I'm definitely going to investigate more of the product line as a result.
Lean Cuisine Tortilla Crusted Fish – what's in the box
With the cardboard packaging removed, the dish comes in a microwaveable plastic tray. It's initially covered in a plastic film, here's the product with the film removed: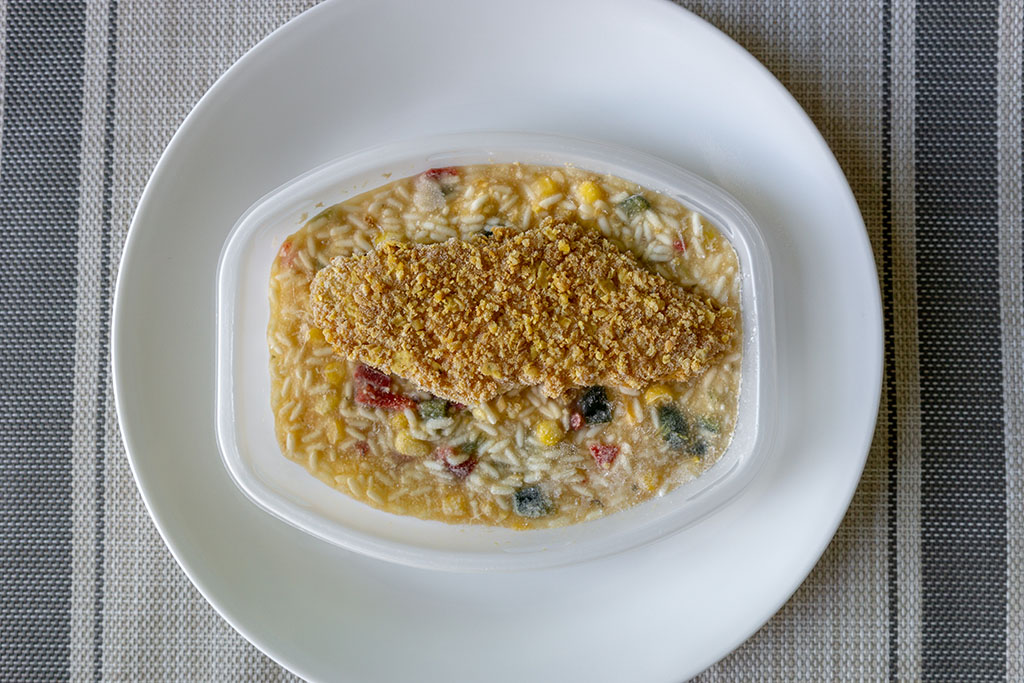 Lean Cuisine Tortilla Crusted Fish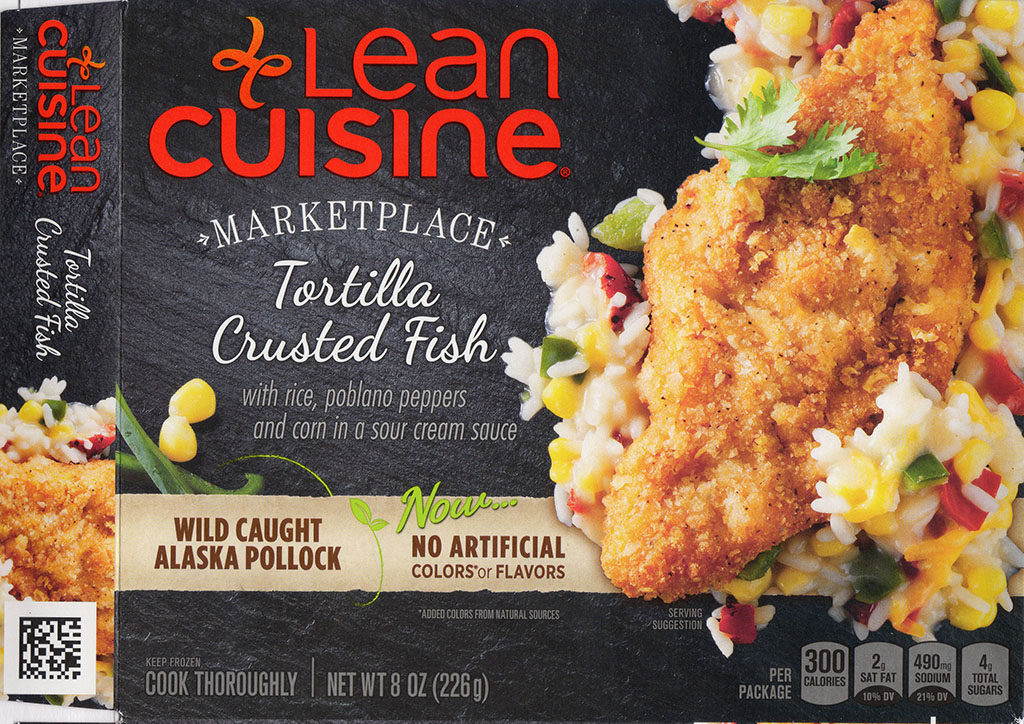 Lean Cuisine Tortilla Crusted Fish – cooking instructions and nutrition
The microwave – four or five minutes therein – is the only way to cook this dish. All relatively straightforward except the vague instructions to only remove the plastic film from the fish section of the dish. With the fish frozen in place in the centre, this proved completely unrealistic. While I could have took some scissors and surgically cut out a fish shaped whole the in the plastic…I just ripped the whole thing off and cooked the lot uncovered, which worked plenty fine.
As I have an older microwave I did cook for a little longer than the box instructed, which left some of the rice/sauce congealed and hard. If I cooked this again, I'd remove the film, cover the whole dish with a paper towel and cook in smaller increments, tasting doneness along the way.
Lean Cuisine Tortilla Crusted Fish – ingredients
Lean Cuisine Tortilla Crusted Fish – whats a fair price?
One of the reasons I was both attracted and equally cautious of this product was the price; just $2.50 from my local Walmart. At this price point the product is definitely fair.
Other Lean Cuisine products to check out
Hi, I'm Stuart, nice to meet you!  I'm the founder, writer and wrangler at Gastronomic SLC – Utah's biggest and oldest online food magazine; I'm also a former restaurant critic of more than five years, working for the Salt Lake Tribune.  I've worked extensively with multiple local publications from Visit Salt Lake to Salt Lake Magazine, not least helped to consult on national TV shows.
I'm a multiple-award winning journalist and have covered the Utah dining scene for the better part of fifteen years.   I'm largely fueled by a critical obsession with rice, alliteration and the use of big words I don't understand.   I started Shop Smart to catalogue my adventures in the grocery store and kitchen.  Follow along on Instagram too!
Come join our
Facebook grocery group
- and keep the discussion going! Talk about this, or any other food product with like minded home cooks and shoppers. Also share what you've been cooking up, and what you've found on yoru latest grocery shop. Join the conversation
here
.