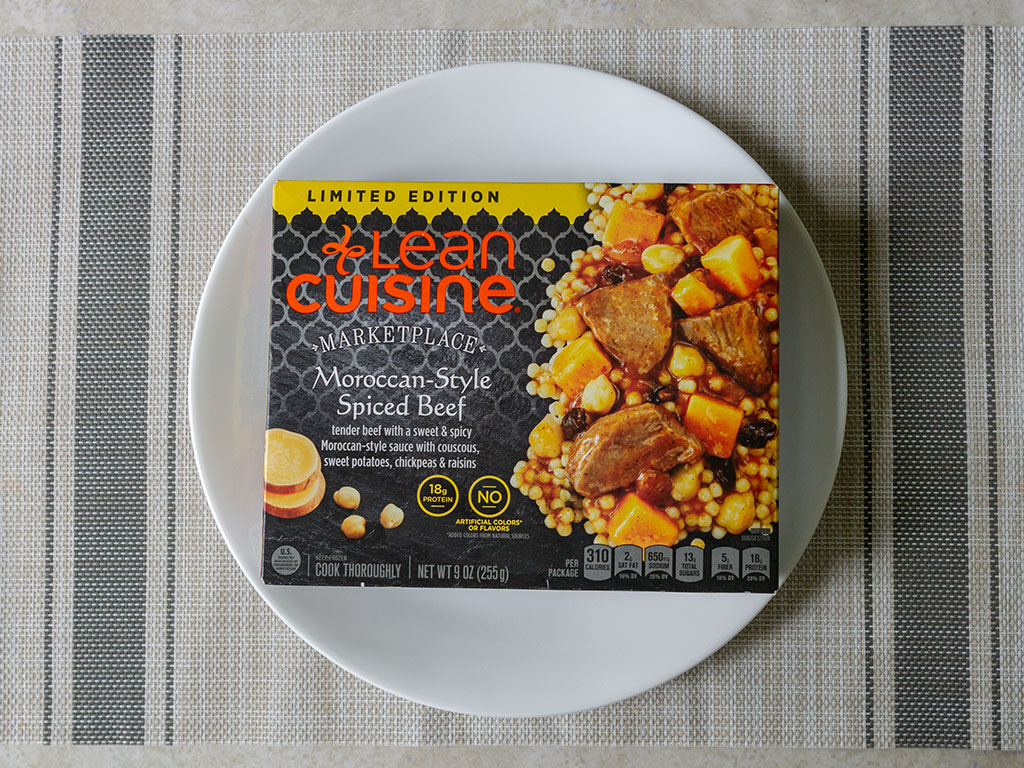 Is Lean Cuisine Marketplace Moroccan-Style Spiced Beef any good?
Yes, definitely! This is a fun frozen meal that delivers flavor by the spoonful. As ever the Lean Cuisine brand means you can trust the nutritional levels here – salt, fat and sugar are all at a happy medium.
My initial reaction to this Lean Cuisine limited edition creation was, "home come this isn't a regular option?". To date this is probably my favorite Lean Cuisine ready meal that I've tasted. I'm not sure if the company is scared of the general reception to the more exotic ingredients and flavors, but they're a it for me.
The tomato based sauce's flavor is warm but not spicy – think paprika, cinnamon and ginger; that's ably supported onions and raisins throughout, adding a little extra sweetness. Chickpeas and potato add texture and heft, while the accompanying cous cous base is a definite enjoyable change of pace over the usual rice or potato found in instant meals. Remarkably it all cooks up perfectly too.
The sauce is stuffed with minimal amounts of beef, but honestly, what do you expect for the price (see below). What beef there is, is lean and happily free of gristle. All in a all a fun little box of flavor. Here's hoping they remove the limited edition sticker and sell this year round!
Lean Cuisine Marketplace Moroccan-Style Spiced Beef – what's in the box?
Inside the cardboard packaging you'll find the meal in a standard microwave safe plastic box.
Lean Cuisine Marketplace Moroccan-Style Spiced Beef
Here's the finished article, as ever, not quite as pretty as the box:
Lean Cuisine Marketplace Moroccan-Style Spiced Beef – cooking instructions, nutrition
As with all Lean Cuisine meals, they're hard to fault on the nutrition side. Cooking wise, this ones a cinch too:
Lean Cuisine Marketplace Moroccan-Style Spiced Beef – ingredients
Lean Cuisine Marketplace Moroccan-Style Spiced Beef – what's a fair price?
Like much of the Lean Cuisine range I picked these up for a mere $2.50 at Walmart, definitely a fair price.
Other Lean Cuisine products to check out
Hi, I'm Stuart, nice to meet you!  I'm the founder, writer and wrangler at Gastronomic SLC – Utah's biggest and oldest online food magazine; I'm also a former restaurant critic of more than five years, working for the Salt Lake Tribune.  I've worked extensively with multiple local publications from Visit Salt Lake to Salt Lake Magazine, not least helped to consult on national TV shows.
I'm a multiple-award winning journalist and have covered the Utah dining scene for the better part of fifteen years.   I'm largely fueled by a critical obsession with rice, alliteration and the use of big words I don't understand.   I started Shop Smart to catalogue my adventures in the grocery store and kitchen.  Follow along on Instagram too!
Come join our
Facebook grocery group
- and keep the discussion going! Talk about this, or any other food product with like minded home cooks and shoppers. Also share what you've been cooking up, and what you've found on yoru latest grocery shop. Join the conversation
here
.