Sam's Choice Burrito Bowls Pork Carnitas any good?
This is a decent frozen meal with plenty of healthy ingredients like peppers and beans, plus lots of bright flavor. The carnitas are just a little on the dry side, and you'll want to watch the sodium too.
After enjoying the Sam's Choice Barbacoa bowl so much, this variant with carnitas was the next natural choice. Much like the carnitas version, this microwaveable meal comes with a small packet of frozen guacamole; indeed much of my initial review stands for this frozen meal too.
Like its beefy brother, this pork dish isn't much to look at on the plate. The mass of ingredients won't plate separately and prettily per the packaging, but that's to be expected. What you get is one uniform lump of rice, beans, pork and peppers. Certainly the highlight here is the taste not the looks. Its reminiscent of the barbacoa dish with lots of bright and zesty lime flavor in the rice.
I felt the carnitas were a little less interesting, drier even, than the barbacoa. As such, it's not a bad dish, but the barbacoa is better in my opinion.
Sam's Choice Burrito Bowls Pork Carnitas – what's in the box?
The meal and guacamole come packaged separately.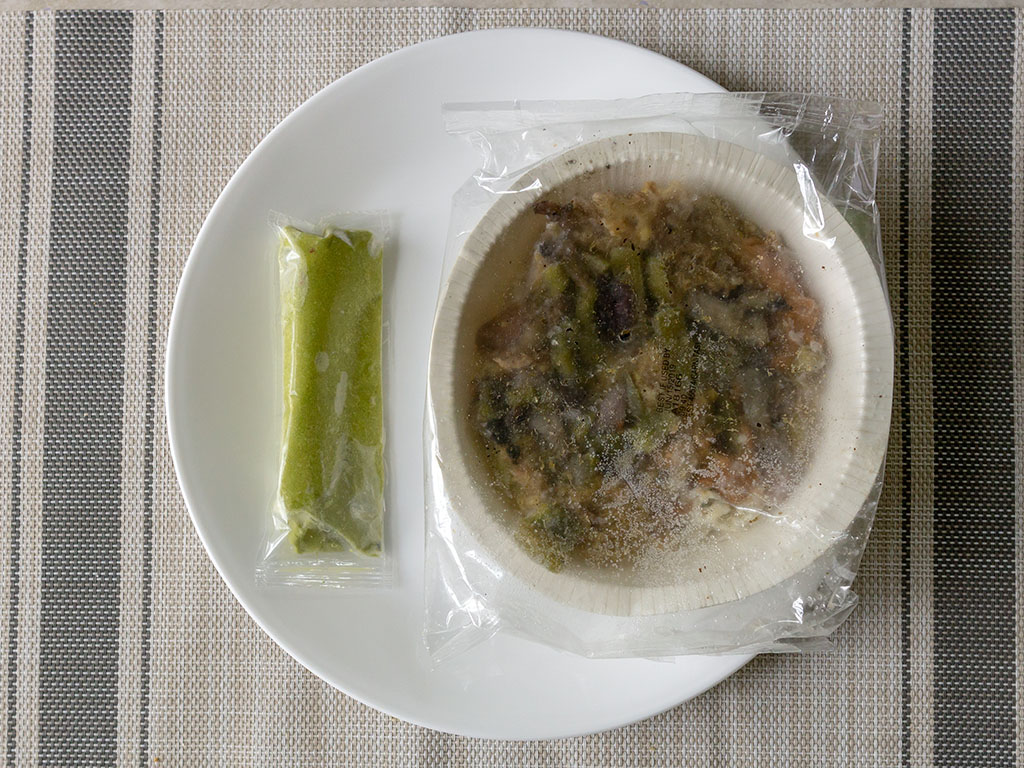 Sam's Choice Burrito Bowls Pork Carnitas
Sam's Choice Burrito Bowls Pork Carnitas nutrition, cooking instructions and ingredients
Nutritionally this frozen meal is much like its peers – salt heavy. That said, the remainder of the nutritional items aren't too bad, relatively low saturated fat and decent protein. The dish has plenty of fiber too – relatively unusual in the frozen meal space – due to those pinto beans.
Cooking is simple, but per my review of the barbacoa dish, start the guacamole defrosting just a little earlier than instructed. I'd give it ten minutes to be sure its nicely defrosted.
Sam's Choice Burrito Bowls Pork Carnitas – what's a fair price?
I paid $3.97 for this burrito bowl meal. Stacked up against a fast food equivalent that's not a bad price; personally I think it'd be fairer around the $3.00 mark.
Hi, I'm Stuart, nice to meet you!  I'm the founder, writer and wrangler at Gastronomic SLC – Utah's biggest and oldest online food magazine; I'm also a former restaurant critic of more than five years, working for the Salt Lake Tribune.  I've worked extensively with multiple local publications from Visit Salt Lake to Salt Lake Magazine, not least helped to consult on national TV shows.
I'm a multiple-award winning journalist and have covered the Utah dining scene for the better part of fifteen years.   I'm largely fueled by a critical obsession with rice, alliteration and the use of big words I don't understand.   I started Shop Smart to catalogue my adventures in the grocery store and kitchen.  Follow along on Instagram too!
Come join our
Facebook grocery group
- and keep the discussion going! Talk about this, or any other food product with like minded home cooks and shoppers. Also share what you've been cooking up, and what you've found on yoru latest grocery shop. Join the conversation
here
.