How do you know when a food trend has REALLY been accepted into the mainstream? When Walmart's Great Value brand starts churning out pre-made frozen versions – that's how!
This Korean street taco kit proves that all the talk about Korean food being the next big thing is now true. This kit makes creating Korean tacos (the American-Korean fusion first made popular by LA's Roy Choi) a terribly simple affair. Got five minutes and a microwave? Great – you're good to go.
Opening the box you'll find the ingredients portioned into three distinct sections. There's no way to reseal this, the product expects you to cook everything in one go.
You cook the whole thing (via the microwave) for two minutes, followed by two more minutes without the tortillas. The result should be a whole heap of tacos as shown below.
Taste wise there's nothing terrible here, but nor is it a great reproduction of the flavors that put Korean food on the map. The beef bulgogi was a little too sweet for my tastes and featured more than one overly fatty and chewy pieces. I've only ever eaten kimchi cold before, so heating up was slightly a jarring experience, not least it's a fairly basic and timid reproduction of the Korean garnish. I will say that the tortilla are pleasantly sturdy and filling though.
Another small annoyance is the portion size. There's more than enough kimchi but just not enough beef. You'll need to skimp to fill all five tortilla. Alternately you can fill four modest tacos or really go big with three generous tacos.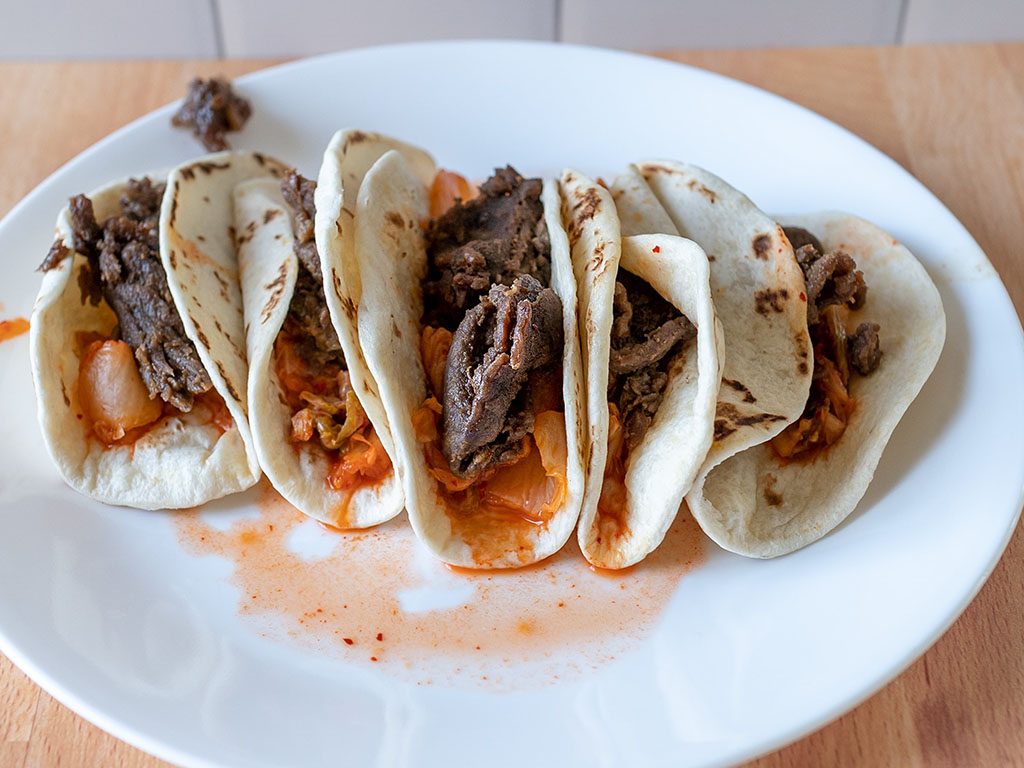 So a mixed bag overall. Those who are very familiar with both authentic and fusion Korean aren't going to be particularly wowed by any means. Those who've been a little scared, or not had the opportunity – this represents a great way to safely experiment right from the comfort of your own kitchen.
Great Value Korean Inspired Beef Street Taco Kit cooking instructions, ingredients, nutrition
These are a relatively healthy pick for a frozen processed product. That said, unless you're planning on serving up additional sides, the two taco portion suggestion is a bit slim. I managed to wolf down the whole five tacos with relative ease one lunchtime.
Other Walmart products
Hi, I'm Stuart, nice to meet you!  I'm the founder, writer and wrangler at Gastronomic SLC – Utah's biggest and oldest online food magazine; I'm also a former restaurant critic of more than five years, working for the Salt Lake Tribune.  I've worked extensively with multiple local publications from Visit Salt Lake to Salt Lake Magazine, not least helped to consult on national TV shows.
I'm a multiple-award winning journalist and have covered the Utah dining scene for the better part of fifteen years.   I'm largely fueled by a critical obsession with rice, alliteration and the use of big words I don't understand.   I started Shop Smart to catalogue my adventures in the grocery store and kitchen.  Follow along on Instagram too!
Come join our
Facebook grocery group
- and keep the discussion going! Talk about this, or any other food product with like minded home cooks and shoppers. Also share what you've been cooking up, and what you've found on yoru latest grocery shop. Join the conversation
here
.