Are Walmart Premium Ahi Tuna Steaks any good?
Yes! You'll need to plan about 24 hours in advance to defrost these properly – but once you do – they make for an exceptionally affordable and healthy protein; usable in a wide variety of dishes.
After really enjoying Walmart's frozen mahi mahi – surprisingly so in fact – I started to look at the chain's other products in the same range. Next up, these ahi tuna steaks that were priced exceptionally well.
Much like the mahi mahi the fish comes individually vacuum packed and sealed; four pieces of tuna come in the package – each about the size of the palm of your hand. Some are a little smaller, some a little bigger. Portion wise they're about perfect for one person. You'll need to remove the plastic packaging and leave in the refrigerator for about 24 hours for them to defrost to the point of being able to cook them.
While the packaging shows these steaks cooked rare, implying that's fine, I wasn't about to take that leap of faith right off the bat. I cooked these thoroughly through on their first outing, though as I understand it, the freezing process makes most fish safe from worrisome parasites etc. Side note: the FDA mandates all that *fresh* fish at your favorite sushi restaurant is frozen first for this very reason; though tuna and other deep sea fish are usually except from this.
I was impressed with the flavor and texture of this product – just like the mahi mahi – this is another great find at Walmart. I need to follow up with Walmart directly and ask about their farming and sourcing policies as I want to know more about these products; a genuinely pleasing find amidst the freezer aisle.
I should note this product is listed as using filtered wood smoke – which roughly means the product has been treated with a modern industrial process to preserve that bright pink color. This is a common processing technique to keep cheaper tuna catch looking great. Don't get me wrong, I really like this product for an affordable way to add tuna steaks to a meal – but be assured this isn't premium grade ahi tuna by any stretch.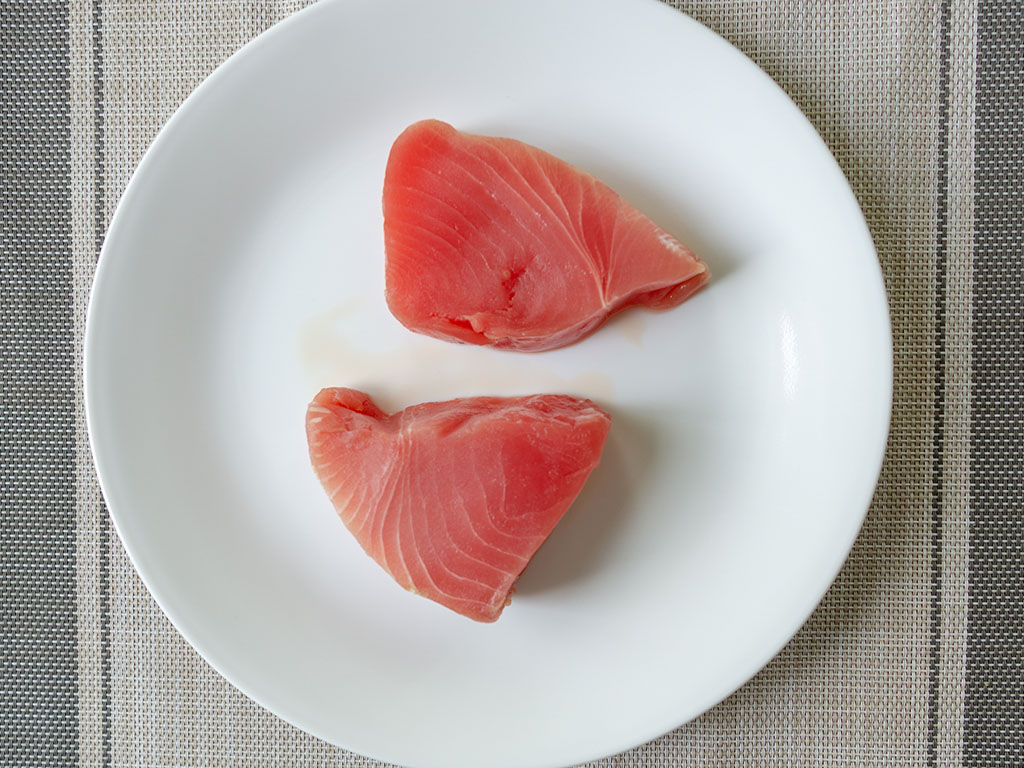 Walmart Walmart Premium Ahi Tuna Steaks defrost, cooking instructions
There are a variety of ways you can cook these ahi steaks, they're very flexible:
Walmart Walmart Premium Ahi Tuna Steaks nutrition
What's a fair price?
I paid $5.86 for this product which is an absolute steal. That makes each portion of fish less than $1.50 per serving. For the quality this is a bargain.
What dishes can you make with ahi tuna steaks
Being a very meaty fish, tuna makes for a very versatile ingredient. In the shots below I've plated with with both udon noodles and some simple steamed rice with veggies. In each case I added a little soy to the pan in the last few minutes of cooking to flavor the ahi. A flourish of sesame seeds and it's good to go:
Hi, I'm Stuart, nice to meet you!  I'm the founder, writer and wrangler at Gastronomic SLC – Utah's biggest and oldest online food magazine; I'm also a former restaurant critic of more than five years, working for the Salt Lake Tribune.  I've worked extensively with multiple local publications from Visit Salt Lake to Salt Lake Magazine, not least helped to consult on national TV shows.
I'm a multiple-award winning journalist and have covered the Utah dining scene for the better part of fifteen years.   I'm largely fueled by a critical obsession with rice, alliteration and the use of big words I don't understand.   I started Shop Smart to catalogue my adventures in the grocery store and kitchen.  Follow along on Instagram too!
Come join our
Facebook grocery group
- and keep the discussion going! Talk about this, or any other food product with like minded home cooks and shoppers. Also share what you've been cooking up, and what you've found on yoru latest grocery shop. Join the conversation
here
.