I'm going to jump right to the headline item. I am sure everyone is asking the same question right now: does the newly released Impossible Food's ground beef beat Beyond Meat's competing products? In a word, yes. In two words, definitely yes.
It's been barely two weeks since Impossible Foods released their ground beef product onto Kroger shelves nationwide. The announcement seemingly came out of nowhere, and I was equally as surprised to be able to pick up a pack with relative ease. If you've tried to secure brand new meat free products, you'll know they can often be extremely hard to find and are in high demand at launch.
I don't know if this is because the businesses have better scale now or Coronavirus has change the nature of the grocery landscape. Whatever the reason, the supply of Impossible at launch seems solid.
I snagged a twelve ounce pack for just $8.99 at my local Kroger. For some context my local grocery stores sell the Beyond Meat ground product for $10.99 and the premade two pack of Beyond Burgers for $5.99.
On the Impossible packaging the consumer is recommended to make three quarter pounder patties out of the 12 ounce ground meat. That puts the per patty cost of the Impossible at around $2.99, the same as the Beyond Burger's pricing (for the premade). Surely no coincidence. Expect these two brands to go increasingly head to head through 2020; it's going to be a fun ride for those of us who enjoy meat free dining.
Out of the packaging there are two notable items that immediately strike the senses. Firstly the vibrant ruby red hue of the Impossible is slightly mesmerizing. It's actually a little more saturated that real ground beef, and it's surely bound to cause any nearby vegans to question if this really is fake.
Secondly, the Impossible has a very distinct aroma. That's a polite way to put it at least. The smell was strong enough that I checked the packaging's expiry date more than once.
For the simplest comparison with Beyond, I cooked this burger up in the pan with a little oil. The aroma quickly dissipates under heat, and I was surprised that this meat didn't exude as much grease as is common with the Beyond Burger. I still cooked with a lid on the pan, but there was demonstrably less splatter and mess.
The Impossible Burger also caramelizes up much better than the Beyond. The crisp brown crust that develops is a dead ringer for the real deal – probably due to the much vaunted heme the brand uses. Whatever the reason, the finished product is visibly more spot on than the Beyond which still has a slightly fake quality to it. For some that actually might be preferable.
In taste and texture the Impossible wins again. The patty is richer and meatier and the mouthfeel is as good if not marginally better than the Beyond. For fairness both myself and my wife ate our Impossible Burgers apart and then shared notes after eating – we both agreed – this patty was superior to the Beyond in every regard.
A few more Impossible Burger ideas
This one is a bacon-guac burger. It uses air fried Sweet Earth vegan bacon with lots of home made guacamole, all on a pretzel bun for good measure!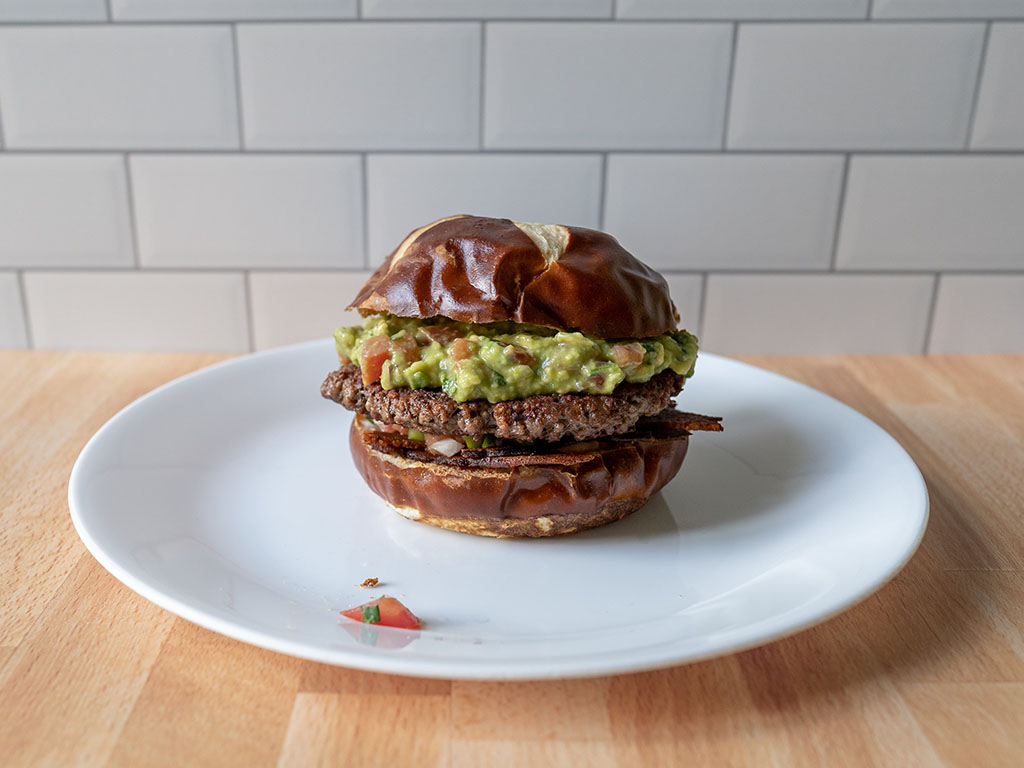 This one is a nearly half pounder. We eschewed the packages instructions to use the Impossible ground for three patties – and instead made two monster versions. This one is topped with mushrooms cooked down with Kikkoman teriyaki sauce, as well as a sriracha mayo and Sweet Earth bacon. This is an absolute umami bomb.
More uses for Impossible plant based meat
Impossible makes for great meatballs! I add garlic powder, onion powder, fish sauce, soy sauce and chilli to make these great additions to a Vietnamese style salad.
Impossible Burger ground beef ingredients and nutrition
Compared to the Beyond (see nutrition here) there's a little more saturated fat here and a little less protein – but it's all much of a muchness. Again, it's probably no coincidence that there's little real difference in calorie counts. It goes without saying neither burger is health food, that's not the goal there.
If you purchased your Impossible Burger meat frozen you'll want to leave in the refrigerator overnight to thaw out. I haven't tried defrosting in the microwave, but given my experience with these products, I probably wouldn't recommend it. Once thawed, the packaging indicates you should consume the product within ten days.
How to cook the Impossible Burger
The packaging indicates using the pan with a little oil or maybe the grill. We've also had great success with the air fryer. In fact it's our favorite way to prepare the patty, cooking at high heat to quickly lock in a juicy finish! Here's the how to on our sister site Air Fry Guide.
Is the Impossible Burger ground beef any good?
Absolutely yes. This has now become our number one product for meat free burgers hands down. This scores a huge 4.8/5.0 from us.
Need the above product? Need it fast? Get your groceries delivered in as fast as 1 hour with Instacart.
Signup here
and get free delivery on your first order - we also get a small referral fee too!