Are the Beyond Meat Beyond Burger actually any good?
Yes! For once this is a product that lives up to the hype. This is a fantastic meat free burger that crusts up nicely and has a pleasant meaty texture. Any committed carnivore isn't going to mistake this for the real deal, but nor are they going to be upset. Top this with your favorite burger toppings and it's a great tasting, healthier option to have in your kitchen.
These plant based burgers might just be one of the most hyped vegan products on the market right now. Along with Impossible Foods, Beyond Meat are making waves across the country by re-imagining how vegan friendly products are perceived; not just by those enjoying a meat free lifestyle but by consumers as a whole. There's a lot of talk about the science and what not behind these new products on other sites, so I won't be going over that. I'll just be covering how these burgers look, feel, cook and most importantly – taste.
First up, you'll find these in the grocery store either frozen or fresh in the refrigerated section. Alternately, if your store is anything like my local Whole Foods, you'll confusingly find them in both. Don't let this mislead you. This gives the impression that they're two different products, the fresh being better (right?). They're not, they're in fact one and the same product. This confused me at first and I saw other customers in the store having the same problem.
As best I can tell, all the burgers ship frozen to the store. The store in turn defrosts them for the refrigerated aisle. Indeed if you buy the frozen product, the packaging tells you to use within ten days of defrosting; this jibes with the use by dates I see on the fresh product as well. It take about 24 hours to defrost the frozen burgers so you need to plan ahead if using these. I've eaten countless fresh and frozen Beyond Burgers – both taste exactly the same to me – nothing is sacrificed by using a defrosted, previously frozen patty.
Texture wise, these things are a joy. Glancing at the raw patties (see below) you'd be forgiven for thinking they weren't the real thing; heck poked at too, they have a firm, dense texture not unlike the real deal. It's all rather uncanny and no doubt why so many vegans and vegetarians are initially challenged by the product; "are you sure this isn't meat?" Beet juice apparently gives the Beyond Burger that visceral look.
Taste wise these burgers are wonderful too, its obvious why they're so popular. Many vegans and vegetarians (my family included) claim them to taste like the real thing. For us more omnivoristic types – I'll clear that right up – they don't. You could taste the difference between the pea protein burger and the beef burger in a heartbeat; I'll take anyone's money who wants to do a blind tasting test with me right now.
But that's fine, don't get me wrong, this isn't an issue at all as far as I'm concerned. The Beyond Burgers have a very enjoyable flavor of their own. It's certainly meat-esque and has a very enjoyable, full mouth feel. There's a lingering after flavor I can't quite identify; I'm reminded of something else I've tasted before but can't quite place my finger on it. One you've loaded these up with your favorite burger toppings they're a fantastic substitute for the real thing.
Beyond Meat Beyond Burger cooking instructions and nutrition
Beyond Meat's obvious goal is to mimic the real deal as closely as possible, right down to the cooking process. That means you can feel comfortable cooking these as you would a beef based burger: in the pan, under the broiler or on the grill. They're quite sturdy and hold up well to high temps.
I prefer to pan fry them personally and should note that their fat content causes them to spit and sizzle quite a lot. Use a lid unless you want to be on grease clean up duty afterwards. It's this fat that I'm sure helps give the burgers a wonderful crisp crust when cooked at high heat; another tick in the list of plus points as well.
All of this means that nutritionally these things aren't the healthiest vegan option in the world. It's obvious that to emulate the real deal, a lot of fat is needed for that mouthfeel and cooking process. That's fine by me, they're still a healthier choice than legit beef burgers, but the numbers are worth keeping an eye on for those on diets. The 20g of protein per patty is decent enough too.
Lastly it's worth noting the Beyond Burgers are both soy and gluten free – which could be a huge deal for those on restricted diets. No doubt the GMO free tag will be a selling point for others as well.
Beyond Meat Beyond Burger – what's in the box
Two patties come in the standard packet, each supported with a little paper backing to prevent sticking in the packet. I'm sure these also help sell the psychological message that these are just like the real thing. It did for me at least.
Beyond Meat Beyond Burger
At the end of my reviews I normally explain what dishes can be made with the product – but duh – you're going to be making the burger of your dreams with these right? For what its worth though, my current favorite creation is as follows; baked Alexia onion rings, caramelized onion, lettuce, tomato, mayonnaise – the double onion burger: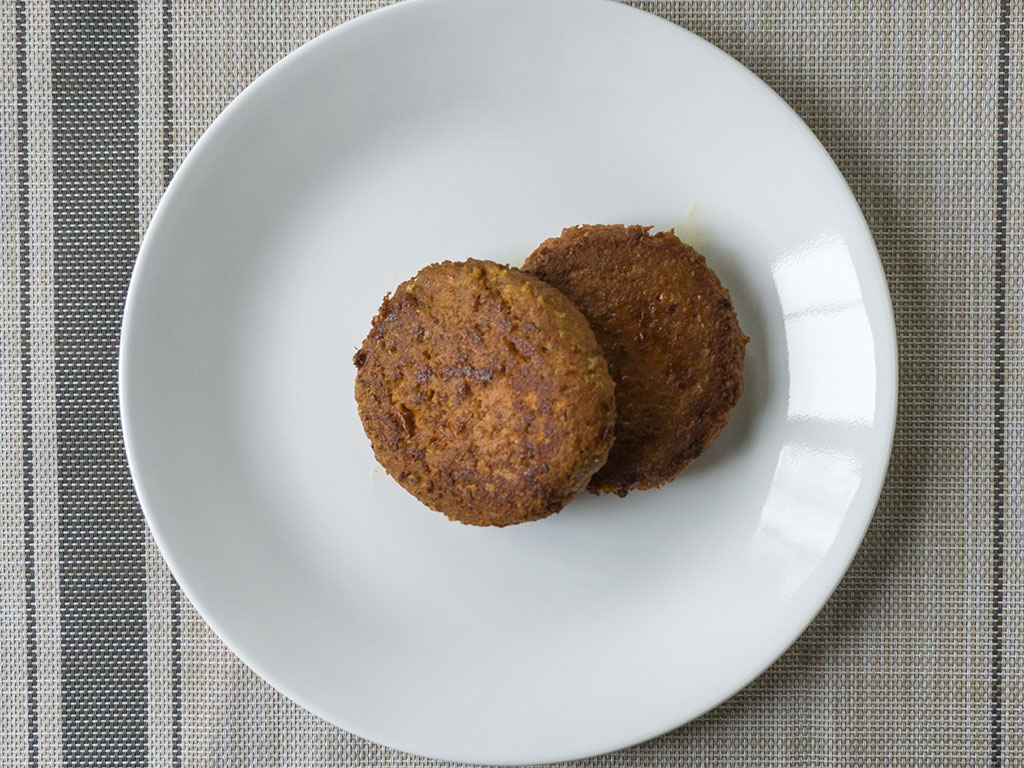 Update April 2019
This is my latest take on the above burger, a take on the Western BBQ burger popular at a range of fast food joints. The burger uses the Beyond patty, BBQ sauce, Alexia onion rings, Nalley's vegetarian chili and Sweet Earth vegan bacon!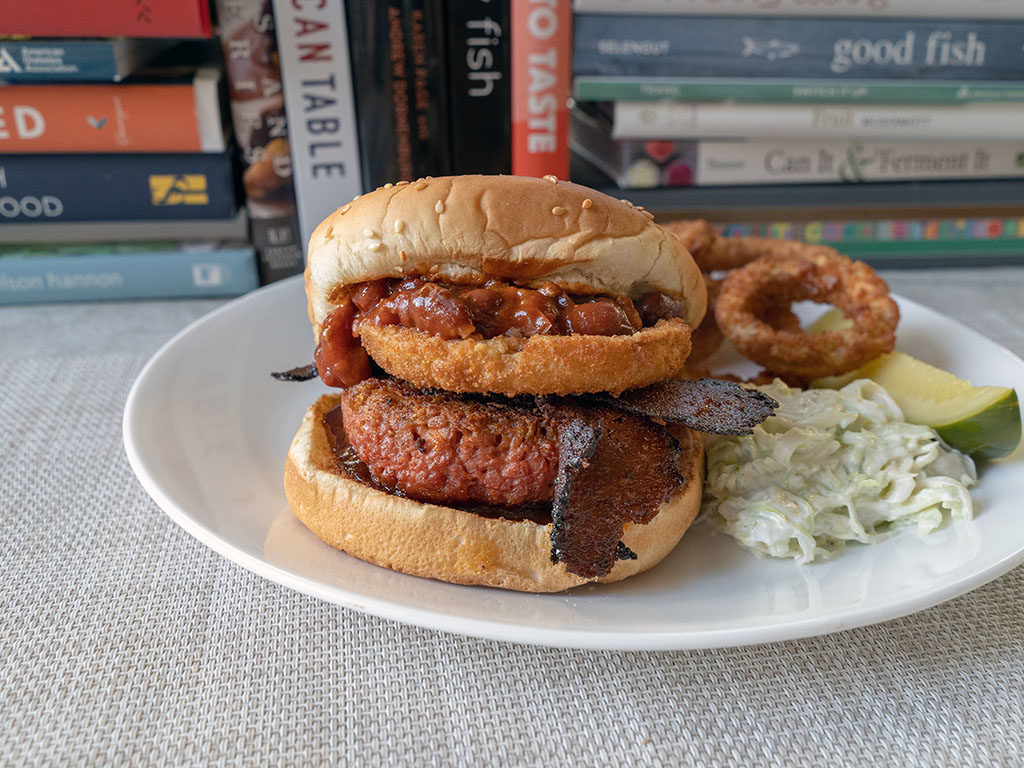 Here's another way we personally use the Beyond Burger – as a meat free addition to a roast dinner. The meaty burger is a great replacement for a typical chicken or steak protein.
Beyond Burger questions and answers
Can i cook the beyond meat burger from frozen?
I personally wouldn't, the product isn't really designed for that approach. My guess is that you'd end up with an unevenly cooked burger that's unappealing at best. The product really is designed to emulate meat. I'd go ahead and defrost in the microwave first, if you're looking to cook those frozen patties in a rush.
Other Beyond Meat products
Looking for more vegan and vegetarian burgers
Check out all our reviews of meat free burgers:
[metaslider id="733″]