Long time readers will know I am a huge fan of the Impossible Burger – for my money it stands head and shoulders above any other plant-based burger. You'll forgive me then for being more than a little excited about news that Impossible have now released an all new Impossible Sausage product. Seemingly overnight with not too much fanfare I should add – and presumably why I got my hands on some so easily – the product is now out on shelves at Kroger's, Ralphs, King Soopers, Fred Meyer and Safeway. This is in stark contrast to the earlier days of the plant-based boom when it could take weeks and months to get your hands on one of the all new product releases.
Impossible reckon their new plant-based pork has "30% fewer calories, 47% less total fat and 43% less saturated fat compared to other ground pork ground sausages" – it also comes in regular and spicy versions. I picked up the regular 12oz roll ay my local Kroger store for $6.99. That's not too bad when Impossible advise there are seven portions here – about a buck a serving.
Impossible Sausage – first impressions
The Impossible Sausage comes in the "rolled" format ala real deal ground sausage like those you probably recognize from Jimmy Dean and Johnsonville. This is obviously by design; the more parts of the purchase and cooking process that remind the shopper of pork-based ground meat the better in completing the illusory experience.
The package I picked up from Kroger came frozen. I would have preferred to have found it in the refrigerated section of the store so I could have portioned it up and froze some piecemeal. Given the nature of the package, once you open it, you can't reseal it. The package states you need to consume the defrosted sausage (unopened) within 10 days, but doesn't state how long the product is safe once opened. It'd be nice for some clarification here.
On opening the pack, the ground sausage is notably different when compared to the Impossible Burger product. There's a distinct herbaceous aroma, plenty of sweetly scented sausage flavors. The product is greyer and lacks the vibrant red appeal of the Impossible beef. Impossible state that the infamous heme (soy leghemoglobin) is still here, but in lesser quantity than the burger product. A first blush it doesn't look, nor smell like it's predecessor in the slightest.
In its raw form the Impossible Sausage has a very gluey texture. It's sticky and mushy, and I'm going to just put it out there, it literally looks like pet food. So much so, I had to caution my wife when I put it in the fridge lest she confuse it with the dogs lunch.
Given the extremely tacky nature of the sausage I'd recommend working with disposable kitchen gloves if forming the meat into patties or otherwise. For my first go around with the product I made a simple breakfast sausage patty, maybe 1/8th inch thick, and also went a bit more adventurous with a vegetarian scotch egg.
Cooking with Impossible Sausage
Most everyone will surely use this product to cook meat free breakfast sandwiches. Indeed this is the same product that was first launched into fast food operations in this manner ala Starbucks and Burger King. If I could purchase the product fresh rather than frozen, I would make a whole bunch of breakfast patties in one shot then freeze them up – ready to go on demand. The Impossible Burger cooks fine from frozen, I bet this would too, just add in a couple extra minutes cooking time. Again, in its raw form, its gluey feel makes working with it a challenge. You wouldn't want to be handling this first thing in the a.m. without coffee.
Cooking is a breeze and as the package states – just like real pork. I found I could cook my Impossible Sausage breakfast patty in barely four or five minutes in the air fryer. There's enough fat locked in to the product that it doesn't stick either. I'd happily pan fry this too.
The gluey nature of the sausage was what sparked my thoughts of a Scotch egg, and I'm glad I did. Taking a medium cooked whole egg, I wrapped a handful of the sausage around, then merrily rolled around in panko, which adhered instantly to the sausage. From there a blitz of Pam spray and ten minutes in the air fryer, hey presto, legit veggie scotch eggs.
What does Impossible Sausage taste like?
I will shock no one here when I say – well – sausage duh. The taste isn't anywhere near as overpowering as pork based breakfast sausage blends; I find they all too often lean heavily into certain herbal notes such as rosemary. Unlike some of the big pork-based names, this one won't repeat on you all day. This is a good thing in my book, this affords the home chef some flexibility in how they handle flavor; you won't be forced into a corner by the base flavor.
Speaking of which the basic taste of the Impossible Sausage is very good. It has a quite mild, breakfast sausage taste; despite detecting some distinct "Impossible aroma" when cooking, I couldn't taste it in the final product. The texture is spot on when it comes to the breakfast patty, lots of meaty chew and tear. My wife immediately proclaimed it an amazing time to be a vegetarian.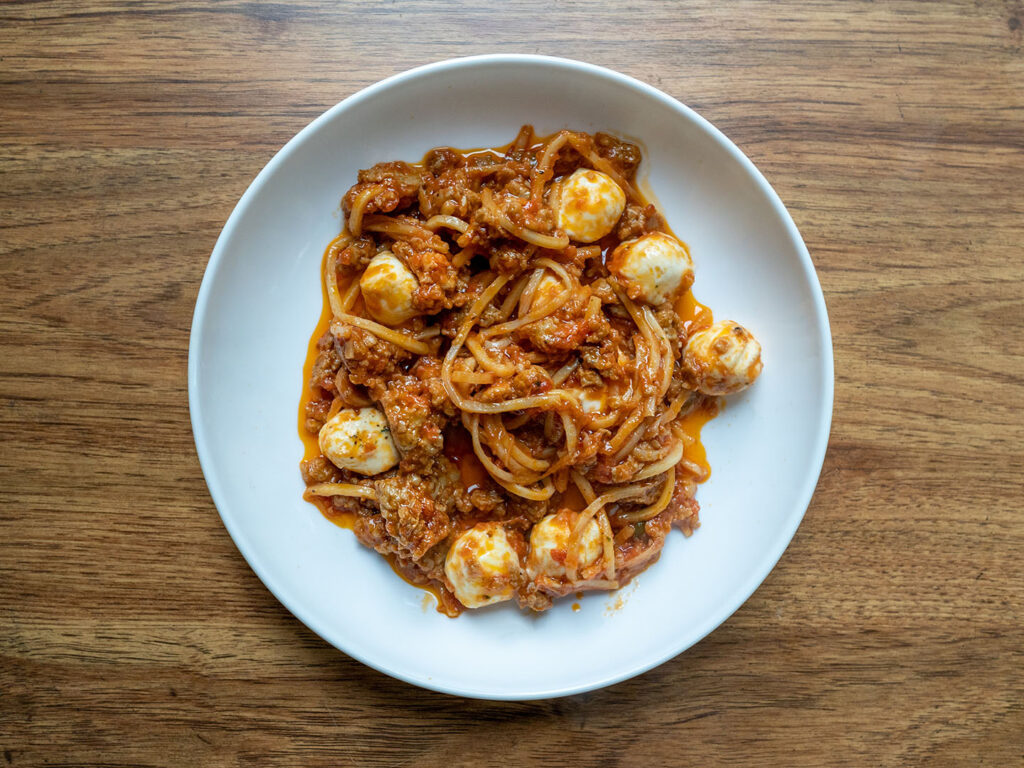 Is Impossible Sausage any good?
I don't think this is the instant knock out success that the Impossible Burger was before it. It's good, but it's not perfect. The taste is very pleasant, and frankly its a breath of fresh air to see something thats not another plant based burger or attempt at a chicken nugget. I'm glad that Impossible simply didn't take their burger, stuff it in a roll and call it sausage – this is materially it's own unique product. Cooked as breakfast patties it's just about perfect.
But the product isn't packaged as just patties – it's presented as a more versatile performer, usable in applications that the Impossible Burger would struggle at.
The texture is currently the main issue with the product in this regards. Raw it's a little too mushy for my liking; I imagine it's going to draw some flak from various corners for the visual and textural appearance. Furthermore once cooked and cooled, it doesn't stand up well at all. Those Scotch eggs I made? Great fresh out of the fryer, fabulous in fact. Pulled cold from the refrigerator the next day as a snack, they became mushy and mealy, and very unappealing. I thought about making vegetarian sausage rolls, but again, I'm not sure how they would stand up the next day.
Verdict
All really rather good, just not great, yet. Go ahead and buy some if you love experimenting with plant-based foods. As a breakfast patty choice, it's perfectly dialed in. I expect this one will see an iteration or two over the next little while. I'm excited to see how it develops.
Competing products
Impossible also offer a spicy version of this product too. Otherwise, there are very limited options in the plant-based pork area. Impossible is lead the pack here. There are better selections when it comes to meat free breakfast sausages. We've rounded up all the options here.
Impossible Sausage cooking and ingredients
Impossible Sausage - should I buy it?
Yes! This is a great first attempt at a ground pork product from Impossible Foods. Raw the product is mushy and gluey, but it cooks up into breakfast sausage patties that look and taste like the real deal.
Other Impossible Food reviews and dishes
Hi, I'm Stuart, nice to meet you!  I'm the founder, writer and wrangler at Gastronomic SLC – Utah's biggest and oldest online food magazine; I'm also a former restaurant critic of more than five years, working for the Salt Lake Tribune.  I've worked extensively with multiple local publications from Visit Salt Lake to Salt Lake Magazine, not least helped to consult on national TV shows.
I'm a multiple-award winning journalist and have covered the Utah dining scene for the better part of fifteen years.   I'm largely fueled by a critical obsession with rice, alliteration and the use of big words I don't understand.   I started Shop Smart to catalogue my adventures in the grocery store and kitchen.  Follow along on Instagram too!
Come join our
Facebook grocery group
- and keep the discussion going! Talk about this, or any other food product with like minded home cooks and shoppers. Also share what you've been cooking up, and what you've found on yoru latest grocery shop. Join the conversation
here
.