We're always on the search for the latest and greatest meat free burger. The following is a list of all the various burgers we've sampled so far on the site. Click the title to see our full detailed review and burger notes.
Sure you'll have to form the patties by hand yourself, but that's the only real negative here. The Impossible Foods ground burger cooks up to make a burger that's uncannily close to the real deal. The manual labor and less than stellar fat levels are all that stops this from being a perfect five out of five. But hey, you can't have everything right.
240 calories, 4 oz patty
14g fat, 8g saturated
19g protein
Vegetarian, vegan, gluten free
Sometime mid-late 2019, the Beyond burger was slightly reformulated. Packages started to sport the "Now Even Meatier" sticker you will see in the picture above. You can also spot these newer patties with their distinct white flecks throughout. Fear not though, the changes were for the better. Massively so. The newer burgers have a more meatier texture and taste, but still retain everything we loved about the Beyond Burger in the first place. This updated 2020 recipe is now our favorite meat free burger bar none.
250 calories, 4 oz patty
18g fat, 6g saturated
20g protein
Vegetarian, vegan, gluten free, GMO free, soy free
Entering the market towards the end of 2019 is this new plant based product from Kroger. The Emerge patties we're released under the Kroger/Smiths Simple Truth line. We find them an almost like for like with the Beyond Burger, at slightly less the price. The pea protein taste is less pronounced and the burger is a drier, far less oiler patty. That might be a pro/con in your book.
230 calories, 4 oz patty
14g fat, 9g saturated
20g protein
Vegetarian, vegan, soy free, gluten free, GMO free
The FieldBurger from this Washington state based company is notably different to many on the market. Patties are made from simple ingredients – barley and veggies – but aren't anything like those old, sad, limp veggie burgers of yesteryear. These are fully flavored and rich burgers that are an absolute pleasure to eat. Do keep an eye on the burger's nutrition as they do possess quite a bit of saturated fat.
290 calories, 3.2 oz patty
16g fat, 5g saturated
25g protein
Vegetarian, vegan
Original 2018 thoughts: A close runner up to the Fieldburger is Beyond Meat's Beyond Burger. This burger looks and feels exactly like the real deal – that pink hue comes from beet juice in case you're worried. The beyond burger cooks up just like the real thing in the pan or grill, taking on a wonderful char and crisp crust at high temps. The drawback is that you can't microwave these in a rush and the saturated fat content is a tad high. Bonus points for this burger is that it suits a huge range of dietary requirements, see below.
270 calories, 4 oz patty
20g fat, 5g saturated
20g protein
Vegetarian, vegan, gluten free, GMO free, soy free
New for 2020 from MorningStar is this new burger that seeks to field a product in the 'looks and cooks' like the real deal space. The burger comes off as somewhere inb`etween one of the new breed of burgers and older more traditional patties. The raw burger looks realistically meat but it quickly veers toward the crisp exterior/soft interior of old on cooking. The taste is more than enjoyable though.
250 calories, 4.2 oz patty
18g fat, 5g saturated
21g protein
Vegetarian, non-GMO
This in store brand from Whole Foods is exceptionally good. The patties are not only 100% vegan friendly but plenty healthy to boot. The burgers have a processed texture that remains robust after cooking – but the winning element is the flavor – they possess a remarkably meaty texture that delivers a ton of umami.
120 calories, 2.5 oz patty
4.5g fat, 0g saturated
11g protein
Vegetarian, vegan
Almost identical to the much missed MorningStar Farms Griller Original (pre 2018 reformulation) in taste, texture and nutrition is this offering from Gardein. The major difference here, the patties are noticeably bigger and also 100% vegan friendly; the patties also have a mildly-noticeable lingering celery flavor too. The patty loses a few points though for being quite easy to overcook.
130 calories, 3 oz patty
6g fat, 0g saturated
14g protein
Vegan, vegetarian, GMO free
Another strong contender from Whole Foods are these TVP based burgers. The smoky and spicy flavor profile is reminiscent of a black bean burger, but has none of the mealiness you might think of using no beans. A solid burger marred only by the single cooking option: pan fry.
160 calories, 2.5 oz patty
8g fat, 0.5g saturated
14g protein
Vegetarian, vegan
These 1/4lb patties from MorningStar Farms are essentially old school veggie burgers. That means lots of discernible veggies like carrots and onions. There's no mad science here, just hearty veggie flavors. I find they make a great base to go wild with toppings.
160 calories, 4.0 oz patty
9g fat, 1g saturated
9g protein
Vegan, vegetarian
These burgers once sat much higher up our list previously; during 2018 however the recipe was reformulated and the Textured Vegetable Protein base switched out for wheat gluten. The result isn't a bad burger per se, but demonstrably different in taste. The recipe remains vegetarian only and the burger falls way down our list under the reformulated recipe.
130 calories, 2.3 oz patty
5g fat, 0.5g saturated
16g protein
Vegetarian
The Meatless Farm Co is a company from the UK, one hoping to compete in the plant based burger battles. Sadly the burger doesn't come close to stacking up against the Impossible or Beyond, it's significantly far behind in taste and texture. Indeed, it has a slightly unappealing aftertaste.
270 calories, 4 oz patty
17g fat, 5g saturated
21g protein
Vegan, soy free, gluten free
A health-forward black bean burger that won't disappoint if that's your thing. Pan cooked these have that classic crisp exterior with mushy bean interior. The patties have a little Southwestern flavor to match the bean and corn filling.
230 calories, 4 oz patty
6g fat, 1g saturated
15g protein
Vegetarian, vegan, GMO free
Gardein Ultimate Plant-Based Burger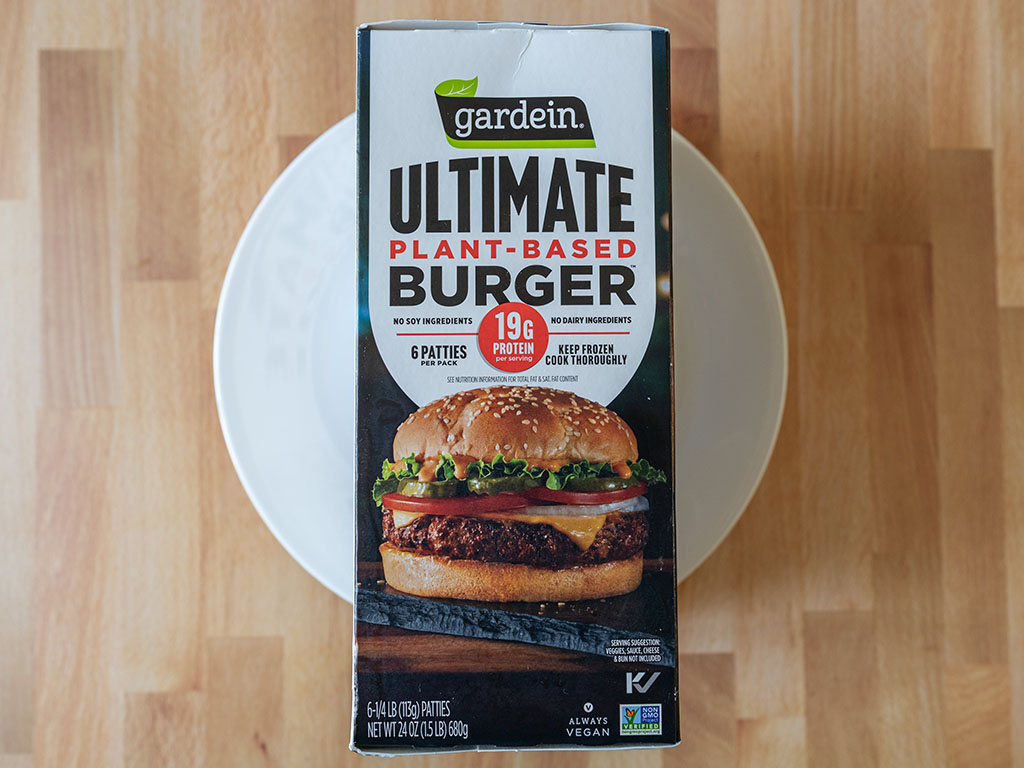 A big bold name, deserves a burger with bold flavor. Sadly that's not to be found here. The flavor is ultimately disappointing and the texture is average. The kicker is the nutrition, all that saturated fat demands a better burger than you'll find here.
240 calories, 4 oz patty
15g fat, 10g saturated
19g protein
Vegetarian, vegan, GMO free, soy free
This big meaty monster is MorningStar Farms entrant into the competitive vegan burger space. It's a hefty patty both in terms of size and nutrition too, check out those calories! At any rate the texture here commendable, good for grill if you choose to take that path.
280 calories, 3.9 oz patty
18g fat, 2.5g saturated
27g protein
Vegetarian, vegan
365 Plant-Based Burger Patties – 2 / 5
A solid meaty like texture is ruined by a sub-par flavor profile. These are my least favorite of the modern style "I can't believe it's not beef" type patties, ala Beyond and Impossible.
210 calories, 4 oz patty
13g fat, 1g saturated
20g protein
Vegetarian, vegan
dr Praeger's Veggie Burger is what most folks would imagine if asked to describe a classic vegetarian burger. The ingredients are predominantly all natural, vegetables and oat bran. Those looking for a modern vegan burger that seeks to emulate the real deal will be disappointed. Those who are looking for a health focused patty first and foremost, or a way to add vegetables to a plate easily, will be much happier.
120 calories, 2.5 oz patty
5g fat, 0.5g saturated
5g protein
Vegetarian, vegan, GMO free
Note, the dr Praeger website lists a different version of this burger that is now listed as GF and soy free. I've yet to see this in stores though.
This self styled Tex-Mex burger from MorningStar is essentially a big, hearty black bean burger. It weighs in at a whopping four ounces and will satiate even the biggest appetites as a regular burger patty or even crumbled salad topper. It's fairly standard in taste and texture.
180 calories, 4 oz patty
7g fat, 1g saturated
11g protein
Vegetarian, vegan
I wasn't a fan of this burger. A curious aroma when cooking, a weak texture that crumbled too easily and ultimately and bland taste that was overwhelmed by toppings. The burger does excel when it comes to accommodating very restricted diets. The burger is free from many common allergens.
190 calories, 3.2 oz patty
7g fat, 5g saturated
4g protein
Vegetarian, vegan, GMO free, soy free, gluten free, dairy free, nut free, corn free
Comparing veggie burgers to a regular burger
So how do all of these veggie burger patties stack up against one of America's favorite burgers – Burger King's Whopper? Here are the following nutritional data points for the BK Whopper patty by itself:
250 calories, 4 oz patty
19g fat, 8g saturated
13g protein
The above data from myfitenesspal
How much protein do I need?
One of the main concerns in choosing a vegetarian or vegan product is protein. Many consumers worry meat free alternatives won't be able to stack up to the previous meat based diet. As you will see from the info above, that's mostly untrue these days. Many people also overestimate how much daily protein they really need. If you need any proof check out the USDA nutrition calculator; enter your basic details and you'll find out how much protein you really need. We're betting the results might surprise you.