Are 365 Plant Based Smoky And Spicy Burgers any good?
A definite yes from us! Indeed these vegan burgers are in the running for the title of best veggie burger full stop. The TVP base burgers are meaty with a smokey flavor reminiscent of a milder black bean burger – without the beany-mealiness of course.
Another day, another veggie burger. If you hadn't guessed by now, I'm slightly obsessed with the things, and am committed to finding the very best veggie burger in the land. A fools errand perhaps, given the vast variety and styles, but a fun errand nonetheless!
Anyway, the latest contender to step up to the plate comes from the Whole Foods 365 Brand – one I've had both success and failure with previously. What caught my eye right off the bat was that these vegan friendly burgers rely on a TVP base. I regularly find I'm a fan of TVP over wheat gluten vegan products – as the latter has such a strong taste on its own.
Taste wise these burgers are reminiscent of a black bean burger, but the flavor never becomes overwhelming or tiring. Indeed due to the TVP the texture of the patty has none of the mealiness you'd expect from a typical black bean burger; its a robust and meaty patty, that's a pleasure rather than chore to eat.
By the time I'd finished this burger, I was immediately ready to eat another. Which is where the only downside of this product crops up – it's pan fry only (see below).
Given the price, flavor and texture these burgers just right into the top half of our best burger list – definitely give them a whirl if you spot them.
365 Plant Based Smoky And Spicy Burgers – what's in the box?
Inside the cardboard packaging you'll find four shrink-wrapped patties. These can be opened one by one, so you don't need to risk freezer burn.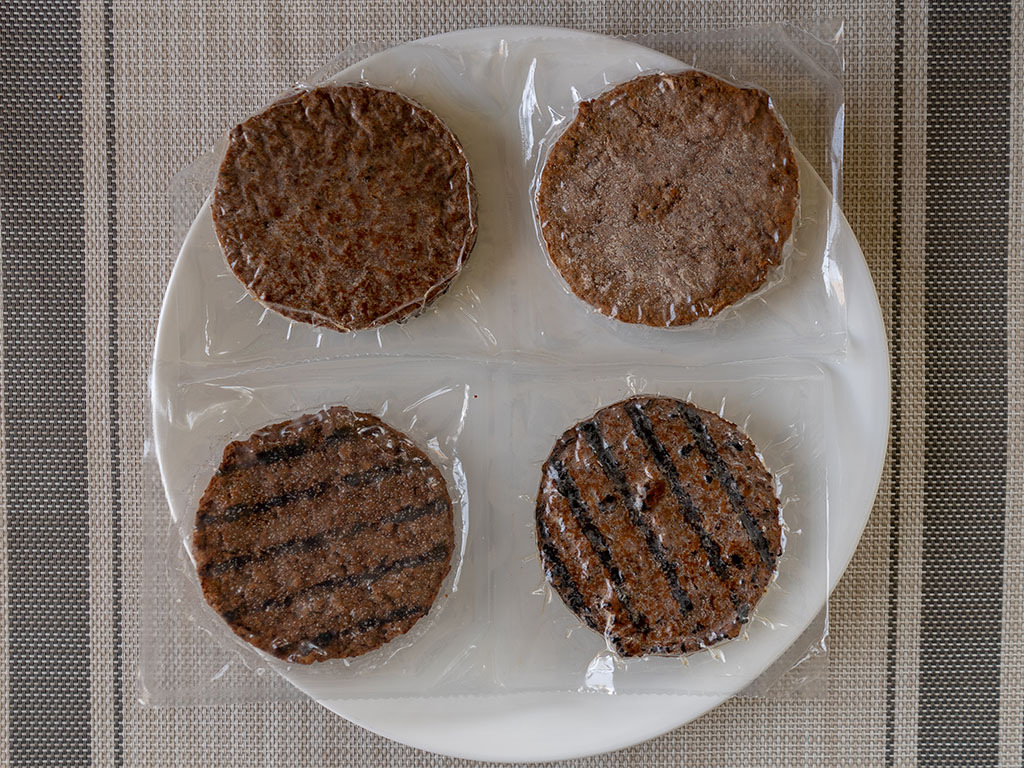 365 Plant Based Smoky And Spicy Burgers
I decided to keep things simple for my first go around with these patties. I wanted to see how the base flavors stood out. Here's the final product hot out of the pan, loaded up on a burger with just mayo, and lastly a cross section view.
Given the flavor profile, I think my next endeavor will be a SouthWestern style burger, maybe a little guacamole, crunchy romaine and pickled onions perhaps!
Or…for something a bit left field…how about this vegan mixed grill. O.k. this is a crazy dry plate of food and thoroughly unhealthy, but it satisfies that junk food itch completely. Below is a 365 Smoky And Spicy burger, a Beyond Meat Beyond Sausage, Walmart hash browns, Alexia onion rings and a quartet of Heinz BBQ sauces!
365 Plant Based Smoky And Spicy Burgers cooking instructions, nutrition, ingredients
My only complaint with these burgers is the fact you need to pan fry them. sometimes I crave the simpler/faster/healthier option of microwaving. O.k. who am I kidding, I always prefer that option.
Anyway, these cook up more than fine in the pan, but like most pan frying instructions, if you follow them to the letter the results will be a fairly charred patty.
How much are 365 Plant Based Smoky And Spicy Burgers?
I paid just $3.14 for these during April 2019 at my local Whole Foods. I'd buy these all day long at that price. There aren't many *good* veggie burger products I can think of that come under the $3.50 mark.
Other 365 / Whole Foods products
Hi, I'm Stuart, nice to meet you!  I'm the founder, writer and wrangler at Gastronomic SLC – Utah's biggest and oldest online food magazine; I'm also a former restaurant critic of more than five years, working for the Salt Lake Tribune.  I've worked extensively with multiple local publications from Visit Salt Lake to Salt Lake Magazine, not least helped to consult on national TV shows.
I'm a multiple-award winning journalist and have covered the Utah dining scene for the better part of fifteen years.   I'm largely fueled by a critical obsession with rice, alliteration and the use of big words I don't understand.   I started Shop Smart to catalogue my adventures in the grocery store and kitchen.  Follow along on Instagram too!
Come join our
Facebook grocery group
- and keep the discussion going! Talk about this, or any other food product with like minded home cooks and shoppers. Also share what you've been cooking up, and what you've found on yoru latest grocery shop. Join the conversation
here
.