Pan fried crispy tofu is one of my favorite meat free dinner goto options. Here's the simple low down on making excellent crispy tofu. Even tofu haters should love this one:
Use firm tofu, not extra firm
Open and drain the tofu, cut into three sheets lengthways
Lay the three tofu slabs out on paper towels, then place some towels on top
Flip every five minutes, adding a few more towels to soak up the moisture
Do this for about 20 minutes
Don't press the tofu by hand to remove the water, you'll end up with crumbly tofu
When you're ready, season the tofu with salt and pepper
Dredge the tofu in a mix of corn starch and regular flour
And that's it! From there you can pan fry in a shallow amount of oil. Just use something with a high smoke point – not olive oil! The frying takes 20-30 minutes, don't overcrowd the pan, give the tofu some room. Keep flipping every few minutes, sometimes I use a spatula to splash hot oil over the top of the tofu – be careful with hot oil! When cooked, move the tofu to some kitchen towels to soak up the excess oil, then give it a last blast with some salt, it makes a huge difference.
In the picture above I've served it with one of my favorite dishes, Thai garlic and chili sauce. Here's the recipe, essentially a fun mix of garlic and jalapeño seasoned oil cooked with soy, fish sauce and oyster sauce. Below it's served with some simple zucchini noodles for a low carb version.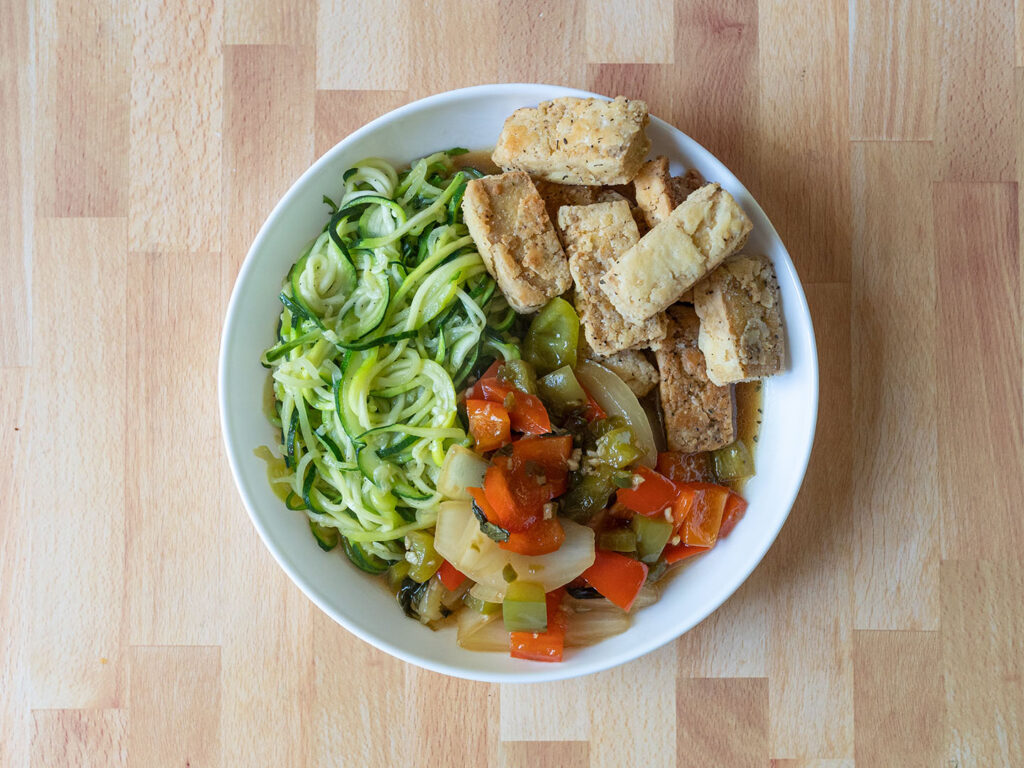 Hi, I'm Stuart, nice to meet you!  I'm the founder, writer and wrangler at Gastronomic SLC – Utah's biggest and oldest online food magazine; I'm also a former restaurant critic of more than five years, working for the Salt Lake Tribune.  I've worked extensively with multiple local publications from Visit Salt Lake to Salt Lake Magazine, not least helped to consult on national TV shows.
I'm a multiple-award winning journalist and have covered the Utah dining scene for the better part of fifteen years.   I'm largely fueled by a critical obsession with rice, alliteration and the use of big words I don't understand.   I started Shop Smart to catalogue my adventures in the grocery store and kitchen.  Follow along on Instagram too!
Come join our
Facebook grocery group
- and keep the discussion going! Talk about this, or any other food product with like minded home cooks and shoppers. Also share what you've been cooking up, and what you've found on yoru latest grocery shop. Join the conversation
here
.
If you want to put together the above recipe and find yoruself short of an ingredient of two - we recommend Instacart. We use the service all the time for last minute grovery needs. They can your groceries delivered in as fast as 1 hour.
Signup here
and get free delivery on your first order - we also get a small referral fee too!