Have you ever met someone who doesn't like French fries? No, me neither. Thankfully due to the miracles of modern science, some fairly respectable French fries can now be ground in the freezer aisle of your local grocery store – ready for cooking as and when the craving strikes! And of course don't forget to grab a fish stick or frozen fish product to go with your fries – check out list here.
Bonus points: if you have't yet invested in an air fryer, we'd recommend you get on board ASAP. This versatile kitchen tool will revolutions your home French fry cooking. Here are all the French fries we've reviews on the site so far.
P.s. if you're looking for fast food French fries, check out our sister site Menu And Price and our complete guide to fast food fries.
Great Value Steak Cut French Fried Potatoes – buy
Top of our list currently are these fabulous thick cut fries from Walmart. This huge 1lb+ sack of fries costs just $1.68 and offers tremendously moreish fries. Sure they're heavily processed but the result is delicious. Full review.
Ore-Ida Extra Crispy Fast Food French Fries review – buy
If you prefer your fries skinny and crispy, this is the product for you. A solid product from Ore-Ida that delivers on the promise of fast food style fries from tribe convenience of your own freezer. Full review.
Alexia Organic Yukon Select Fries – buy
Sure these might be a little pricier the most, but we think the premium is worth it. Is it the Yukon potatoes? The organic tag? Who cares – these are our favorite regular style fries available in the freezer aisle. Full review.
Alexia Crispy Rosemary Fries
While we're talking Alexia, also check out their rosemary seasoned fries. The sweetness of the herb goes perfectly with the savory potato. They're so good you'll end up just snacking on them with your favorite dipping sauce. See more here.
Ore-Ida Golden Crinkles French Fried Potatoes – buy
While crinkle cut fries can be something of a love em or hate em affair – we're firmly in the former camp. And we LOVE these crinkle cut fries from Ore-Ida. They cook up perfectly in the air fryer offering a crisp exterior and pillowy fluffy interior. Full review.
Alexia Crispy Truffle Fries – maybe buy
If you picked these up for the promise of real black truffle flavor, perhaps put them back in the freezer. The truffle flavor is the merest suggestion, rather than fun on assault on the taste buds. If you came her for the promise of an extra crispy skinny fry, you might find some joy with these. Full review.
Simple Truth Crinkle Cut Fry – maybe buy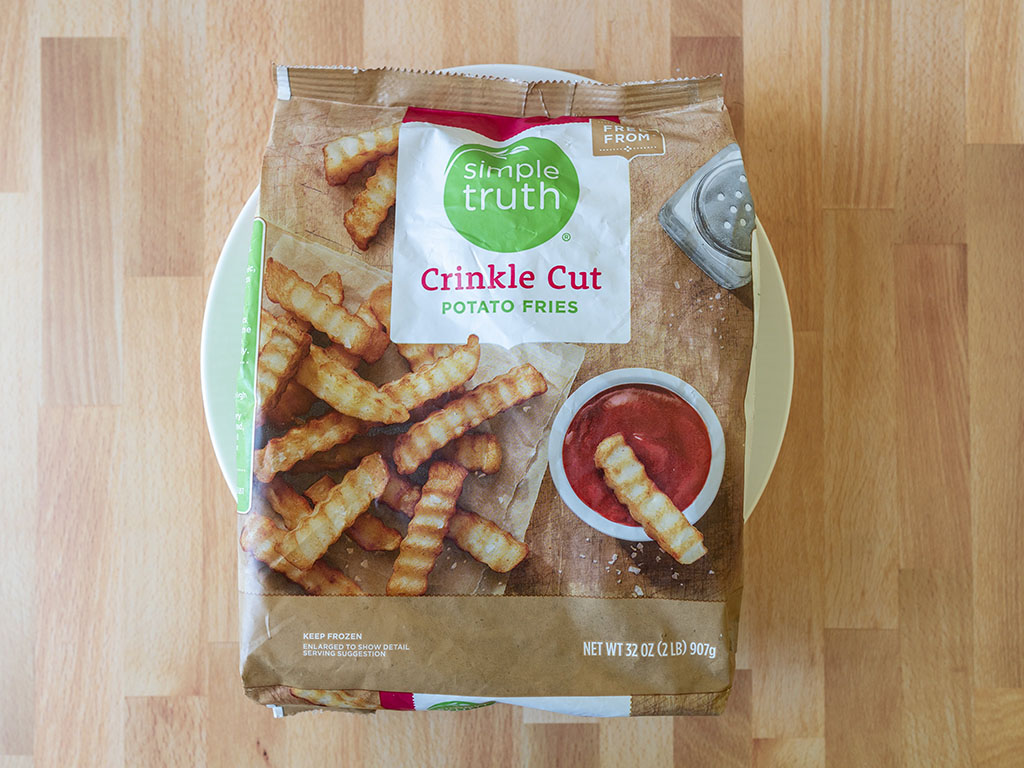 This product from Kroger's Simple Truth line is a strong one. The fries finish up to a deep golden brown, and in line with the no weird ingredient narrative of the brand – they're the cleanest tasting fry on this list. Full review.
Alexia House Cut Fries with Sea Salt – maybe buy
This is a solid skinny style fry that's more about the exterior surface crisp then masses of internal fluffy potato. They have a very clean taste like all of the Alexia range and are certainly worth a look at, if you're after a thin style French fry.
Lamb Weston Super Crispy Crinkle Cut Fries – maybe buy
Slightly pricier and slightly smaller in package size than the Ore-Ida brand. These crinkle cut fries certainly crisp up nicely, but do possess a certain yellow-technicolor quality that might be off-putting. Full review.
Great Value Regular Cut French Fried Potatoes – maybe
These fries occupy that odd space between thin crispy French fries and thick fluffy steak fries. If that's your preferred style, these might be for you. They're certainly a deal at under $2 for two pounds. Full review.
365 Organic Crinkle Cut Fries review – skip
O.k. even a less than stellar French fry is one we will probably eat. That said, these aren't as good as the products mentioned above. Unless you have no other choice, we'd recommend skipping these. Full review.
Mr Dee's Crinkle Cut Fries – Skip
The neon-yellow appearance of these is fairly off-putting, and the finished fry is less than stellar. For us that makes these a pass.
Red Robin Seasoned Steak Fries – skip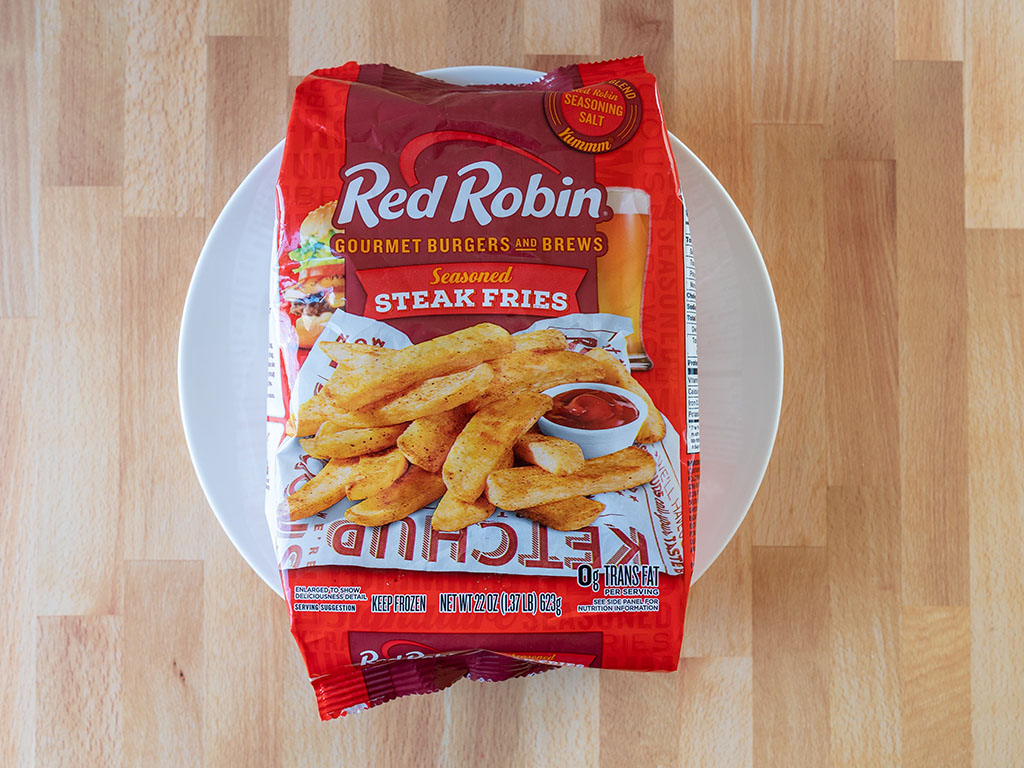 Fans of the burger chain mind want to check these out. For me, these are a pass. Not particularly poor in any way, but not are they remarkable either. A rather average product that's bested by items higher up this page. Full review.
What can I cook with French fries?
It goes without saying a plan fo French fries and a bottle of ketchup is all you really need – but hey – maybe branch out in a while? Here are a few fun ways we love to use our favorite French fry brands.
Loaded French fries
Let your imagination run wild, and pile those fries high with your favorite toppings. The only limit is your creativity and the contents of your fridge and pantry!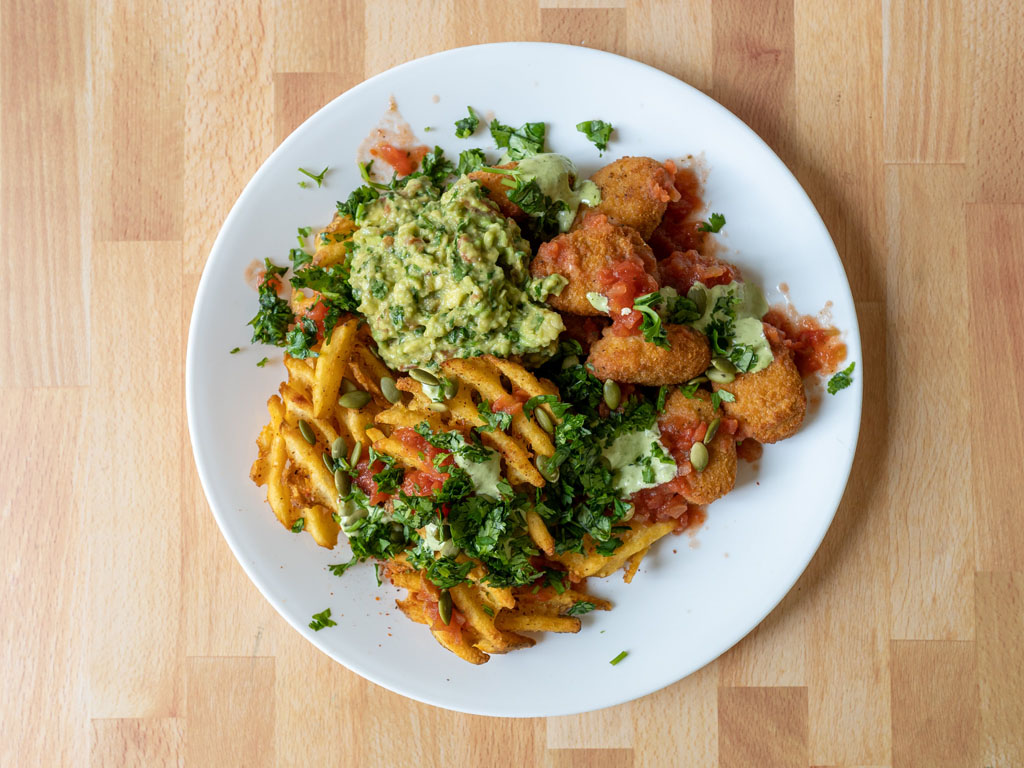 Burger and French fry burrito
Burger and fries – the perfect match right. Why not take it to the next level and put the whole shebang in a burrito!
Fish And Chips
This classic combo can be riffed on in any number of ways, maybe think about bringing different flavor profiles and cuisines to the plate.
That green stuff? Mushy peas my fried. Mush what now? O.k. I gotcha, here's what you need to know about this most English of dishes.
The perfect side dish star
Try mixing and matching with any number of dishes that just need that little extra something on the side. Here's a tamale smothered in red and green chili sauces and yep – French fries!
Breakfast for dinner
Don't discount French fries as a stand in starch when enjoying breakfast for dinner. We love to load up thick and chunky steak style fries with Hatch green chili sauce then plate with sunny side up eggs.
More grocery guides
Looking for something else? Check out these other guides to some of the very best products you can buy at the grocery store.