You'll get no judgement or finger wagging from us. Sometimes, when the mood strikes, only a chicken nugget will do. The crisp shell, the juicy interior, the industrial processed nature of it all. Dunked in the right sauce – it's, a guilty pleasure we're proud to admit to.
Over the years, we've sample a preposterous number of chicken nuggets. Here are all the chicken nuggets we've tried, the good, the bad, and the ugly.
Great Value Breaded Chicken Nuggets – must buy
These are great chicken nuggets that have a crisp breading exterior and fabulously juicy interior. A tasty reminder that you can find some enjoyable treats on various brand's budget labels. Full review.
Applegate Naturals Chicken Nuggets – good buy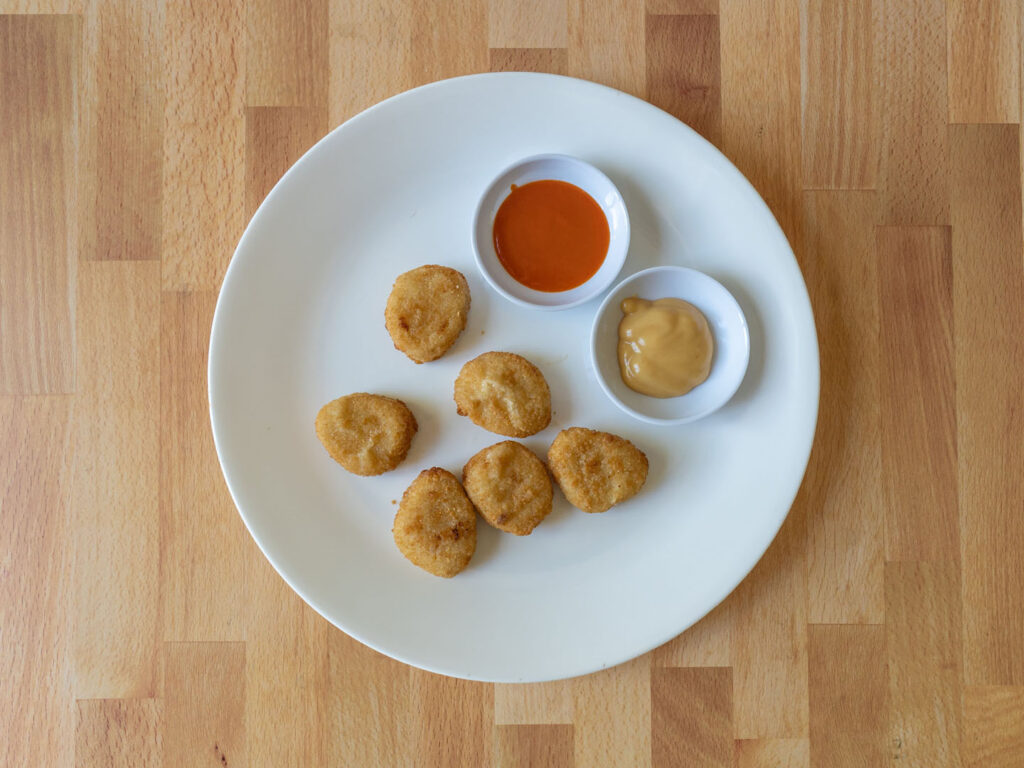 These are a solid chicken nugget, but you'll pay a premium for the higher animal welfare standards the brand seeks out. The nuggets themselves are meaty, with a great chicken flavor. Full review.
Tyson Naturals Breaded Chicken Breast Nuggets – worth a look
These are a decent chicken nugget product. They're certainly not the spongy mystery-meat low end, but they're also not a super premium. They're still a noticeably processed product, but sometimes, that's just what you're craving. The nuggets have a subtle garlic flavor in the breading that's quite enjoyable too. Full review.
Foster Farms Breast Nuggets air fried – average
These are the defacto example of a generic chicken nugget, that we all know and love. Industrially processed and shaped with a neutral flavor that's ready for dipping and dunking in your favorite sauce. Full review.
Tyson Any'Tizers Chicken Fries – average
When is a nugget not a nugget? But well, still kinda nugget? When it's a chicken fry! If you're looking for that fast food fix from the convenience of your freezer, sure, these will do. They're essentially thin, long chicken nuggets though, not too remarkable in any main way. Full review.
Perdue Chicken Breast Tenders – skip
Poor interior meat is dry, spongy and possesses a slightly greasy after taste. An air fryer can help elevate these just a little bit over the microwave but not much. See the full review.
Pilgrim's Tempura Chicken Breast Nuggets – skip
Don't expect real Japanese tempura and you won't be too disappointed. These nuggets feature a heavier and greasier batter that's quite enjoyable. Full review.
Banquet Chicken Nuggets – skip
Very basic frozen nuggets with no real notable qualities other than price. That chicken nugget and fries box above? We nabbed it for a paltry 88 cents! Full review.
Mr Fowler's Breaded Chicken Nibblers – skip
In a word, nope. These are sub-par chicken nuggets that are unappealing both in terms of taste and texture. There are better frozen nugget products out there. Full review.
More grocery guides