If you're worried about what lurks inside your chicken nugget, Applegate Naturals is the brand for you. The brand is all about smart-sourcing from farms that responsible ranch and raise animals. You can read more about their mission here. Around a dozen frozen chicken nuggets come inside a non resealable plastic here.
Cooking: Bake or microwave, these cook up like any old chicken nugget. As ever I reached for my air fryer, which worked perfectly.
Taste and texture: This is still a processed chicken nugget with reformed and spongey meat. That said, unlike typical nuggets, there's a very chicken-forward flavor here. It's surprisingly good actually. Despite the processed nature, there's also an enjoyably meaty texture too. The exterior breading is a let down though. It's thin and peels away too easily.
Verdict: Overall this certainly tastes like a cleaner and healthier chicken nugget. You're gonna pay a premium for this of course. An 8oz pack at my local Kroger costs $6.99. That's orders of magnitude more than competing products that are more heavily processed. Only you will be able to decide if price merits the product here.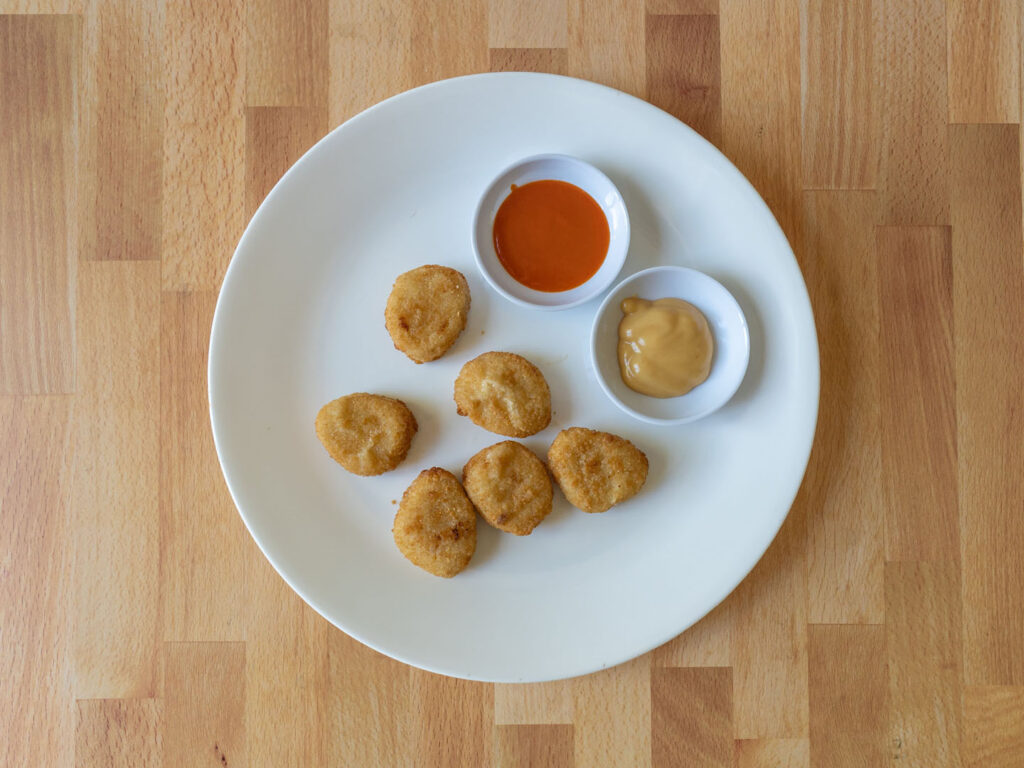 Applegate Naturals Chicken Nuggets cooking and nutrition
Are Applegate Naturals Chicken Nuggets any good?
These are a solid chicken nugget, but you'll pay a premium for the higher animal welfare standards the brand seeks out. The nuggets themselves are meaty, with a great chicken flavor.
Hi, I'm Stuart, nice to meet you!  I'm the founder, writer and wrangler at Gastronomic SLC – Utah's biggest and oldest online food magazine; I'm also a former restaurant critic of more than five years, working for the Salt Lake Tribune.  I've worked extensively with multiple local publications from Visit Salt Lake to Salt Lake Magazine, not least helped to consult on national TV shows.
I'm a multiple-award winning journalist and have covered the Utah dining scene for the better part of fifteen years.   I'm largely fueled by a critical obsession with rice, alliteration and the use of big words I don't understand.   I started Shop Smart to catalogue my adventures in the grocery store and kitchen.  Follow along on Instagram too!
Come join our
Facebook grocery group
- and keep the discussion going! Talk about this, or any other food product with like minded home cooks and shoppers. Also share what you've been cooking up, and what you've found on yoru latest grocery shop. Join the conversation
here
.