If you're reading this, you've probably been on the fence about buying an air fryer for some time. I know I ummmed and ahhhed for months. Did I really want an extra gadget lining up on my kitchen counter? Would I use it all that much?
What finally pushed me to purchase was the realization that I was using my regular oven to cook relatively small amounts of food time and again. In the warmer Summer months, I hate switching this monster on, only for my AC to have to then work all that harder to keep the house cool.
After reading more reviews than is sensible, I finally decided to splash my cash on this particular unit from Cosori (Cosori Air Fryer on Amazon affiliate link). The 5.8QT size seemed to be more than enough for our two person household, and I didnt want a mammoth appliance.
Out of the box I was quite impressed, the packaging is reminiscent of an Apple product – there's definitely a high quality feel as you unbox. Alongside the user manual there's a quick cheat sheet for common foods and also a fairly decent cookbook to get you started with ideas.
Using the Cosori
I'll go over the basics of using this particular unit and from there, the actual cooking of items – hopefully you will be able to make the call if this is for you too.
First up, you'll want about a five inch clearance behind and above the Cosori. The unit vents hot air out the back and takes in fresh air from above. You won't want to block either of these. Plan with that in mind. The power cord is a couple of feet in length, the manufacturer clearly doesn't want a dangerously long power cord dancing around for safety reasons.
Using this air fryer is as easy as can be. Before you cook with the Cosori you engage the Pre Heat mode, this basically circulates hot air (400F) around the oven for five minutes before you cook. The idea is that with the system pre-heated, any food you then add will cook extra fast, as opposed to having to heat up from a cold start.
Once the fryer is heated, you simply place your food inside the double basket system (more on that in a min) and then select a cooking time and temperature. The system goes as high as 400F which I've found to be the temp I use the most often to really get the crisp finish I'm after.
You'll want to remove the double baskets and give your food a shake at least once during cooking. This helps cook food more evenly. Handily the air fryer deactivates the heating element and fan if it senses the basket removed, and restarts when reinserted. This makes using the Cosori feel quite safe.
The twins baskets
The air fryer has a locking twin basket system. The idea is that the food cooks in a central basket with multiple air flow holes throughout. This basket suspends in a second, effectively creating a cavity for hot air to flow freely around your food.
One forward push of the handle and the lock releases the baskets together from the system. If you depress the secondary button, the bottom basket detaches.
This means you need to be very careful when removing the baskets when hot. Place on a safe surface before depressing the button and releasing the baskets – it literally drops away.
It does take a few minutes to become accustomed with the overall mechanism. I found myself basically playing around with the release system for a few minutes, before I plugged the unit in, while it was still cold. I'm glad I did, I made a few rookie errors while testing, that would have caused a burn if I hadn't practiced first.
Some other thoughts…
This unit from Corsori has a few other plus points I like, in. no particular order:
Both baskets can go in the dishwasher. I'm lazy and hate hand washing, I basically don't buy anything that I can't throw in the dishwasher
It feels safe. The idea of a super heated element pumping hot air around a small space is a little intimidating. There are plenty of safety features on this unit from overheating sensors to auto shut offs that make using the appliance less intimidating than I thought.
It's quick. Once preheated, I've barely found anything that takes more than 10-15 minutes to cook. Most stuff cooks in under ten minutes.
It's fun. I'll probably get more than a year or two's worth entertainment just playing around with cooking different things in the fryer.
I use far less oil. Sometimes I don't use any, sometimes I use just a little cooking spray. It's definitely a healthy way to cook.
Examples of food cooked with Cosori air fryer
I would always bake store bought French fries in the oven previously – no more! These always go in the air fryer now. They cook up in no time at all and the finish is extra crisp:
I love making my own tortilla chips and strips from fresh tortilla. Again I'd previously heat the huge oven up to cook a modest amount of these. These are definitely a win in the air fryer:
Another familiar favorite that I usually cook in the oven are chickpeas. Again these are now always cooked in our air fryer to a perfectly crisp and crunchy finish – always a wonderful salad topper!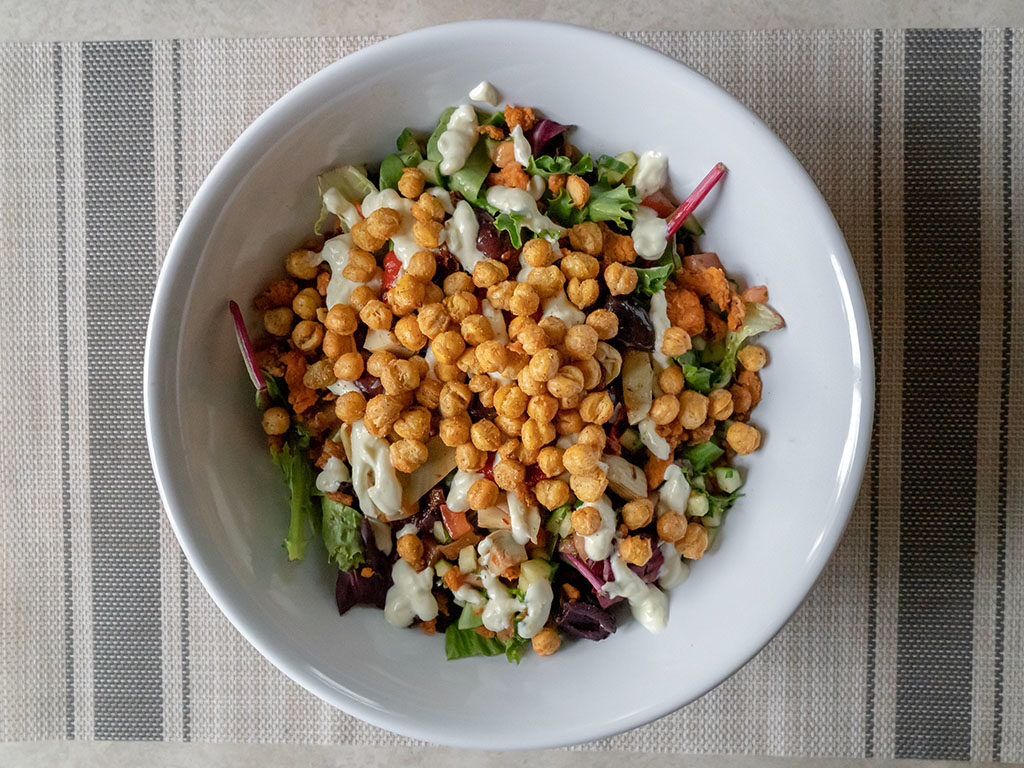 So is an air fryer for me?
Check out our sister site Air Fryer Guide, for a more comprehensive analysis of the pro's and con's of buying an air fryer.
For what it's worth, this is my very first fryer purchase and I've nothing but praise for this particular product. It's quick, doesn't heat my house up, generates a crisp finish and feels safe to use.
My fear about having one more gadget is completely unfounded, since I purchased it I use it at least every other day now. Check out the Cosori Air Fryer on Amazon (affiliate link) if you're ready to make the leap too!
Is the Cosori air fryer any good?
Yes! This makes our Smart Buy list as one of the favorite things to hit our kitchen in years. This air fryer is versatile, affordable and simple to use. The main cooking sections also go in the dishwasher afterwards too – making cooking to cleaning a piece of cake.
Hi, I'm Stuart, nice to meet you!  I'm the founder, writer and wrangler at Gastronomic SLC – Utah's biggest and oldest online food magazine; I'm also a former restaurant critic of more than five years, working for the Salt Lake Tribune.  I've worked extensively with multiple local publications from Visit Salt Lake to Salt Lake Magazine, not least helped to consult on national TV shows.
I'm a multiple-award winning journalist and have covered the Utah dining scene for the better part of fifteen years.   I'm largely fueled by a critical obsession with rice, alliteration and the use of big words I don't understand.   I started Shop Smart to catalogue my adventures in the grocery store and kitchen.  Follow along on Instagram too!
Come join our
Facebook grocery group
- and keep the discussion going! Talk about this, or any other food product with like minded home cooks and shoppers. Also share what you've been cooking up, and what you've found on yoru latest grocery shop. Join the conversation
here
.