Field Roast Smoked Apple Sage Sausages any good?
Yes, these are a pretty decent meat substitute. Relatively easy to prepare with a pleasantly subtle sweet-Apple flavor. Bonus points for their fantastic protein too.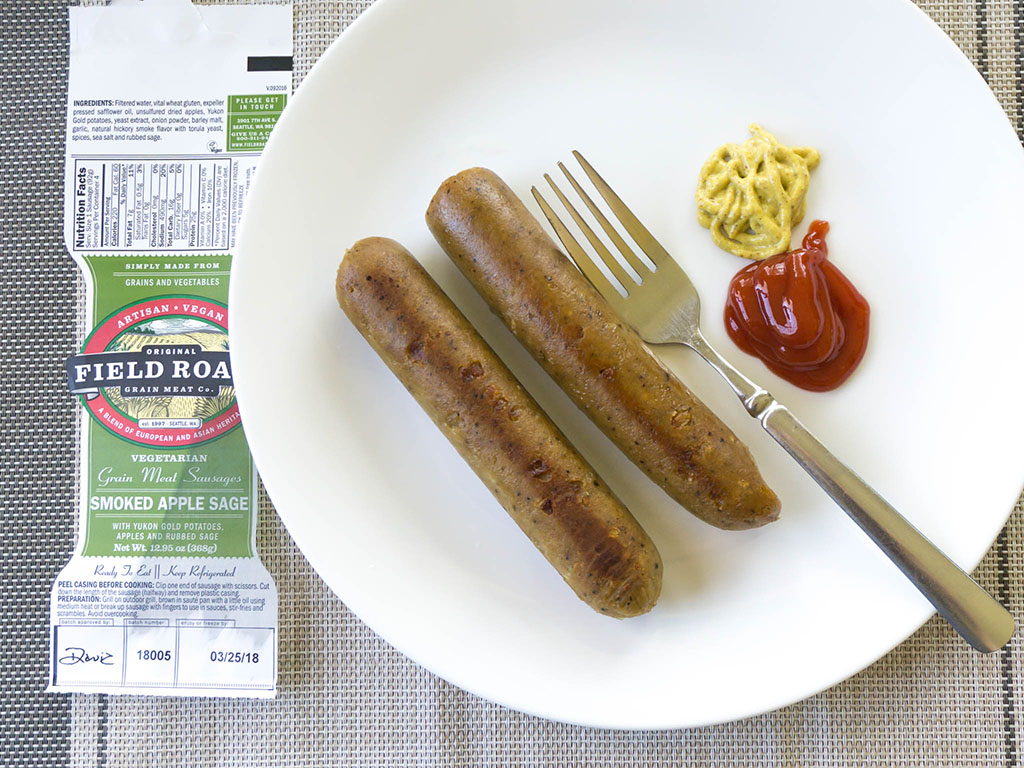 These vegetarian sausages are usually found in the refrigerated section of the store; often times in a place like Whole Foods they're intermingled with the vegan products. I'm not quite sure why they're not vegan themselves, looking at the ingredients I can't see anything of note. There's probably some egg or milk lurking in one of the benign items is my guess. These sausages come four links to a pack and are wrapped in protective plastic casing. You need to remove the casing before preparing the sausage.
The sausages are fairly robust, I expected they might crumble on removing the casing but the opposite is true. They stay firmly solid, even after some aggressive pan frying at high temperature.
Taste wise I am big fan of these, they're quite reminiscent of Tofurky products, but are less bitter/sour. The apple adds a really enjoyable and subtle sweetness that grows on the palate through the meal. Each sausage weighs in at a mighty 25g of protein, which means if you tackle two like me, you'll be fairly stuffed. Like all meat-sub products they do this at vastly lower levels of saturated fat, albeit the sodium isn't amazing.
Field Roast Smoked Apple Sage Sausage cooking instructions and nutrition
These sausages need a pan fry or throwing onto the BBQ – whatever your chosen method – you're basically heating and serving. Fried in the pan, they retain a great crisp on the exterior not unlike a real sausage. I was quite surprised they didn't devolve into a small pile of crumbles; though the packaging notes you can certainly do this if you're looking for a ground sausage alternative. To date I've only pan fried these as whole links.
What's a fair price?
Five bucks or under. I've seen these as cheap as $4.97 at Walmart and similar priced at Whole Foods. The highest price I've found was $5.97 at Smith's.
Field Roast Smoked Apple Sage Sausage what's in the packet
Four sausages, each delineated from the next with a nice little twist of plastic. This means you can open them one at a time if you like, no need to use them all at once. The shelf life is usually a few weeks from purchase.
What can I make with Field Roast Smoked Apple Sage Sausage?
I love to fry these off with russet potatoes in a good amount of oil. Throw them in at the last 5-10 minutes and you have a splendid hash to go alongside some sunny side up eggs.
O.k. for the sake of the purists out there I'll have to call it a Chicago-inspired vegan dog; I couldn't get a hold of sports peppers, and I prefer sliced pickle over a whole spear – I mean cmon on a tiny hot dog bun? Anyway, suffices to say, Field Roast make great sausages for your own loaded dog creation.
Of course, there are myriad ways you can craft a gourmet hot dog – for something a little more off the beaten path, what about this fajita skillet plate? In the following dish I pan fried some sliced Field Roast with garlic, smoked paprika, oregano and cumin. From there I plated it with some skillet veggies, guacamole, salsa and veggie refried beans. Delicious!
Other Field Roast products to check out
Hi, I'm Stuart, nice to meet you!  I'm the founder, writer and wrangler at Gastronomic SLC – Utah's biggest and oldest online food magazine; I'm also a former restaurant critic of more than five years, working for the Salt Lake Tribune.  I've worked extensively with multiple local publications from Visit Salt Lake to Salt Lake Magazine, not least helped to consult on national TV shows.
I'm a multiple-award winning journalist and have covered the Utah dining scene for the better part of fifteen years.   I'm largely fueled by a critical obsession with rice, alliteration and the use of big words I don't understand.   I started Shop Smart to catalogue my adventures in the grocery store and kitchen.  Follow along on Instagram too!
Come join our
Facebook grocery group
- and keep the discussion going! Talk about this, or any other food product with like minded home cooks and shoppers. Also share what you've been cooking up, and what you've found on yoru latest grocery shop. Join the conversation
here
.