Pot pie to Americans, just plan and simple pie for us Brits; but equally delicious regardless of name or whatever continent you happen to be eating this on.
First up, lets talk pastry. Feel free to go wild and make your own. The ideal is a buttery, semi flaky, savory short crust. I prefer to but pre-made store bought pastry for simplicity. Truth be told, this isn't exactly health food, and store bought brands tend to be loaded with the good stuff (see: fat). I've had great success with Great Value pie pastry and the Marie Calendar brand too.
For filling I like to use a leaner ground beef, in this recipe I've gone with a 93/7 mix. Of course you can use a fattier blend such as 80/20, but the final pie will be that much more rich and on top of the pastry, it can be a bit much. But hey, go crazy if you like. Ground lamb or smaller cut pieces of steak would be fun too.
My own pie recipe uses a few non standard ingredients, but bear with me, it's legit. In lieu of flour to bind the ingredients I use the British Bisto gravy granule product. I find this makes for a more flavor rich pie and better consistency than the gumminess flour delivers. It also holds the pie filling together in substantial fashion; check out the pics below. You can Buy Bisto gravy granules on Amazon (affiliate link) fairly inexpensively.
I also use ketchup and soy which might seem unusual. Both add additional umami (as well as some judicious use of diced mushrooms) and mostly fade away as part of the bigger dish, so don't stress.
In case you're worried, I'm English, I come from a town renowned for pies, and it's considerably remarkable I'm still alive based on the number I've eaten down through the decades. Trust me. I know pie.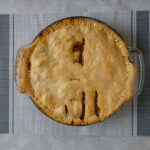 British style beef and onion pie
Ingredients
2

sheets

pie crust pastry

1

lb

ground beef

1

medium

onion

diced

8

mushrooms

diced

2

tbsp

ketchup

1

tbsp

soy sauce

2

tbsp

Bisto gravy granules

2

tsp

Worcestershire sauce

1

cup

water
Instructions
Gently saute diced onions and mushrooms in a little olive oil until softened. Season with salt and pepper. Preheat oven to 425F.

While vegetables soften, grease a suitable baking dish with a little butter and add one sheet of pie pastry. Gently press to mould into the baking dish. Don't worry about exactness or pastry slightly tearing, it will usually firm back together during cooking.

Once vegetables are softened, about 10-15 minutes, add ground beef and cook until mostly browned.

Add ketchup, Bisto gravy granules, soy and Worcestershire sauce and stir. Cook for one minute then add water.

Cook for 10-20 minutes, until a thick gravy consistency has formed. The pie filling shouldn't be watery.

Pour pie filling into baking dish. Top with second layer of pastry.

Using a fork crimp around the edges of the top of the baking dish to make a seal between the two pastry layers. Using a knife work around the top edge of the dish to cut off any loose ends and make things tidy.

Poke three or four holes into the pie for steam venting and put in the oven. Check after 30 minutes for pastry cooking doneness. I find the pastry I used takes a full hour to reach the deep golden brown finish I like.

The pie should be good to eat right away, but you might want to let it cook in the baking dish for 15 minutes first. Once fully cooled I often keep the pie in the baking dish for upto two or three days to eat a slice cold, or microwaved/baked to temp again.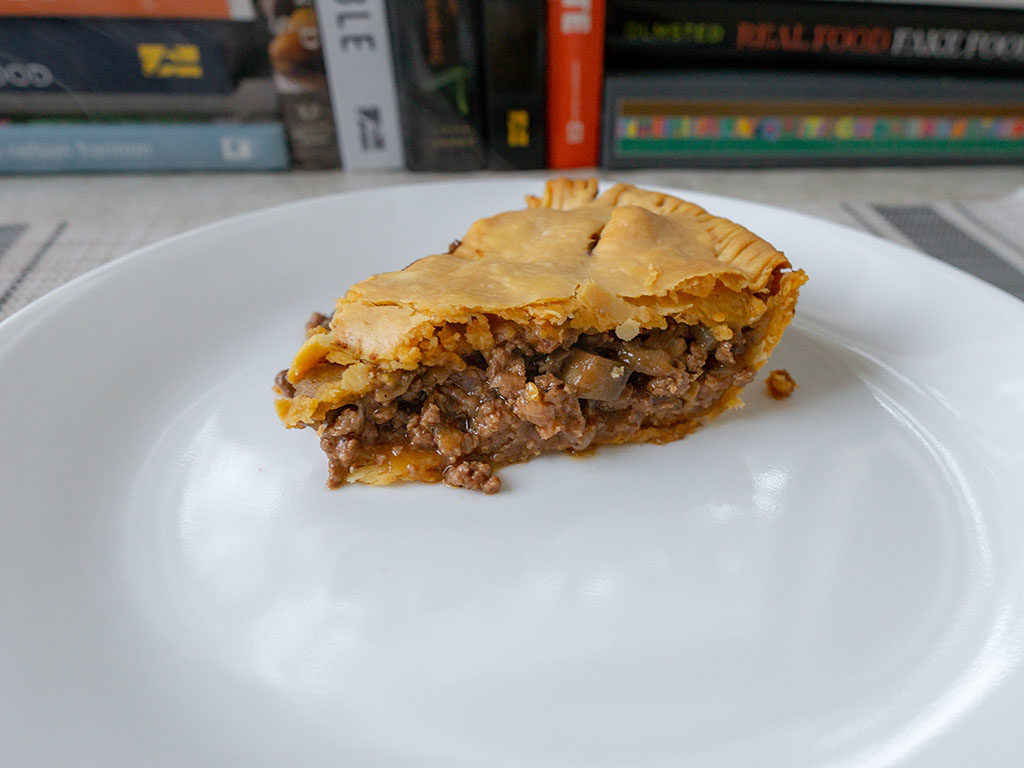 Hi, I'm Stuart, nice to meet you!  I'm the founder, writer and wrangler at Gastronomic SLC – Utah's biggest and oldest online food magazine; I'm also a former restaurant critic of more than five years, working for the Salt Lake Tribune.  I've worked extensively with multiple local publications from Visit Salt Lake to Salt Lake Magazine, not least helped to consult on national TV shows.
I'm a multiple-award winning journalist and have covered the Utah dining scene for the better part of fifteen years.   I'm largely fueled by a critical obsession with rice, alliteration and the use of big words I don't understand.   I started Shop Smart to catalogue my adventures in the grocery store and kitchen.  Follow along on Instagram too!
Come join our
Facebook grocery group
- and keep the discussion going! Talk about this, or any other food product with like minded home cooks and shoppers. Also share what you've been cooking up, and what you've found on yoru latest grocery shop. Join the conversation
here
.