Looking to help the environment? Maybe enjoy a kinda dinner? What about just saving a few calories? Whatever your inspiration, Meat Free Mondays is being increasingly embraced.
The following are some of our favorite ways to enjoy Meat Free Mondays. All the dishes are quick and ultra simple – mainly using off the shelf ingredients. Northing here should take you more than thirty minutes or so at most.
For even more inspiration see our sister site Meat Free Menu for their range of meat free meal ideas.
Vegetarian Enchiladas
What you will need:
These products can be grabbed off the shelves off most major US grocery store shelves. It's even possible to make this dish with a microwave. All the above ingredients can be cooked and heated using just a few minutes microwave time.
Western BBQ Burger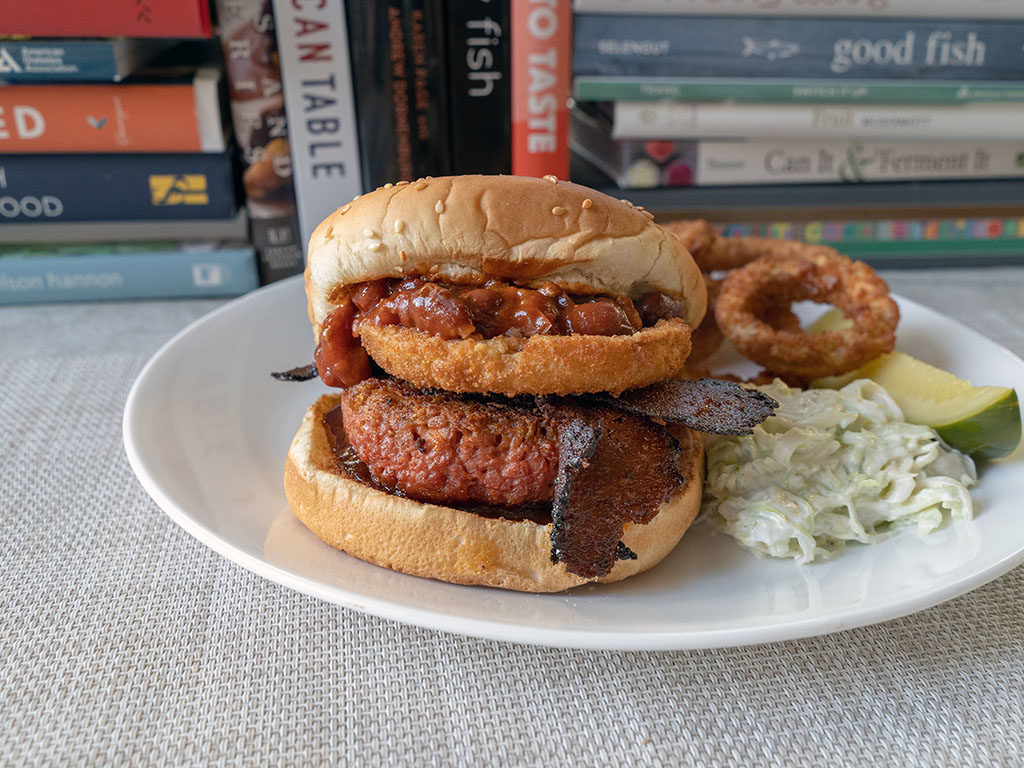 What you will need:
Good veggie burger, we use the Beyond Burger
Solid burger buns
Onion rungs, we used Alexia brand
Veggie bacon, we used Sweet Earth hickory and sage
Veggie chilli, we used Nalley brand
BBQ sauce
Sides of coleslaw and a pickle
Veggie burgers needn't be bland burgers. In the above take on the popular Western BBQ burger we quickly cooked up meaty Beyond Burgers in the pan before loading them with crisp onion rings and sweet chili. Even the most ardent meat lover will enjoy this mix of sweet, spicy and smoky.
Meat Free Fajitas
What you will need:
This one requires a little more prep and cooking but is still a cinch. Thinlyt slice the peppers and onion and cook over medium high heat, with some taco seasoning until they start to crisp and char. On the side cook up some veggie chicken and right at the end mix the two together, spritz with some lime for brightness – then serve.
Our favorite toppings for fab fajitas include home made cilantro ranch dressing, pico de gallo and cilantro.
Fried Rice
What you will need:
Cooked and cooled long grain white rice
Eggs
Onions
Peas
Soy sauce
Choice of other ingredients
When we cook white rice we always make sure to cook more than we need. Why? Well, the next day it means we're having fried rice! The secret to great fried rice is using cooked and cooled rice, cooked at high heat quickly with soy sauce – and usually onions scrambled eggs and peas.
The other ingredients are as flexible as you like. In the above picture we use Field Roast Frankfurter pieces to mimic ham fried rice.
Chorizo Tacos
What you will need:
This dish offers a zesty and spicy blast of flavor. You could plate the ingredients simply and chow down, or wrap them up taco style with some soft tortilla.
Italian Meatball Sub
What you will need:
This one is a simple slam dunk with just three ingredients. All you need is a sauce pan and barely twenty minutes. Heat the veggie meatballs in a rich and robust tomato sauce and load up on your favorite sub bread. The above sandwich is vegan, but go ahead and add provolone or your favorite cheese if that's your type of thing. Delicious.
Buffalo Chicken Wrap
What you will need:
Once the Summer months hit, if you're like us, you want something with the minimum of cook time. This wrap is a perfect dinner dish when you'd rather be doing anything other than standing at the oven! Microwave up some chicken nuggets, liberally douse in buffalo sauce and then load up with your favorite fixings. Heck, just serve up the ingredients on the table family style and let everyone just dig in.
Breakfast For Dinner
What you will need:
Breakfast! That's what for dinner! Throw the hash browns in the oven, microwave the sausage, simmer the beans in the pan – and the only real cooking you have to do is prepare the eggs. If you want to make things even simpler, just Google up how easy it is to make scrambled eggs in the microwave. Dinner, I mean breakfast is ready in under ten minutes!
Taco Salad
What you will need:
We really enjoy the contrast of the chilled iceberg lettuce against the warmth of the spicy taco meat here. A little shredded cheese adds richness to a quick and simple salad you can serve up in less than 15 minutes.
Pulled Pork Sandwiches
What you will need:
Don't miss out on the Summer BBQ fun, just grab some vegan pulled pork and some sturdy buns. The trick to this dish is finding some great seasoning for the pork and/or some assertive BBQ sauce. Not pictured, but we also serve this with some sweet corn on the cob plus a pickle for good measure.
Loaded Fries
What you will need:
French fries, we use Ore Ida brand crinkle cut
Whatever the heck else sounds good
You've probably seen loaded fry creations on favorite local restaurant's menu. The reason is simple: they look great, they taste great, and they couldn't be easier to make. Just bake up some precut fries and load with your favorite toppings.
In the dish above we used veggie meat, avocado, tomato, onion, jalapeño ranch, chipotle mayo and roasted jalapeños.
Japanese Curry And Rice
What you will need:
This unique dish is packed with flavor, so. much so, no one will notice you left the meat out. While you cook up some white rice simply simmer the meatballs in a curry sauce with mushrooms – and hey presto – this delicious dish.
In the above picture we also plated with a side sunomono salad, which is thinly sliced cucumber dressed in rice wine vinegar and chilled for an hour. The bright fresh sharp flavor contrasts nicely with the sweet and earthy curry.
Black Bean And Corn Salad
What you will need:
Black beans
Tinned sweet corn
Avocado
Tomato
Onion
Hot sauce
Lime
Creamy dressing
Salad
Tortilla
Rinse the beans and corn then mix together with a creamy dressing, avocado, chopped tomato, onion, hot sauce and a little lime juice. Serve chilled over a green salad with some crisp tortilla chips for a fun South of the border inspired salad. We also like to make the tortilla chips at home, just cut up some fresh tortilla, sprinkle with salt and oil and bake at 425F for about 20-30 minutes.