One of the simplest recipes in my cook book and one of the most used; especially in the warmer Summer months when you'll find me making this at least once per month. Whether it's as a quick snack for chips, or as a side dish to tacos or a topping for burgers – there's pretty much no occasion where a little pic won't hurt.
A few notes about this dish: a sharp knife is essential. You'll want to dice your Roma tomatoes, green bell pepper and red onion into fairly pieces. The sharper your knife, the easier it will be to dice the tomatoes into smaller chunks. I usually keep my tomatoes in the fridge right until I'm ready to cut them up – that way they're a little firmer and easy to cut.
For the red onion, I've recommended using a quarter here, that's if you have one of those giant red onions. You might want to use a little more if the onion is closer to medium sized. You don't want the onion to overpower everything else so go carefully; here's a picture of the ratio I visually aim for: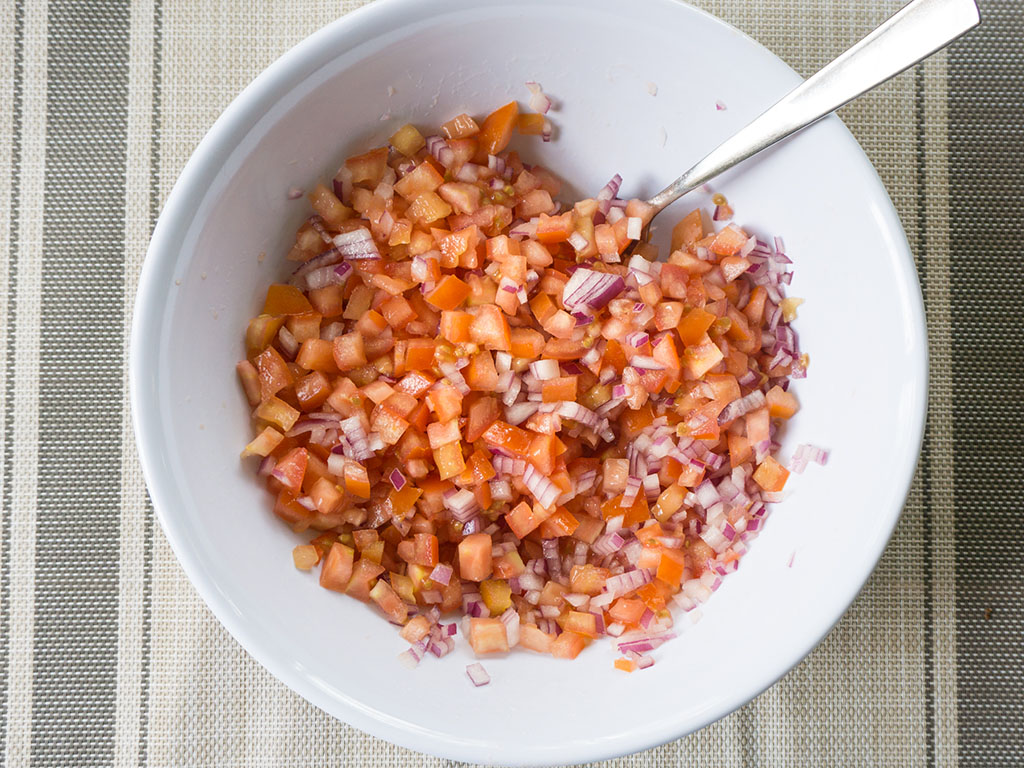 Pico De Gallo roma tomato versus red onion ratio
Heat wise one Jalapeno is typically what I use, I might use two if I feel like a spicier dish. You'll have to play this by ear, and to your own tastes, every Jalapeno differs slightly in heat. Its a myth that the heat comes from the seeds, it actually comes from the white pith lining the chili. If you want a milder pico, remove the white pith and the seeds to be sure – the seeds gain their heat from being in close contact with the pith. I've left the salt, to your own preference, but don't be shy; the salt is important to balance out the heat and the acid, and ultimately helps break down some of the other ingredients.
Your final creation should look something like this:
Pico De Gallo
I like to make the pico at least a couple hours before I am ready to eat. The longer the ingredients can . From there, I'll be happy keeping the fresh pico in the refrigerator for 3-4 days. It might last a little longer but the aroma will gradually get less fresh and more funky. The salt will also leech more and more water from the vegetables to you'll have an increasingly watery soup, the longer you leave it.
Another twist on this recipe is to add in the diced fruit from one ripe mango for mango salsa. Sometimes I'll use the regular pico on day one, and for the next day add in mango, to keep the dish interesting for a second day. Its a flexible recipe you can have a lot of fun with, add a habanero here, a serrano there…
Pico Do Gallo
Quick, simple and ultra fresh recipe for Pico De Gallo
Ingredients
4

Roma tomatoes

1

Lime

1

Green Bell Pepper

1

Jalapeno

1/3

Red Onion

2

tbsp

Cilantro

finely chopped
Instructions
Finely dice romato tomatoes, sprinkle with salt, stir and sprinkle once more.

Finely chop 1/4 of a large red onion, maybe a third if smaller.

Quarter lime, squeeze two quarters over tomato and onions. Stir. Squeeze in remaining two quarters, stir again.

Finely chop green bell pepper, add to bowl. 


Very finely chop jalapeño (remove seeds and pith for milder pico, add to bowl. 


Grab a handful of cilantro, stalks and leaves. Wash and finely chop into 2 tbsp and sprinkle over bowl.

Stir thoroughly until all ingredients well integrated. Refrigerate for a minimum of 1 hour before serving. 2-4 is better.
Hi, I'm Stuart, nice to meet you!  I'm the founder, writer and wrangler at Gastronomic SLC – Utah's biggest and oldest online food magazine; I'm also a former restaurant critic of more than five years, working for the Salt Lake Tribune.  I've worked extensively with multiple local publications from Visit Salt Lake to Salt Lake Magazine, not least helped to consult on national TV shows.
I'm a multiple-award winning journalist and have covered the Utah dining scene for the better part of fifteen years.   I'm largely fueled by a critical obsession with rice, alliteration and the use of big words I don't understand.   I started Shop Smart to catalogue my adventures in the grocery store and kitchen.  Follow along on Instagram too!
Come join our
Facebook grocery group
- and keep the discussion going! Talk about this, or any other food product with like minded home cooks and shoppers. Also share what you've been cooking up, and what you've found on yoru latest grocery shop. Join the conversation
here
.