This one proves the truism that the simplest things in life are the best. This quick and healthy sauce is ready in minutes, is impeccably healthy and can be used with everything from salads to cooked dishes. Use it wherever you want to add a little brightness and acidity.
It's also a completely excuse to buy a microplane grater ASAP. If you don't have one, get one in your kitchen drawer stat! This is the one I use from Amazon – read our review here.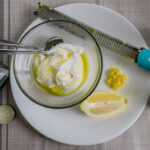 Recipe: Lemon Yogurt Sauce
Ingredients
5

ounces

Fat free plain greek yogurt

1/4

juice

lemon

1/2

zest

lemon

1

tsp

olive oil
Instructions
Finely grate the zest of one lemon

Quarter the lemon and remove seeds

Add the greek yogurt, 1/2 lemon zest, juice of 1/4 lemon and olive oil together in a bowl. Stir well.

Season with salt and pepper and taste, add more zest or lemon juice if you prefer a really bold flavor.

Move to refrigerator. Flavors best if allowed to rest for an hour or two before use.
The lemon yogurt sauce really enlivens this Middle Eastern veggie plate. In the below picture I've roasted sweet potatoes with smoked paprika, beets with sumac and pan roasted chickpeas with cumin, coriander and garlic. Oh, those are Gardein meat free meatballs too.
The sauce also goes well with other vegetables, here with roasted fennel and sautéed zucchini in garlic:
Hi I'm Stuart, amateur home cook and professional food writer.  You can find my writing at places like The Salt Lake Tribune and Gastronomic SLC, which I founded more than a decade ago.  As well as writing extensively about restaurants, I'm endlessly curious about that product on the shelf. Is it any good I wonder? If you're like me, wonder no more.