I'll admit that the Sweet Earth label isn't my favorite when it comes to meat free options. I've encountered more misses than hits through the years. The latest to catch my eye on the ever expanding line are these chorizo-style plant-based sausages. Four come to a package, they're non resealable once opened.
Cooking: The packaging recommends grilling or pan frying. The consistency of the raw dogs is solid, and I can imagine they'd work great on the grill. I pan fried and air fried to great success.
Taste and texture: Raw the sausages have a squidgy texture, but that firms up quickly when cooking on high heat. The casing crisps to a nice finish, while the interior develops a meaty chew, texturally they're on point. The flavor is a little bitter, reminiscent of Southwest flavors more than Chorizo per se; there's a nice spice level which surprised me, definitely some small lingering heat. There's nothing to dislike or conversely get overly excited about.
Overall: Topped with the right fixings these make a solid plant-based alternative. They're certainly one of the better Sweet Earth products on the market. While not the mad science of Beyond Sausage (which remain our favorites), they don't come with the hefty fat content of that product either.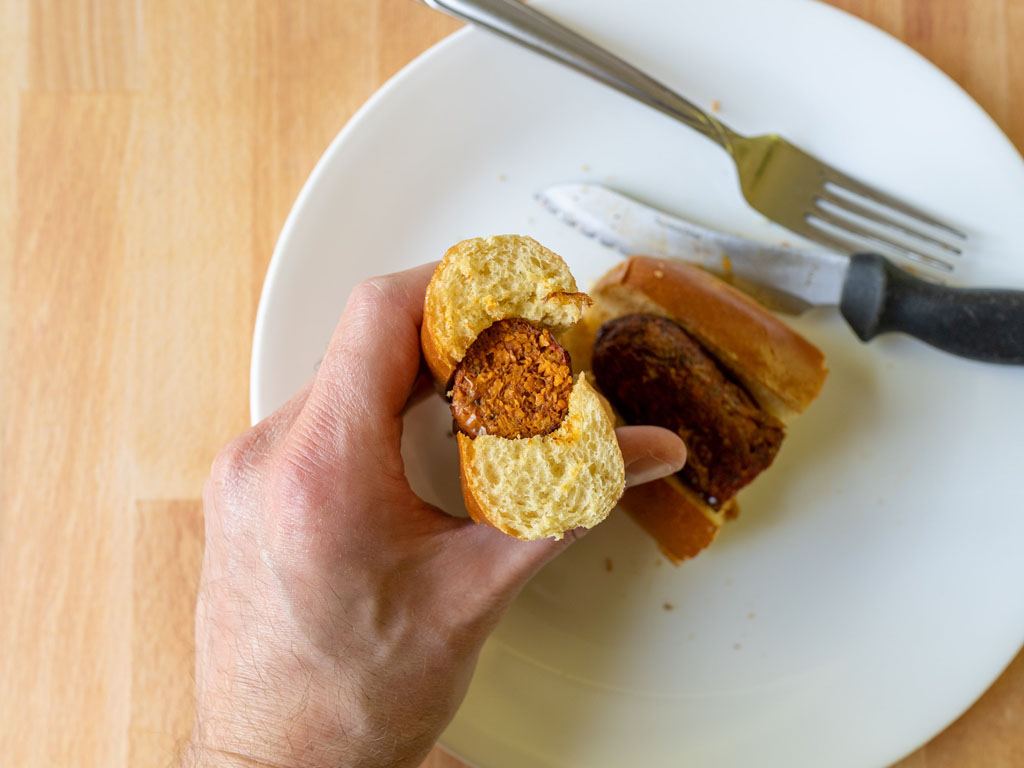 Sweet Earth Chorizo-Style Sausage cooking and nutrition
Are Sweet Earth Chorizo-Style Sausages any good?
These are decent enough product notable by their meaty chew when cooked up. These sausages will happily withstand the heat and intensity of the Summer grill and topped with the right fixings – make a good meat free sausage option.
Come join our
Facebook grocery group
- and keep the discussion going! Talk about this, or any other food product with like minded home cooks and shoppers. Also share what you've been cooking up, and what you've found on yoru latest grocery shop. Join the conversation
here
.