Boomerang's are apparently an Aussie-inspired pot pie, that seem to have a boutique approach. Compared to the bigger names like Marie Callendars, the pies are smaller at a higher price. This particular pie is entirely plant based, with nary any dairy nor meat.
Cooking: Microwave or bake in a nutshell. I opted not to microwave, as frankly, who likes a microwaved pot pie?
Taste and texture: Initial appearances of the cooked pie are good. The crust browns up and flakes well enough. It doesn't exactly crumble like a dairy powered pastry though and is on the drier side. A fake butter taste permeates, which I found less than appealing.
The interior is a mushy beige gloop, comprising mainly potato. The Beyond Meat was sparse (or hard to discern at any rate) and seemed to be the Beyond Beefy Crumble product – one of Beyond's earlier products, and I think, weakest. It's a hard, chewy plant-based meat crumble. The interior filling has a vague herb note to it, mainly oregano.
Overall: I'd skip this one. The pie is on the smaller side, the price is higher than the big names. The taste is mediocre and muddy. I can't find much to recommend in this one. Those on an exclusive plant-based diet might want to concoct their own home made pie for far better results.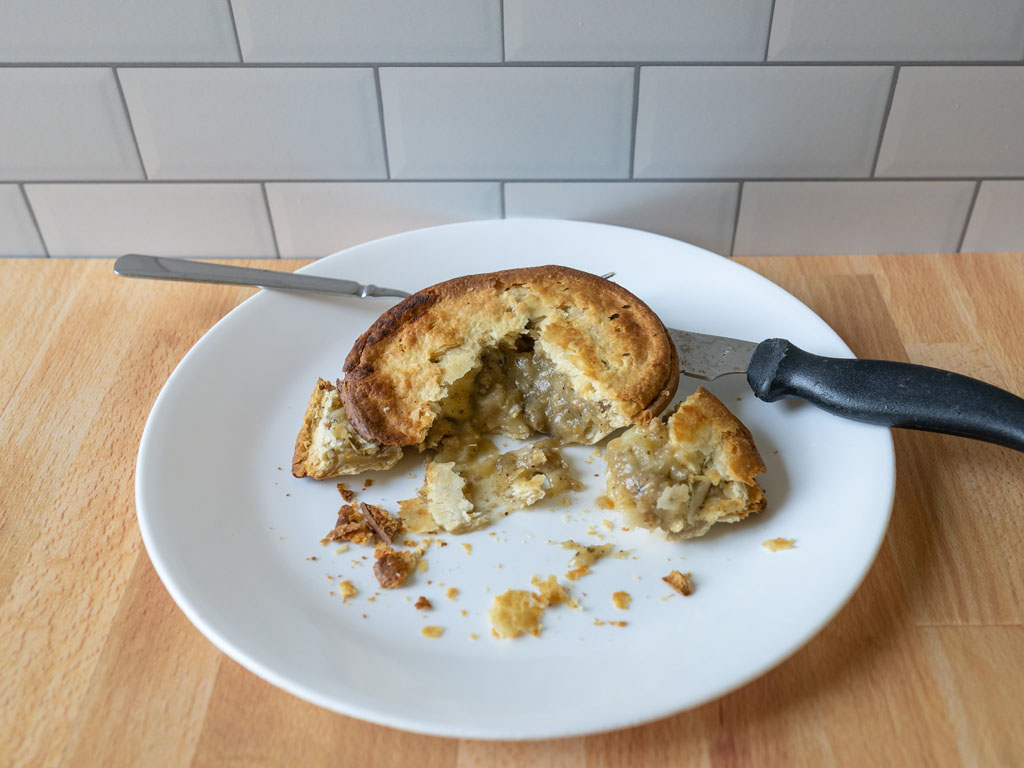 Boomerang's Beefy Potato nutrition and ingredients
Boomerang's Beefy Potato cooking times
Are Boomerang's Beefy Potato pies any good?
This is a pass for me. The pie is lackluster with a muddy beige filling. The pastry is a good effort considering there's no dairy here, but the fake butter flavoring is a little off putting.
Come join our
Facebook grocery group
- and keep the discussion going! Talk about this, or any other food product with like minded home cooks and shoppers. Also share what you've been cooking up, and what you've found on yoru latest grocery shop. Join the conversation
here
.