I've only very recently become a customer at Sprouts. Mainly spurred on by the Coronavirus pandemic if I'm being honest. As our local grocery stores faltered in their supplies – Sprouts had great stock throughout. Along the way we discovered a lot of new favorites. These Spicy Chicken burgers are one of them.
Inside the cardboard packaging you'll find four patties. They come in two separate packages, neither is resealable: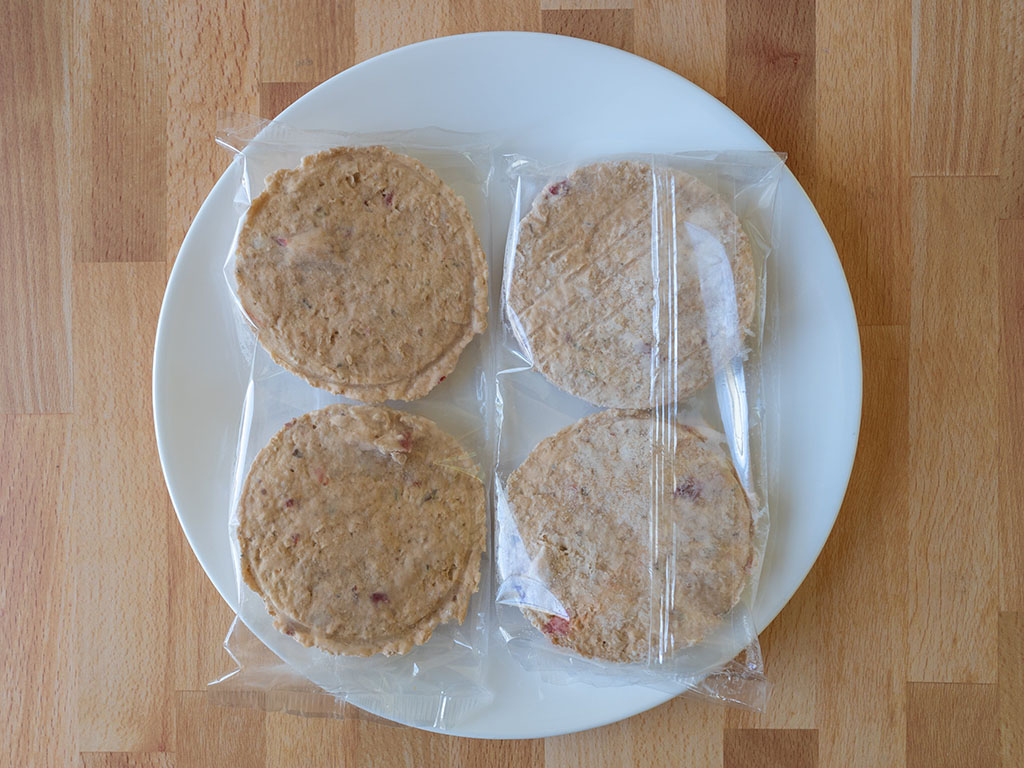 The first notable items is that you can't microwave these. I mean I guess you can, but the product packaging doesn't detail any instructions so that usually mean's it is best to avoid. I pan fried these to great success, they develop a lovely crisp char. That does mean you have to devote ten minutes (and sometimes you just want a 90 second microwave lunch, I know!) and a little clean up – but I think it's worth it.
How spicy are these is your first question I am guessing? Absolutely not at all in my opinion. Sure I love spicy food, but even my wife with a milder palate questioned the spicy moniker. If you're expecting any kind of kick from these, prepare to bring your own hot sauce to proceedings.
The flavor is very enjoyable though, the predominant note for me was one of sweet rosemary. Given I cook actual chicken with that herb several times a year – I think that might've tricked my brain into believing these were more closely related to the real deal than they actually are.
The texture is a winner too. Far too many faux chicken burgers end up a mushy mess on the interior. The Sprouts patties though have a definite meatier chew, though if I had one complaint I'd love to see them just a bit bigger. Actually – just make a sandwich with two patties – job done.
Sprouts Spicy Chicken Veggie Burgers packaging
Are Sprouts Spicy Chicken Veggie Burgers any good?
Our verdict? Yes! A very strong competitor in the meat free chicken sandwich department. 4/5/ from us, maybe our favorite one in this category! Our only complaint is we'd love to see a slightly bigger patty and some actual spice.
Hi, I'm Stuart, nice to meet you!  I'm the founder, writer and wrangler at Gastronomic SLC – Utah's biggest and oldest online food magazine; I'm also a former restaurant critic of more than five years, working for the Salt Lake Tribune.  I've worked extensively with multiple local publications from Visit Salt Lake to Salt Lake Magazine, not least helped to consult on national TV shows.
I'm a multiple-award winning journalist and have covered the Utah dining scene for the better part of fifteen years.   I'm largely fueled by a critical obsession with rice, alliteration and the use of big words I don't understand.   I started Shop Smart to catalogue my adventures in the grocery store and kitchen.  Follow along on Instagram too!
Come join our
Facebook grocery group
- and keep the discussion going! Talk about this, or any other food product with like minded home cooks and shoppers. Also share what you've been cooking up, and what you've found on yoru latest grocery shop. Join the conversation
here
.