Deal alert: use code
GSLC
over on the
Sitka website
for $25 off a premium seafood share. We get a referral fee too :)
I first heard about Sitka Salmon Shares when the Alaskan based brand reached out for me to review their product; so full disclosure up front, the company sent me a little sample of their product in the mail to test. I'm so glad they did, I intend to be a paying customer in 2020.
The idea behind the 'share' is much like the idea behind a CSA farm share – where you pay a monthly fee to support a local farm, and in turn receive a weekly veggie share from the season's crop. The twist here of course is you're supporting fishermen and you receive monthly boxes of quality Alaskan seafood.
There are different sizes and varieties of seafood available from Sitka, all of which change with the season. The seafood ships frozen to your door in vacuum sealed packets and very solid and safe container; in my personal experience, Fedex messed up my delivery and it arrived a few days late, but still perfectly frozen and fine.
A quick note for those worried about frozen seafood – don't be. Here's a story I wrote about why everything you've heard about frozen fish is wrong; if it's been frozen correctly of course.
Your imagination is the only limit with this quality product. Here are two dishes I love to make with fish, both Thai. Firstly cod in a Thai basil sauce with bell peppers. I love cod in this spicy sauce. You need a meaty fish like mahi mahi, swordfish or cod to stand up to the powerful gravy.
Next, Thai Yellow curry with salmon. Buttery and flaky salmon goes so well with this rich and creamy coconut milk based curry. In the picture below I pan fried the salmon skin down until the skin separated. I then cooked the skin and salmon separately so as to turn the skin into a crisp crackling topping – think the salmon version of pork rinds – it's fabulous! Also a good addition to this dish are Trader Joe's Thai flavored cashews; crush them down and serve as a spicy, creamy, crunchy finish.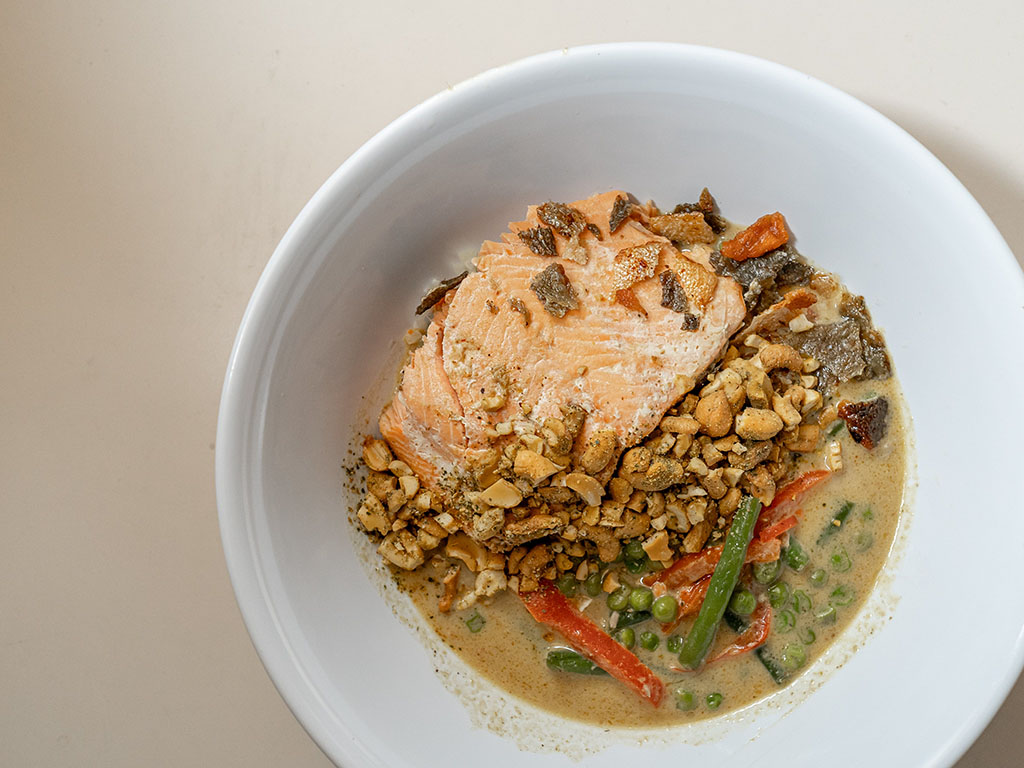 You can shop shares on their site here, prices run $99-$129 a month for a selection of seafood. I ran the math on how that price breaks down to my local grocery store with fresh fish and the price is the same per pound if not better.
And frankly the product here is far better than my local grocery store (yours too perhaps). Alaskan seafood is some of the very best in the world. Alaskan seafood is farmed and fished 100% sustainably, heck that's even written into the state's constitution. I know European nations often get a lot of attention for their love and care for items like cheese, olive oil, meats and so forth – but Alaskan seafood is really in that bracket. Check out the book "Real Food Fake Food" on Amazon by Larry Olsted where he recommends to always seek out Alaskan seafood for exceptional quality.
Is Sitka Salmon Shares any good?
This is a tremendously high quality product. Alaskan seafood is amongst the best in the world not least fished and farmed sustainably. If you don't have access to good seafood locally, this product ships flash frozen to your door in days – and is worth every penny.
Deal alert: use code
GSLC
over on the
Sitka website
for $25 off a premium seafood share. We get a referral fee too :)