Is Three Bridges Rigatoni Meatballs And Mushroom Cream Sauce any good?
Yes, this is a very enjoyable heat and serve quick meal. The package promises a creamy mushroom sauce and the cooked product delivers admirably. If we had only one small critique, it'd be that we'd like a little bit more!
Disclosure: we received this product complementary, courtesy of Three Bridges.
The premise of the Three Bridges brand is simple: quick heat and serve meals using real ingredients with the minimum of adulterations. Indeed the brand's website promises meals free of antibiotics, preservatives, artificial ingredients – and ultimately – a better taste as a result. So how does that promise stand up in the tasting?
This particular product from the fresh pasta range promises a rich creamy mushroom sauce with meatballs and rigatoni pasta.
What hits you first from this dish is the bold mushroom flavor and aroma, there's no holding back. Love mushrooms? Great you'll enjoy this! Not so much? You'll want to skip.
Next up, the sauce is undeniably rich and creamy as the packaging promises – caveat that against the nutrition (see below) of course – there's plenty of cream and fat here. The meatballs are fairly routine, but the texture is enjoyably meaty, with little filler. All in all, the quality promise of the brand does seem to stack up here.
The meal is on the smaller side, but with the carby rigatoni and rich sauce, its decently filling for a lunch option. If I were to choose this for dinner, I might add a side salad or maybe bulk up the pasta dish a little more.
As a final note, these products live in the refrigerated section of the grocery store, not the freezer aisle. That means the fresher ingredients do have a definite shelf life you need to be aware of. The sample I received here happily had at least two weeks remaining on the expiry date; so I expect those found in stores should be able to sit for little while.
Three Bridges Rigatoni Meatballs And Mushroom Cream Sauce – what's in the box?
Inside the outer packaging you will find the following microwave and oven safe cooking tray. You'll need to peel off some covering plastic before you get cooking. You'll find the following, four meatballs amidst the sauce and pasta:
Three Bridges Rigatoni Meatballs And Mushroom Cream Sauce
Here's the final product cooked, right out of the microwave: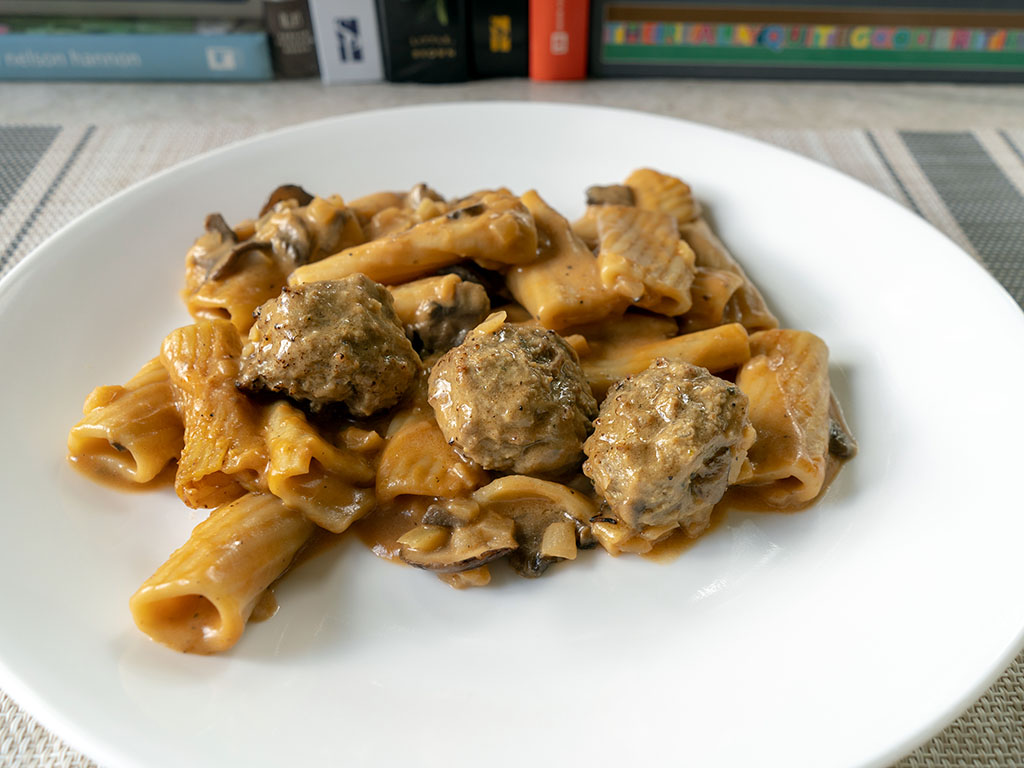 Three Bridges Rigatoni Meatballs And Mushroom Cream Sauce cooking instructions, nutrition, ingredients
You can cook this product in the microwave or the oven – but lets be honest – you're cooking this in the microwave right? I know if I'm buying a heat and serve meal I want to eat right now, not 25 minutes from now.
Thankfully I found the product cooked up admirably in the microwave, the pasta remained soft with just a little bite. Nothing mushy, nothing overcooked and hard. Likewise the meatballs didn't dry out using this method.
Nutritionally speaking this isn't a fantastic dish, so keep an eye on salt and fat here. The product packaging makes a semi-preposterous stab at suggesting a serving is half a container, but I can't imagine anyone ate only half in one sitting. Just enjoy the full container and enjoy in moderation.
How much do Three Bridges Rigatoni Meatballs And Mushroom Cream Sauce cost?
We received this product complementary of Three Bridges, so can't comment on what we paid in the store. It's certainly a rich and filling dish, and I'd happily pay something around the $4-$5 mark for this in the store.
Other Three Bridges products
Hi, I'm Stuart, nice to meet you!  I'm the founder, writer and wrangler at Gastronomic SLC – Utah's biggest and oldest online food magazine; I'm also a former restaurant critic of more than five years, working for the Salt Lake Tribune.  I've worked extensively with multiple local publications from Visit Salt Lake to Salt Lake Magazine, not least helped to consult on national TV shows.
I'm a multiple-award winning journalist and have covered the Utah dining scene for the better part of fifteen years.   I'm largely fueled by a critical obsession with rice, alliteration and the use of big words I don't understand.   I started Shop Smart to catalogue my adventures in the grocery store and kitchen.  Follow along on Instagram too!
Come join our
Facebook grocery group
- and keep the discussion going! Talk about this, or any other food product with like minded home cooks and shoppers. Also share what you've been cooking up, and what you've found on yoru latest grocery shop. Join the conversation
here
.