For my general thoughts on these Three Bridges heat and serve dishes see my first review here. This is another dish from the same range, combining slices of Italian sausage in a thick tomato sauce with big chewy rigatoni pasta.
Like the other products in the range this dish is fresh and cooks up relatively quickly in the microwave (see below). Most impressively, and with all the Three Bridges Simple Dishes – the pasta really does reheat impressively well. I'm always happily surprised by just how well it cooks up, remaining soft and pliable, not a piece overcooking and becoming tough.
The sauce is a fairly standard Italian red sauce, thankfully it doesn't veer too sweet. The sausage slices are probably the weakest component here. My wish would be to have slightly more, perhaps even at the cost of smaller pieces. They'd also benefit from more aggressive seasoning too – more fennel?
Overall, a solid dish that doesn't reinvent the wheel. If you're craving a classic Italian pasta and sausage dish, and have limited time, this is certainly worth a look.
Here's the dish just out of the packaging and then plated after cooking: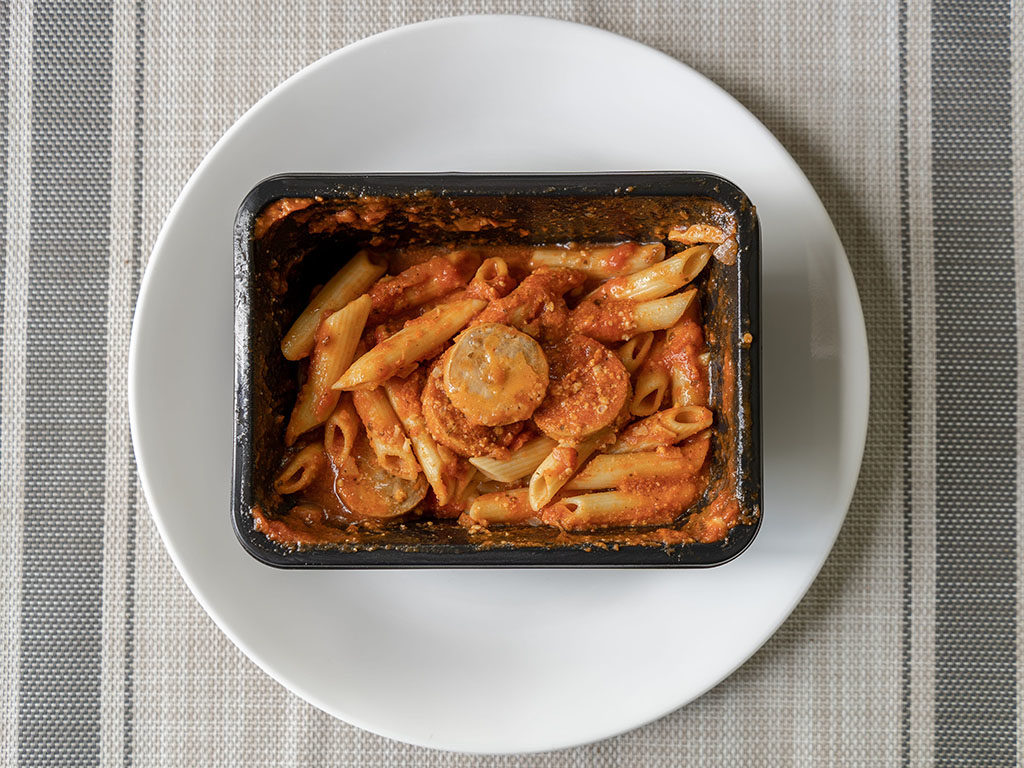 Three Bridges Italian Sausage Ziti cooking instructions and nutrition
Compared to other items we've reviewed from Three Bridges, this is a moderately healthier choice. There's no heapings of cheese or cream here, so fat levels are commensurately lower.
Other Three Bridges products
Hi, I'm Stuart, nice to meet you!  I'm the founder, writer and wrangler at Gastronomic SLC – Utah's biggest and oldest online food magazine; I'm also a former restaurant critic of more than five years, working for the Salt Lake Tribune.  I've worked extensively with multiple local publications from Visit Salt Lake to Salt Lake Magazine, not least helped to consult on national TV shows.
I'm a multiple-award winning journalist and have covered the Utah dining scene for the better part of fifteen years.   I'm largely fueled by a critical obsession with rice, alliteration and the use of big words I don't understand.   I started Shop Smart to catalogue my adventures in the grocery store and kitchen.  Follow along on Instagram too!
Come join our
Facebook grocery group
- and keep the discussion going! Talk about this, or any other food product with like minded home cooks and shoppers. Also share what you've been cooking up, and what you've found on yoru latest grocery shop. Join the conversation
here
.