For my general thoughts on these Three Bridges heat and serve dishes see my first review here. This is another dish from the same range, combining slices of Italian sausage in a thick tomato sauce with big chewy rigatoni pasta.
Like the other products in the range this dish is fresh and cooks up relatively quickly in the microwave (see below). Most impressively, and with all the Three Bridges Simple Dishes – the pasta really does reheat impressively well. I'm always happily surprised by just how well it cooks up, remaining soft and pliable, not a piece overcooking and becoming tough.
The sauce is a fairly standard Italian red sauce, thankfully it doesn't veer too sweet. The sausage slices are probably the weakest component here. My wish would be to have slightly more, perhaps even at the cost of smaller pieces. They'd also benefit from more aggressive seasoning too – more fennel?
Overall, a solid dish that doesn't reinvent the wheel. If you're craving a classic Italian pasta and sausage dish, and have limited time, this is certainly worth a look.
Here's the dish just out of the packaging and then plated after cooking: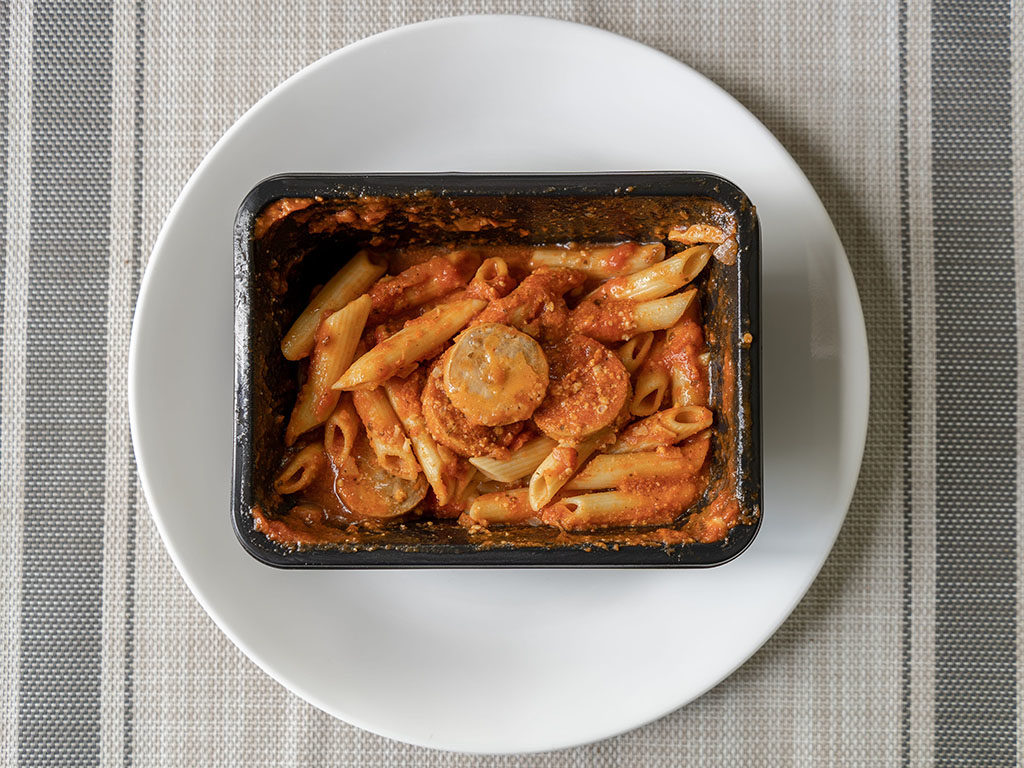 Three Bridges Italian Sausage Ziti cooking instructions and nutrition
Compared to other items we've reviewed from Three Bridges, this is a moderately healthier choice. There's no heapings of cheese or cream here, so fat levels are commensurately lower.
Other Three Bridges products
Hi I'm Stuart, amateur home cook and professional food writer.  You can find my writing at places like The Salt Lake Tribune and Gastronomic SLC, which I founded more than a decade ago.  As well as writing extensively about restaurants, I'm endlessly curious about that product on the shelf. Is it any good I wonder? If you're like me, wonder no more.