I wonder how much No Evil Foods product leaps from shelving to cart simply off the elegant packaging alone. There's absolutely no denying the aesthetics of this brand. I'd wager money that this alone has helped sell a gazillion units on its own, but how does the product itself stand up?
Inside that neat box you'll find all the pulled pork shrink-wrapped in plastic. Once opened there's no way to reseal. That said there's enough here for two fairly hearty portions, or three-ish moderate plates of food. I found myself cooking the whole package and reheating the small amount of leftovers the next day.
The pulled pork is certainly easy to cook up – it's effectively a heat and serve dish. You add it to a pan with a little water and heat for barely a few minutes. As the pulled pork is wheat gluten based you won't want to overcook this or the gluten will start to tighten and toughen.
As a wheat gluten based product it also has that unmistakable taste. The slightly too sweet (for me at least) BBQ sauce only slightly masks these earthy notes. The flip side of this though is texture, wheat gluten always has a great meaty mouthfeel and that's no different here. Loaded up with the right fixings (hai there coleslaw) on a fresh bun, this ccould be a fun meat free stand in.
In the final analysis this product strikes me as one with limited appeal. It won't fool a meat eater by any stretch of the imagination, indeed that wheat gluten taste can be off putting for many. For vege/vegan types – you will get far better results with your own home made BBQ sauce and choice of preferred meat sub; which is barely 5-10 minutes of effort.
Of course if you're time pressed and rushing out the door to a BBQ, the product does represent an easy dish to take along to the cookout.
Is No Evil Foods Pulled Pork BBQ any good?
It's a decent enough product if you're in a rush or your kitchen skills are nonexistent. For everyone else, you can achieve far better results without too much effort cooking from scratch.
No Evil Foods Pulled Pork BBQ
Here's the final product cooked up in the pan and served up alongside some fresh corn, sweet potato fries, cucumber salad and slaw. You can taste the Summer already I'm sure!
No Evil Foods Pulled Pork BBQ cooking instructions and nutrition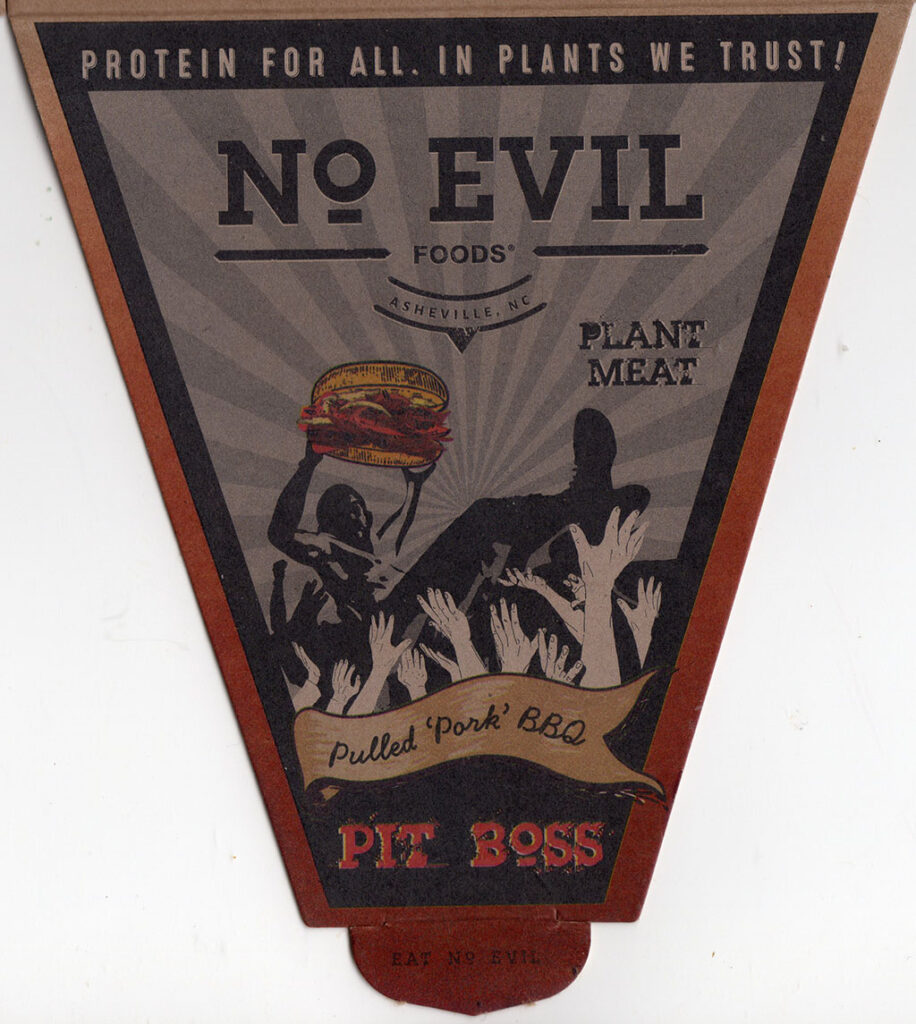 Other No Evil Foods products
Hi, I'm Stuart, nice to meet you!  I'm the founder, writer and wrangler at Gastronomic SLC – Utah's biggest and oldest online food magazine; I'm also a former restaurant critic of more than five years, working for the Salt Lake Tribune.  I've worked extensively with multiple local publications from Visit Salt Lake to Salt Lake Magazine, not least helped to consult on national TV shows.
I'm a multiple-award winning journalist and have covered the Utah dining scene for the better part of fifteen years.   I'm largely fueled by a critical obsession with rice, alliteration and the use of big words I don't understand.   I started Shop Smart to catalogue my adventures in the grocery store and kitchen.  Follow along on Instagram too!
Come join our
Facebook grocery group
- and keep the discussion going! Talk about this, or any other food product with like minded home cooks and shoppers. Also share what you've been cooking up, and what you've found on yoru latest grocery shop. Join the conversation
here
.