We're still waiting for someone in the new plant based world to tackle the old school hot dog. Sure there are alternatives like brats from Beyond, but there's nothing we've tasted that yet tackles this Summer treat head on. These meat free hot dogs from Lightlife bear the plant based sticker proudly, but they're very much old school veggie dogs. If you've tried the MorningStar Farms dogs you'll have a fair idea of how these taste.
Inside the non resealable plastic packaging you'll find eight dogs. At a glance they seem identical to the real deal. In fact they cook up the same, they have roughly the same texture (hey its a processed tube whether it has meat or not!) and smell approximately the same too.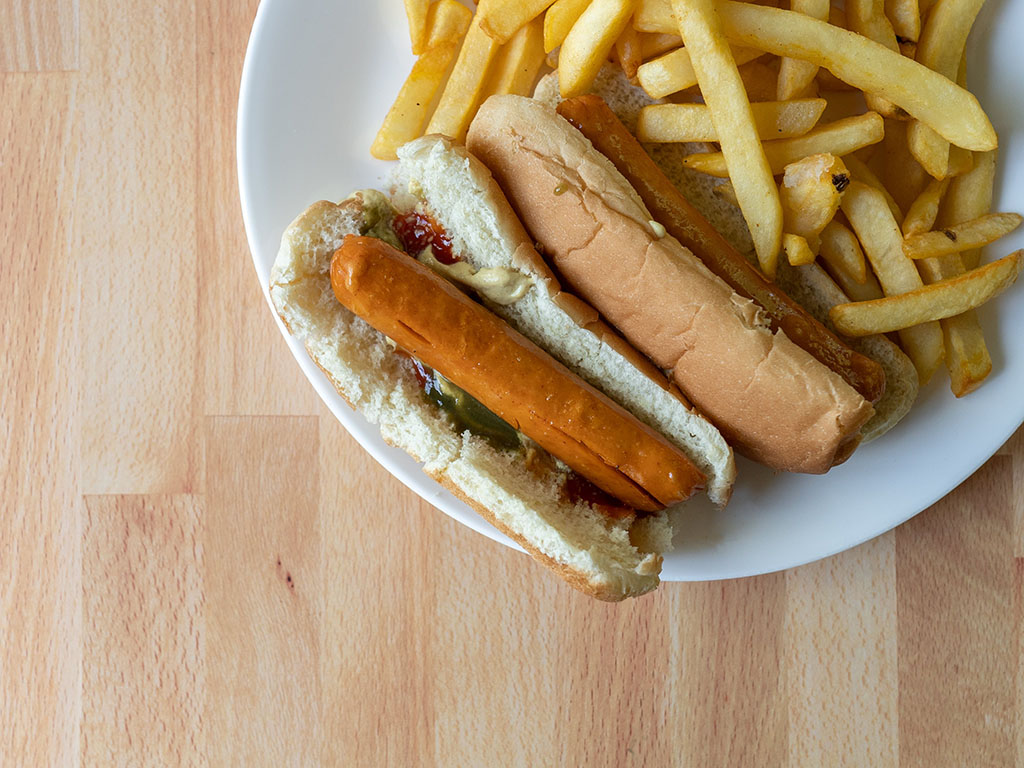 It's in the tasting where the illusion gives way. The first taste that hits you is close to the real deal. It's that slightly smokey and briny flavor that smacks of a Summer cook out. There is however a slight after taste. I wouldn't say it's necessarily unpleasant but it again it breaks the spell that this meat free dog.
Our advice would be to use your toppings thoughtfully. As we added some ketchup, mustard and pickles, the after taste was lessened. For a moment you might even forget you're eating a plant based facsimile.
Overall, we prefer these marginally to the MorningStar Farms dog. Here's hoping some of the newfangled plant based science wizardly can bring us a hot dog that's fiendishly close to the real thing.
Lightlife Smart Dogs nutrition and ingredients
The packaging recommendeds cooking these up roughly the same way as a real dog. I actually hate this way of cooking, submerging dogs in bowls of water, that then get too hot to handle. My preferred way is a brief high heat cook in the air fryer. That adds a little more texture too!
Are Lightlife Smart Dogs any good?
We think these are a decent meat free hot dog. Certainly they are the best we've tried and are close in look, texture and aroma. The taste is half way there. The illusion is only broken by a slight after taste.
Come join our
Facebook grocery group
- and keep the discussion going! Talk about this, or any other food product with like minded home cooks and shoppers. Also share what you've been cooking up, and what you've found on yoru latest grocery shop. Join the conversation
here
.