If I had to name one of my favorite guilty pleasures, it would probably be sausages. I think I've only ever met one I didn't like (weisswurst) which is a far better ratio than I can claim for people…
This quartet from Walmart's Sam's Choice line offers a taste of the South. The refrigerated packet isn't resealable, so as soon as you open it you'll be hit by the smokey garlicky goodness of these sausages; you might want to repackage in a plastic bag less your fridge becomes overwhelmed by the aroma. Hey, maybe you actually like that…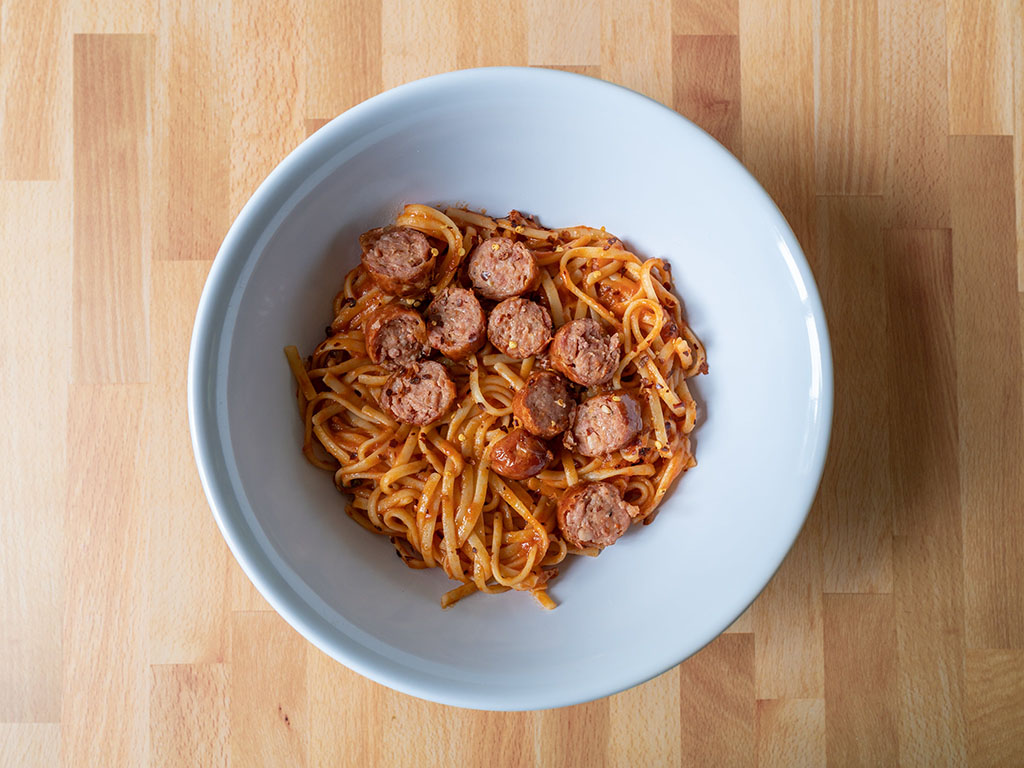 As you can see from these pictures, I didn't leap for the obvious and cook gumbo or étouffée or otherwise. I'll leave those dishes to the pro chefs. Rightly or wrongly, I love these sausages in pasta. They add a really powerful kick of garlic, salt and smoke. They have an enjoyable meaty texture with little to no gristle. The skin has some bite and snap to it, but nothing that ends up stringy . Again, perfect for a pasta dish. They're not bad on a bun too in lieu of a regular hot dog – but there's a lot of flavor here so hold on tight.
I can't hand on heart say they're a fabulously authentic andouille sausage per se – but they are a semi decent smoked sausage; I've absolutely had a lot worse. None of the flavors are overtly over powering and again the texture is great.
There's a mix of red and black pepper that might draw just a little sweat on your brow, but really, unless you're exceptionally spice timid they're relatively mild.
Sam's Choice Cajun Style Andouille Smoked Sausage nutrition and cooking
Are Sam's Choice Cajun Style Andouille Smoked Sausage any good?
Definitely a solid smoked sausage. Are they absolutely authentic? Probably not. Will they bring a huge punch of garlic and smokey flavors to your dish – absolutely.
Hi, I'm Stuart, nice to meet you!  I'm the founder, writer and wrangler at Gastronomic SLC – Utah's biggest and oldest online food magazine; I'm also a former restaurant critic of more than five years, working for the Salt Lake Tribune.  I've worked extensively with multiple local publications from Visit Salt Lake to Salt Lake Magazine, not least helped to consult on national TV shows.
I'm a multiple-award winning journalist and have covered the Utah dining scene for the better part of fifteen years.   I'm largely fueled by a critical obsession with rice, alliteration and the use of big words I don't understand.   I started Shop Smart to catalogue my adventures in the grocery store and kitchen.  Follow along on Instagram too!
Come join our
Facebook grocery group
- and keep the discussion going! Talk about this, or any other food product with like minded home cooks and shoppers. Also share what you've been cooking up, and what you've found on yoru latest grocery shop. Join the conversation
here
.