I've been a general fan of the Del Real brand for some time. They typically don't try to re-invent the wheel, nor take too many creative liberties when it comes to their products. They stick to the basics, and the quality is usually good to very good. This beef barbacoa comes in the same packaging as their Chile verde and chicken deshebrada. Plastic wrap seals a cardboard container, inside there's a plastic tray with the meat itself inside a thick plastic bag.
Cooking: You can either microwave that plastic bag with a few piercings to allow for steam, or dump into a pan and cook through. I prefer to cook in the pan as you can see below.
Taste and texture: The texture is one of simple shredded beef. The taste was unexpectedly muted, not in any particularly negative way, but I think it would be a stretch to call this barbacoa, There's a good rich beefy flavor here, but not much else. There's no spice, no sweetness, and I should note, it's quite salty. If anything I would call this beef deshebrada.
Overall: I really enjoyed this. It's a good beefy blank slate to build on as you like, you could add more spice or seasoning and use in a variety of ways. My personal favorite is to use this in enchiladas, smothered with a good green chili sauce.
I should note that the packaging does not state what to do with leftovers. As the only meat eater in the house, there's too much here for one (sensible) dinner. Personally – and proceed at your own risk – I quickly cool the leftover beef and refrigerate and cover. I then reheat in the pan the next day, and it seems ok.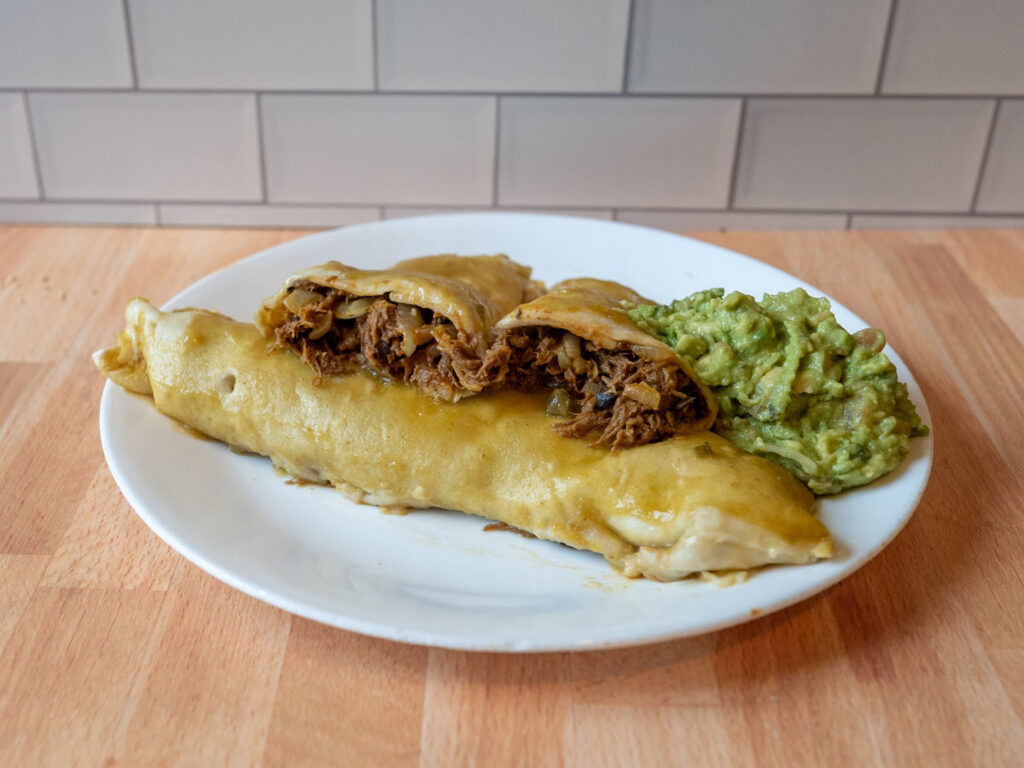 Del Real Barbacoa cooking and nutrition
Is Del Real Barbacoa any good?
Yes, this is an enjoyable shredded beef with a rich meaty flavor.  There's no heat or otherwise strong seasoning though, so you may wish to bring your own extra spices to the dish.
Hi, I'm Stuart, nice to meet you!  I'm the founder, writer and wrangler at Gastronomic SLC – Utah's biggest and oldest online food magazine; I'm also a former restaurant critic of more than five years, working for the Salt Lake Tribune.  I've worked extensively with multiple local publications from Visit Salt Lake to Salt Lake Magazine, not least helped to consult on national TV shows.
I'm a multiple-award winning journalist and have covered the Utah dining scene for the better part of fifteen years.   I'm largely fueled by a critical obsession with rice, alliteration and the use of big words I don't understand.   I started Shop Smart to catalogue my adventures in the grocery store and kitchen.  Follow along on Instagram too!
Come join our
Facebook grocery group
- and keep the discussion going! Talk about this, or any other food product with like minded home cooks and shoppers. Also share what you've been cooking up, and what you've found on yoru latest grocery shop. Join the conversation
here
.