SPAM. Love it or loathe it, those big bright yellow letters are now an iconic staple found on grocery store shelves across the world. We won't retell the story of Spam here, others have done that perfectly well already. Check out Eater's story on the history of the product here. No. What we're here to do, is put the contents of the can under the microscope.
The canned ham has come a long way since its creation in 1937, there are now myriad flavors and varieties; in fact there are 15 in total according to the manufacture Hormel. But which is best? Which spam reigns supreme? Lets begin.
Classic Spam
Where it all started, the original and classic Spam that's beloved by many. For the uninitiated, Spam is a processed ham that's edible right out of the can. Our top tip is to chill your spam if you intend to eat it 'raw'. At room temperature the canned pork is a little flabby on the palate – the flavors sharpen up when chilled. Sliced lengthwise and loaded up on bread slathered with a little mayo – it makes for a quick and tasty lunch snack.
Cooked spam is a whole other ball game. Spam lends a savory, salty, rich addition to any dish. What's more, Spam is incredibly versatile. You can slice it and pan fry, cube and batter it, heck even throw it in the air fryer and make spam fries. The exterior takes on a crisp, sizzling finish when cooked at high heat.
Classic Spam is perfect for breakfast dishes, and pairs perfectly with any style of egg you can muster. We also love it in fried rice too – where it ads an umami bite.
Hot & Spicy Spam
The traditional light pink spam is made pink by the use of red chili. There are minor flecks of chili in the spam, but generally the heat is a diffuse flavoring throughout. Tasted out of the can the flavor is a little abrasive on the palate. It's a cloying heat on the roof the mouth that doesn't taste too appealing. When cooked the flavor is far superior, and does what it says on the can – spam with a little added heat. How hot is the spicy spam? Not very. The heat barely registers, its more tingle than torching flamethrower.
Spam With Real Hormel Bacon
What's better than emulsified pork? Emulsified pork with more pork! Or so goes the logic here. This one is tricky to distinguish from the Classic version and in a blind taste test I might fail. The flavor is subtly different with an ever so slight smoky note, there's also a little more sweetness in the final taste too.
Oven Roasted Turky Spam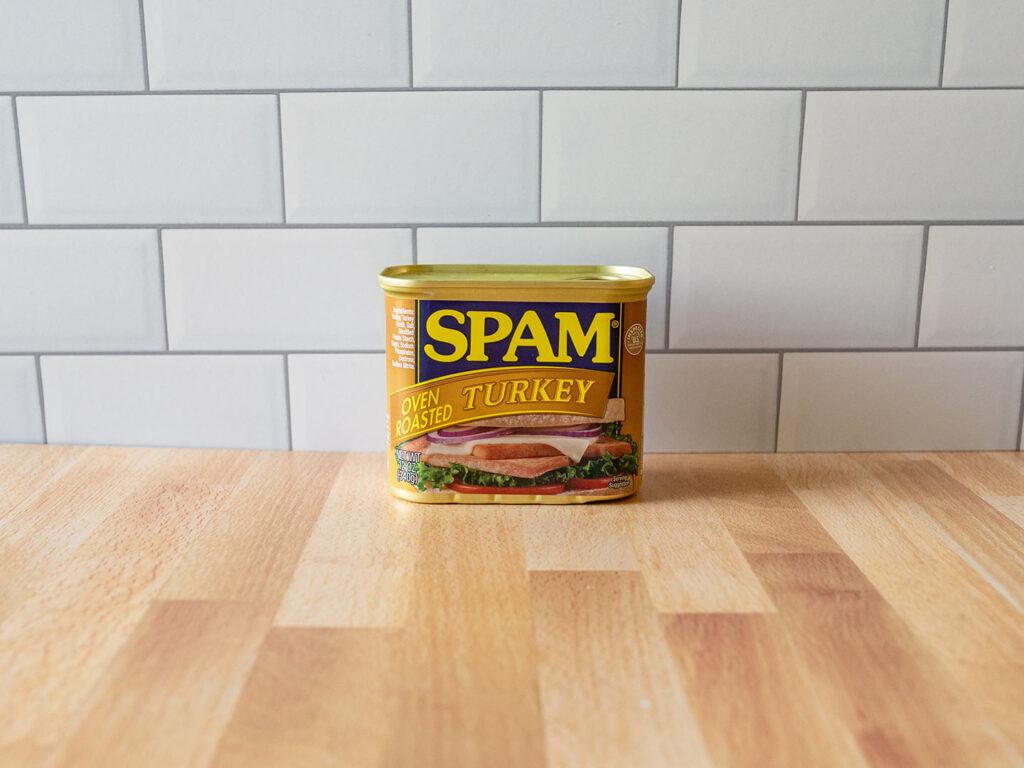 Review pending.
Spam Lite
Review pending.
Jalapeno Spam
Review pending.
Hickory Smoke Flavored Spam
Review pending.
What dishes can I make with Spam?
Your imagination and creativity is the only limit to how you can use spam. Here are a variety of spam creations using all the varieties of spam listed above.